Euro Holds Steady But 2013 Outlook is Bleak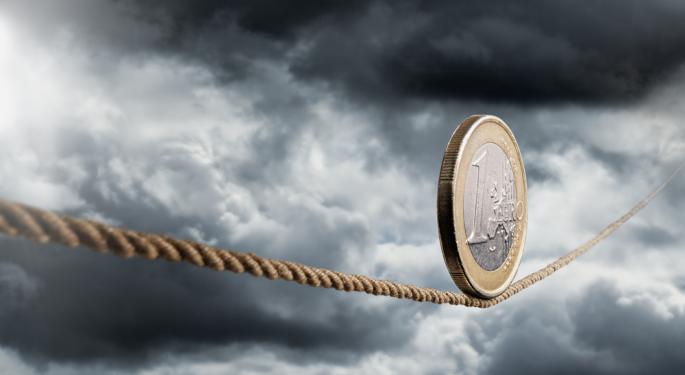 The euro traded steadily on Friday morning at 1.2942, still reaping rewards from Mario Draghi's visit to Germany to defend the European Central Bank's bond buying plan.
News out of Greece has brought mixed reviews, as finance leaders debated whether or not to extend the time the country has to meet its debt reducing goals and receive aid money. As of now, Greece has fallen behind tremendously and is not expected to reduce its debt to 120 percent of GDP by the year 2020, as the bailout terms originally stated.
Now, finance leaders are debating how much additional funding the country will need, and where it should come from. CNBC reported that calculations have shown the country will need anywhere from 15-30 billion euros in additional financing, a number Germany, the Netherlands and Finland are not comfortable with.
The euro, though holding steady as investors watch what happens with Greece and continue to wait for a Spanish bailout, may be in worse shape than the market is showing right now. According to a Reuters poll, economists predict that the eurozone is in for a much more difficult year than the region's governments have forecast.
While most economists polled said they expected Madrid to ask for a bailout by the end of the year, the overall feeling about Spain's ability to bounce back after its financial crisis isn't promising.
Although the government has forecast a 0.5 percent contraction in the economy, the poll showed that most believe it will be three times this number, a staggering 1.5 percent. Unemployment and deficit forecasts were also much larger than predicted by the government.
Much like Spain, the poll showed similar predictions for Greece, who will struggle in 2013 to meet austerity targets set by bailout lenders. Portugal is also expected to have a tough year, with higher unemployment rates, though not quite as high as its neighbors Greece and Spain.
The only country forecast to make a positive step forward in 2013 was Ireland, whose economy is forecast to finally begin to get stronger in 2013.
Posted-In: Mario DraghiNews Forex Global Markets Best of Benzinga
View Comments and Join the Discussion!