Draghi's Germany Visit Deemed a Success, Euro Prospers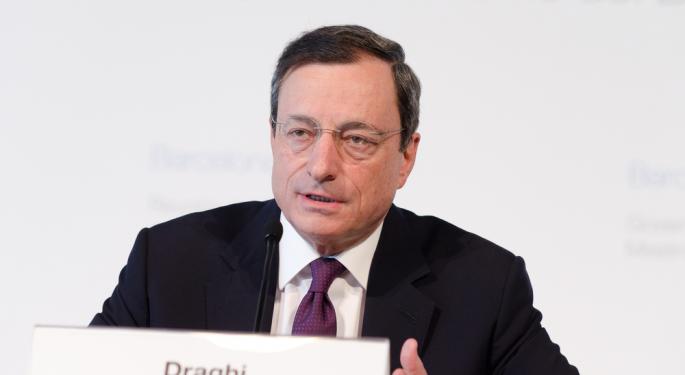 The euro made a steady recovery Thursday morning, after Wednesday's PMI data drove the value downward. Trading at 1.3002 on Thursday, investor confidence seemed to be returning after Greek officials announced they would be given more time to meet budget targets in return for their next bailout money installment.
The rise in value can also be attributed to European Central Bank President Mario Draghi's visit to Germany to persuade lawmakers of the benefits of the bank's bond buying plan. Germany, Europe's largest economy and one of the few economies to remain intact throughout the eurozone financial crisis, plays a massive role in the bond buying program introduced by the ECB in September as a creditor.
German concerns center mostly on rising inflation after the bond buying plan has gone into action. Before the meeting, there were many unanswered questions about how the program would affect Germany and the strength of the euro directly.
Draghi answered lawmakers' querys and defended his plan for nearly two hours. He insisted the plan would not lead to inflation and emphasized the fact that struggling economies could only access this bond-buying plan when they applied for aid from European rescue funds. This measure ensures that conditions are met before a bailout is granted.
Many officials still had skeptical opinions on the plan and Draghi himself after the meeting, but Financial Times reported that as a whole, most of the participants were satisfied.
The meeting gave investors a reason to believe that Draghi is committed to making good on his promises to fight inflation and devise a banking system that shares debt and digs the eurozone out of its current financial state.
While uncertainty about when and whether or not Spain will ask for aid and trigger the bond-buying plan still puts pressure on the euro, Germany's support diminishes some of the risk for the currency.
Posted-In: Mario DraghiNews Forex Global Markets Best of Benzinga
View Comments and Join the Discussion!