Apple Unveils $329 iPad Mini and Several Refreshed Products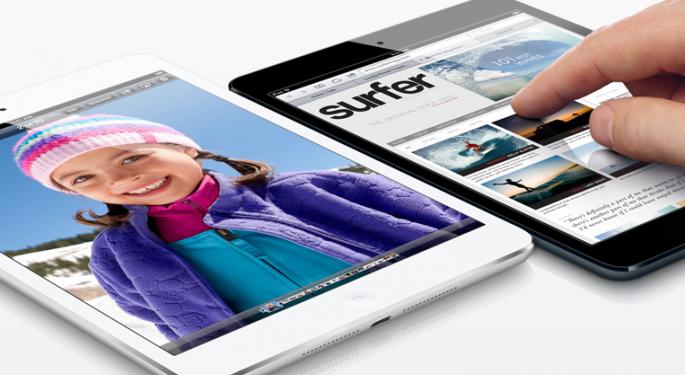 Apple (NASDAQ: AAPL) was expected to focus on the iPad Mini during its press event this morning. Instead the company kicked things off by revealing several refreshes to its Mac line of computers.
The Cupertino, California-based tech giant confirmed reports of a 13-inch MacBook Pro with Retina Display. This machine abandons the thicker, heavier and less stable components of the standard MacBook (such as a traditional hard drive and an optical drive) and replaces them with a solid state drive and a shiny new display. The new MacBook starts at $1,699 -- $500 more than the standard 13-inch MacBook Pro and $500 less than the 15-inch Retina MacBook.
Apple also unveiled a complete refresh to the iMac that is 80 percent thinner than the previous model. The new version, which comes in 27- and 21.5-inch varieties, includes a Fusion Drive concept that combines a 128GB solid state drive with a 1TB or 3TB HDD. The 21.5-inch model starts at $1,299, while the larger model will sell for $1,799.
If those prices are too high, Apple will also sell a new 2.5Ghz dual-core Mac Mini for $599.
These announcements were intriguing (if not a tad surprising), but the big news came when Apple confirmed Benzinga's speculation that the company would unveil both the fourth-generation iPad and the iPad Mini.
The new full-size iPad contains an A6X processor that will make it twice as powerful as the third-generation model, Apple claims. It will also feature a 10-hour battery and can access SD cards via a newly announced Lightning adapter. Contrary to a previous report, the fourth-generation iPad will maintain the $499 starting price.
Apple also confirmed Benzinga's report that the iPad Mini would start at $329 for the 16GB Wi-Fi model. The smaller tablet measures 7.2 mm thick and contains an A5 processor. It will feature a FaceTime HD camera on the front and a 5MP iSight camera on the back -- but not a Retina Display. The iPad Mini will also use the now-standard Lighting connector.
While it was clear that Apple structured its event to draw attention to the product everyone was waiting for -- the iPad Mini -- the revised iMacs may steal the show in terms of surprising upgrades.
The fourth-generation iPad was a necessary evil for the company; without it, Apple would have been required to upgrade its full-size table next spring. For those who have not yet purchased an iPad, the revised model is a terrific buy.
The iPad Mini, however, is somewhat of an anomaly. The device looks nice, but at $329, it is vastly more expensive than its competitors.
Before announcing the price, Apple spent a great deal of time comparing the iPad Mini to tablets running Google's (NASDAQ: GOOG) Android mobile OS. And while it is true that the pint-sized iPad offers a larger, 7.9-inch screen, it seems hard to believe that consumers will be willing to spend $129 more for an extra 0.9 inches of screen real estate. They could simply cut their losses and walk away with a seven-inch tablet from Amazon (NASDAQ: AMZN), Google (NASDAQ: GOOG) or Barnes & Noble (NYSE: BKS) for $199.
Apple would surely argue that those tablets do not come with the 275,000 iPad apps that are currently available. That is true. But at what price do these apps become valuable? At $199, $299, $329, $399 or $499? These are just a few of the prices Apple has applied to its various iOS devices.
The thing about the App Store is that it appeals to a certain kind of consumer; for better or worse, that consumer is likely to already own an iDevice. If he or she does, where does that leave the iPad Mini?
The iPad Mini was designed to fill a gap and to compete with other seven-inch tablets. There is no doubt that, overall, Apple will be successful in this regard. The company could sell a mere five million units annually and still brag that it maintains a healthy lead in the tablet space, thanks to the full-size iPad. The mini model may only serve to ensure that Apple maintains its healthy lead.
That is not what investors want to hear, however. They want to see Apple come out with products that blow its competitors out of the water.
If they want that, they should look to the iMac and MacBook Pro instead. The latter has been selling quite well. While Intel (NASDAQ: INTC) and its partners attempt to imitate the MacBook Air, and while Hewlett-Packard (NYSE: HPQ) has cloned the previous iMac, Apple is working hard to stay ahead of the game with impressive product upgrades.
Follow me @LouisBedigianBZ
View Comments and Join the Discussion!