Chinese Economy Bottoming? Economists Think So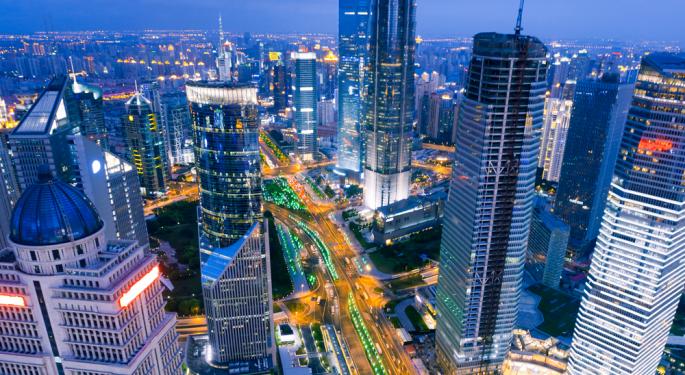 New data on the Chinese economy was released overnight, showing that the economy may be bottoming after seven quarters of slowing growth. Overnight, the National Bureau of Statistics in Beijing reported that the economy grew at a 7.4 percent annualized rate in the third quarter, in line with economist expectations. The data released included:


Chinese home prices fell 1.3 percent in September from August, slower than the rate of a 1.4 percent decline in August.

Chinese GDP for the third quarter was reported as growing 7.4 percent, in line with economist expectations, but below the second quarter's growth rate of 7.6 percent year-over-year.

Industrial Production, a leading indicator for growth, was surprisingly strong, rising 9.2 percent in September as compared to a year ago, higher than estimates of a 9.0 percent rise and stronger than August's 8.9 percent rise.

Chinese Fixed Asset Investment rose 20.5 percent as compared to a year ago on estimates of a 20.2 percent rise and growing faster than the August reading of 20.2 percent.

Chinese retail sales were reported as strong in September, rising 14.2 percent year-over-year as compared to estimates of a 13.2 percent, which was the same as the previous reading.
Ting Lu, economist at Bank of America Merril Lynch responsible for covering China, noted in an interview with Business Insider that the third quarter could mark the bottom for the economy. "Our overall take is that the 7.4% yoy GDP growth in 3Q could mark the trough. It might take another couple of quarters for growth to significantly recover, but we believe the risk for a hard landing is getting increasingly smaller, we at least could be confident to expect stabilization, and we even see some upside risk to our growth outlook at 7.6% in both 2012 and 2013."
Economists at Credit Suisse agree with this assessment of the Chinese economy, stating that the third quarter indicates that the economy has most likely bottomed. Economist Dong Tao wrote, "As the economy is showing signs of stabilization, we believe that Beijing is less likely to launch large-scale stimulus. We sense that leaders in Beijing feel more comfortable about managing the economy than the market feels, and the latest data seemed to suggest that the leaders were right." Further, he highlights that the data does not change their forecast for GDP growth for 2012 and 2013, which is 7.5 percent for both years. He does note that "we are less worried about growth per se, but more concerned about cash flows at the corporate level, as the debt that accumulated during the boom time may haunt when account receivables are on the rise."
A bottom in the global economy bodes well for risk appetite globally, especially cyclical sectors such as metals and mining. Expect basic materials stocks broadly to rally as the Chinese economy does, as Chinese demand for materials drives prices in those markets. Also, watch for the Aussie dollar to appreciate alongside materials stocks, as its copper exports to China should increase, putting a bid under the currency.
Recent stabilization in the European economy, as witnessed through the monthly PMI data, indicates that Europe may be bottoming as well. Recent PMI readings have indicated that the eurozone's economy is still contracting, but the rate of contraction may be bottoming. As China's largest trading partner, even larger than the United States, the slowdown in the eurozone due to the debt crisis has weighed on global trade. However, the Chinese trade data released late Friday may be indicating that Europe is set to emerge from its second recession in five years.
Posted-In: News Commodities Forex Global Econ #s Economics Hot Intraday Update Best of Benzinga
View Comments and Join the Discussion!