BlackRock's iShares Taking ETF Fight Back to Vanguard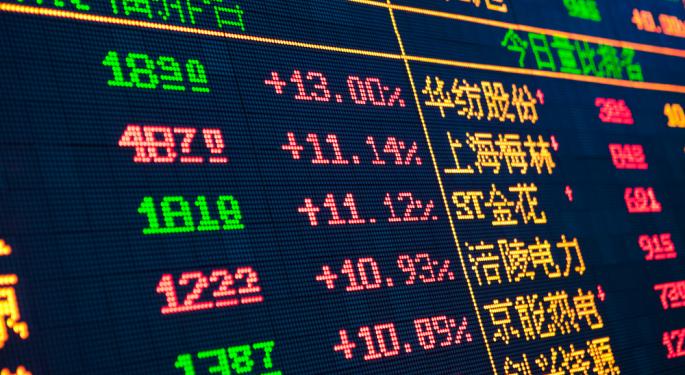 BlackRock (NYSE: BLK), the world's largest asset management firm and parent company of the iShares ETF sponsor, is firing back at Vanguard in what is fast becoming the most heated rivalry in the exchange-traded products industry.
On Monday afternoon, headlines hit the wires that BlackRock is planning to pare fees on some of its ETFs by up to 65 percent, making good on a previous promise by CEO Larry Fink to do so in an effort to regain lost market share to Vanguard.
BlackRock also issued a statement saying it plans to roll out the iShares Core Series, "a suite of 10 U.S. ETFs designed for the needs of long-term, buy-and-hold investors that combines competitive pricing with diversified, tax-efficient products using premier index providers."
The iShares Core Series will be comprised of four new and six existing funds targeted at cost-conscious, buy-and-hold investors. Vanguard, the third-largest U.S. ETF sponsor, has excelled at gaining assets, particularly with cost-conscious, long-term investors because its fees are among the lowest in the ETF business.
"As we look to build on our market-leading position in the ETF industry, we are taking a number of steps to further bolster our value proposition for investors, with an initial focus on the United States," said Mark Wiedman, Managing Director and Global Head of iShares, in the statement. "The combination of our iShares Core Series targeting buy-and-hold investors and a campaign to refresh the powerful iShares brand – supported by what will now be the industry's largest U.S. retail sales force – are key components of our broader plan to drive even stronger growth in the U.S. and globally."
The Core Series will include funds such as the iShares S&P 500 Index Fund (NYSE: IVV), the iShares MSCI Emerging Markets Index Fund (NYSE: EEM), the iShares MSCI EAFE Index Fund (NYSE: EFA) and the iShares S&P MidCap 400 Index Fund (NYSE: IJH). The funds will be rebranded as the iShares Core S&P 500 ETF, iShares Core MSCI Emerging Markets ETF, iShares Core MSCI EAFE ETF and iShares Core S&P Mid-Cap ETF.
"We believe that every investor is unique, and with the iShares Core Series, investors have the opportunity to match their large, long-term core holdings to their individual needs and still have the flexibility to complement them with more specialized ETFs that suit their specific objectives," Wiedman said in the statement.
MSCI News that iShares is sticking by index provider MSCI (NYSE: MSCI) could be seen as welcome relief for shareholders of that company. On heavy volume, shares of MSCI slid into the close Monday, perhaps on speculation that iShares would drop MSCI indexes and choose a self-indexing approach. Monday's slide for MSCI follows the stock's worst one-day performance on record, which occurred earlier this month when Vanguard announced it was dropping MSCI indexes on 22 of its ETFs.
At the time, iShares stood by MSCI, calling the firm the "gold standard" in indexes. That view was reiterated by Wiedman in today's statement.
"MSCI is the predominant choice of professional investors and we're pleased to deepen our relationship with them through the introduction of these new products using their indexes to help deliver high quality portfolio construction to all investors small and large," he said.
Rivalry Intensifies Low-cost challengers such as Vanguard and Charles Schwab (NYSE: SCHW) have made inroads in the ETF industry through a combination of rock-bottom fees and commission-free trading offers to clients. Vanguard in particular has been viewed as a thorn in the side of iShares.
Vanguard has undercut iShares on pricing on a variety of ETFs, stoking what some have deemed to be an intense rivalry. For example, VWO was once smaller than EEM, but by significantly undercutting EEM on fees, VWO is now the largest emerging markets ETF by assets and the gap is so wide between the two funds, the competition has been all but dead for months, if not longer.
Still, those that say Vanguard is close to wresting the crown of largest ETF issuer from iShares seem to be overlooking some critical factors. First, as iShares pointed out in the statement, it has attracted $50 billion in ETF inflows this year through September 30. That is more than any other ETF firm.
Second, the assumption that Vanguard will soon topple iShares either ignores the fact that a worthy competitor resides in between iShares and Vanguard. That being State Street's (NYSE: STT) State Street Global Advisors unit. SSgA is the second-largest U.S. ETF issuer had AUM lead on Vanguard of about $80 billion as of early September and it also must be noted that the sector SPDRs are slightly cheaper than the equivalent Vanguard sector ETFs.
For more ETF rivalries, click here.
View Comments and Join the Discussion!
Posted-In: News Sector ETFs Broad U.S. Equity ETFs Specialty ETFs New ETFs Emerging Market ETFs Events Pre-Market Outlook Best of Benzinga