STMicroelectronics: To Sell or Not To Sell?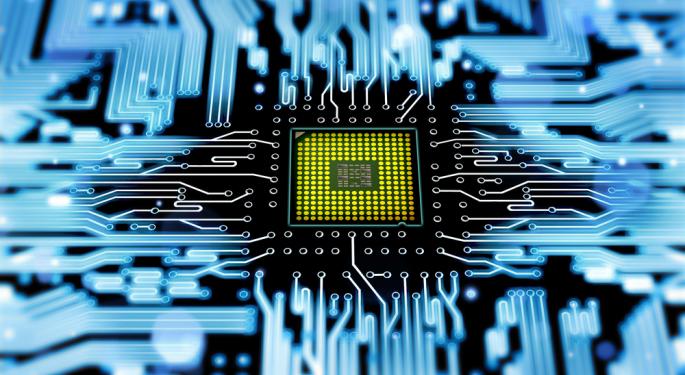 STMicroelectronics (NYSE: STM) is contemplating a break up of its company that could cause a sell off of the mobile phone chip segment of their business, possibly to Samsung.
Premarket, shares of STM are up 15.60 percent on the news, yet no plans have been announced nor has a timeline for the sell-off. The ownership regime of the company may be the largest obstacle to overcome, as management is struggling to deal with lost market share in Europe and Asia, probably leaving executive level staff feeling somewhat impotent.
According to Bloomberg, the French and Italian governments currently control 27.5 percent of the company and are concerned over restructuring efforts that may cause job cuts, despite shrinking market share for semiconductors.
Analyst sentiments surrounding STM have been hesitant about Samsung's involvement with the company. Bank of America commented on the most recent news that they were skeptical about the sale of the ST-E business to Samsung, believing that Samsung is more interested in 3G patents instead of 3G/4G modem technology.
In a recent report from Bank of America, analyst Simon Woo wrote, "we believe that if Samsung were interested indeed in acquiring baseband IP, they could easily achieve this through a licensing deal with ST-E. This however would not yield the revenue/profitability gain required for ST-E to become profitable. In fact, in our view, the news today would suggest that STM could convert the majority of its internal production to FD-SOI while using Samsung as a foundry for 28/32nm high-k-metal-gate (HKMG) production. We therefore doubt this is an indication that STM is about to close its Crolles 2 fab."
The analog business rumored to be splitting makes up the chips and sensors used in video game consoles and automobiles from the digital business, which focuses on handsets and televisions.
Shares of STM closed flat on Thursday and year to date are down 4.89 percent in addition to the 15 percent loss of share values since this time last year. As the company's market share continues to shrink, so do the number of options faced in regards to the business split.
Customers like Nokia (NYSE: NOK) and Research In Motion (NASDAQ: RIMM) have contributed to the decline in business and loss in market share to competitors, and a sell off of the digital assets could help the company focus more on its analog business and help separate STM from being dragged down by negatively-pressed wireless solutions companies.
Posted-In: Bank of AmericaNews Asset Sales M&A Economics Pre-Market Outlook Markets Tech Best of Benzinga
View Comments and Join the Discussion!