Xbox 720 May Feature Revolutionary Wrist Controller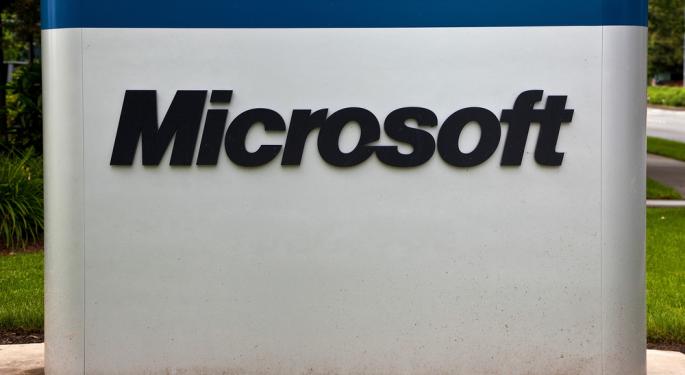 There has been a lot of hype for what Microsoft's (NASDAQ: MSFT) next console (unofficially titled Xbox 720) will do for gaming. Leaked documents suggested that the machine may come equipped with the next evolution in motion-sensing technology, along with some virtual reality elements that would take gaming to a whole other level.
Now Microsoft has introduced new technology that could provide a real-world glimpse of what the next Xbox will have to offer. In a video published on YouTube, Microsoft's research department is showing off a prototype of Digits, a new "wrist-worn 3D hand tracker for gestural interactions on the move."
The device, which was made using only off-the-shelf hardware, features a wrist-worn IR (infrared) camera, an IR laser line generator, additional diffuse IR illumination and an inertial measurement unit. When combined, these components allow users to seamlessly and intuitively interact with objects without physically touching them. They also allow for users to perform remarkable actions without having to wear a glove.
In one example, the user could zoom semantically using in an in-air pinch gesture. Other gestures allowed the user to move around one or several virtual objects -- again without ever touching a controller.
One of the more interesting concepts involved a radio. While wearing Digits, the user could turn on a radio, change the station and make other adjustments by flicking their fingers and by performing simple gestures (ex: to adjust the volume, the user pretended to turn a knob).
As impressive as that was, Microsoft saved the best feature for last. In a video titled "Continuous 3D Interaction," the user stood in front of a television screen, pointed their hand like a gun and fired pellets at the screen. The interactions were smooth and in real-time. To move around the environment, the user performed a few grabbing motions and moved their arm. That latter element was unusual and would not work in modern-day shooters, such as Activision's (NASDAQ: ATVI) Call of Duty or Electronic Arts' (NASDAQ: EA) Battlefield, but this is just one tech demo. Digits could be adapted to work with a more conventional controller, or the games could be tweaked to offer a better way to move around.
This might not even be made for Call of Duty; perhaps it will be better suited for other kinds of games. Either way, the potential for innovation is endless. And since it can theoretically work with tablets, mobile gaming could be included in this innovation. As a result, Microsoft could simultaneously propel console and mobile gaming to another dimension.
Based on the tech demo (and the explanation of the parts used), it sounds like this device could be ready for gamers sooner rather than later. While it may not be fully operational by the time Xbox 720 arrives (unconfirmed reports suggest that it will ship in fall of 2013), it is important to remember that sometimes innovation has to wait. The current Xbox shipped years before Kinect. Digits could ultimately transform into a stellar replacement for the motion-sensing device in the next few years.
Follow me @LouisBedigianBZ
Posted-In: Activision Battlefield Call of Duty Digits electronic artsNews Rumors Tech Best of Benzinga
View Comments and Join the Discussion!