General Motors Sees Sales Growth in China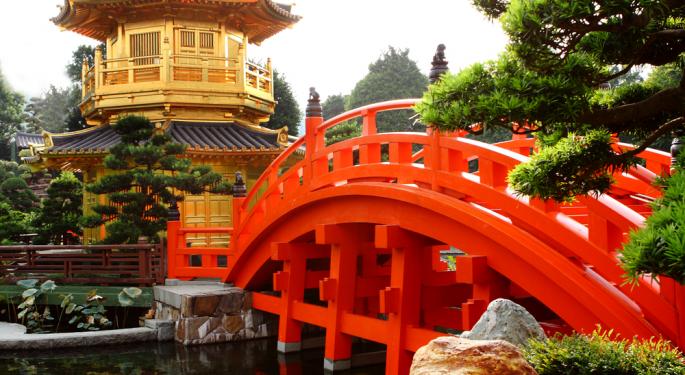 General Motors (NYSE: GM) reported sales of automobiles in China, the company's single biggest market, grew by only 1.7 percent year-on-year in September, the lowest growth rate this year. GM is particularly sensitive to economic activity in China since about 45 percent of its sales there are of Wuling brand minivans, which are widely used by small businesses as delivery and transport vehicles. During September, sales of Wuling brand minivans fell by 2.5 percent year-over-year to 109,502 units.
Over the weekend, the World Bank downgraded its 2012 outlook for economic growth in China, which has resulted in weaker share prices in Europe and lower futures prices in the U.S. before the open.
That is why the latest economic outlook for China from the World Bank is so important for GM. The bank cut its forecast for economic growth for China in 2012 to 7.7 percent, down from 9.3 percent in 2011. The World Bank does expect a recovery in domestic demand to lead to an improvement in growth to 8.1 percent in 2013.
In the meantime, Toyota (NYSE: TM) sales in China are said to be down by 40 percent in September as anti-Japanese protests in China, sparked by an ongoing territorial dispute between the two countries, resulted in a boycott of Japanese goods. Japanese press reports state that Toyota, Nissan (Nasdaq: NSANY) and Honda (NYSE: HMC) will cut motor vehicle production in China by up to 50% during October as anti-Japanese sentiment continues to roil the Chinese market.
Even discounting GM's dependence upon small commercial vehicles in China, the company failed to capitalize on the shift away from Japanese cars. Sales of Buick brand passenger cars fell by 1.8 percent to 62,120 units but sales of Chevrolet brand cars rose 3.2 percent to 56,166 units. "German and Korean players are the biggest beneficiaries from the woes of the Japanese as they are much more competitive in the SUV segment," John Zeng, Asia Pacific director for industry consultancy LMC Automotive, told BAMXY), increased its sales in China by 55 percent during September. Audi, part of the Volkswagen (OTC: VLKAY) group, improved its China sales by 20% during the month, while Mercedes-Benz, a Daimler (OTC: DDAIY) brand, rose by10%.
Even though GM's September sales in China have been sluggish due to the economic downturn, if the World Bank is correct and growth recovers in 2013, the company's sales should be equally sensitive to economic activity on the way up.
Posted-In: World Bank WulingNews Global Economics Markets Best of Benzinga
View Comments and Join the Discussion!