Apple Remembers Steve Jobs with Tribute Video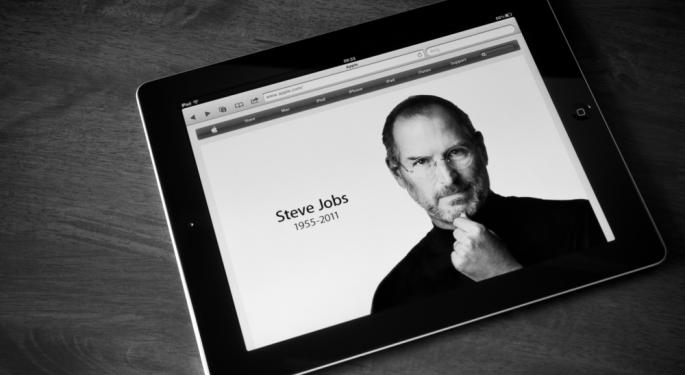 One year ago today, the world said goodbye to one of the most prominent men in technology -- Steve Jobs.
As the co-founder of Apple (NASDAQ: AAPL), Jobs became one of the most revered men in the industry. He was also known for building Pixar Animation Studios, a spin off of Lucasfilm he purchased from George Lucas and turned into an empire that produced blockbusters and Academy Award-winning films; and NeXT, a computer company that manufactured and developed workstations that he founded in 1985 after losing a power struggle with Apple's board of directors. He was also known as the man that brought us the iPod, iPhone and iPad -- not because he engineered them himself, but because he had become the face of Apple products.
Without ever having met him, it was impossible to not feel saddened by his passing last year.
"Twenty years from now, Apple may still be known for making great products," Benzinga wrote on October 5, 2011. "Tim Cook may go on to become the best successor Apple could have hoped for. But when people think of the iPhone and its inevitable successors, they will still think of Jobs."
Today Apple is remembering the man that helped build the company with a commemorative video on Apple.com. During the video, which is comprised of images and audio bites, viewers can hear Jobs speak about one of his favorite quotes.
"There's an old Wayne Gretzky quote that I love," said Jobs. "'I skate to where the puck is going to be, not where it has been,' and we've always tried to do that at Apple."
One of the more memorable, comical moments came during an iPhone event in which Jobs called a coffee shop and ordered 4,000 lattes to go. "Just kidding," he added. "Wrong number. Thank you!"
"It's in Apple's DNA that technology alone is not enough," Job said in another audio clip. "It's technology married with liberal arts, married with humanities, that yields us the result that makes our heart sing."
After the video, Apple.com jumps to a message from CEO Tim Cook.
"Steve's passing one year ago today was a sad and difficult time for all of us," said Cook. "I hope that today everyone will reflect on his extraordinary life and the many ways he made the world a better place.
"One of the greatest gifts Steve gave to the world is Apple. No company has ever inspired such creativity or set such high standards for itself. Our values originated from Steve and his spirit will forever be the foundation of Apple. We share great privilege and responsibility of carrying his legacy into the future.
"I'm incredibly proud of the work we are doing, delivering products that our customers love and dreaming up new ones that will delight them down the road. It's a wonderful tribute to Steve's memory and everything he stood for."
Follow me @LouisBedigianBZ
Posted-In: Apple George Lucas Lucasfilm NeXT Pixar Animation Studios Steve JobsNews Tech Best of Benzinga
View Comments and Join the Discussion!