Beer Sales Fizzle Up in the U.S.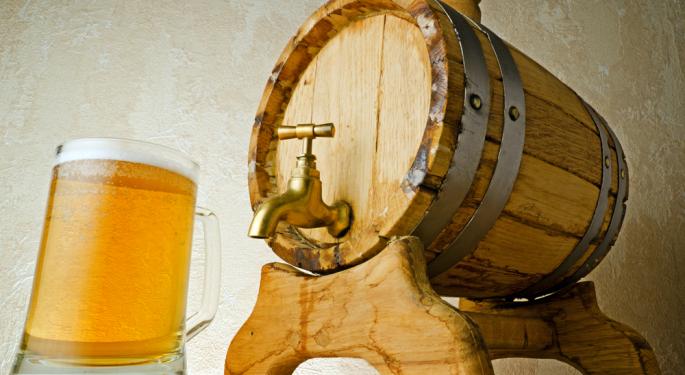 Beer sales have increased nationally for the first time since 2008 according to the Beer Institute, possibly signaling a recession recovery at last.
In areas of the United States where the unemployment rate is low, beer sales have remained strong as the local and national economies have not prevented affluent consumers from enjoying a cold lager or flavorful microbrew. Due to recent outperformance, Morgan Stanley downgraded Molson Coors (NYSE: TAP) to Underweight on Monday after the company reported an 18 percent rise in share value since its June 4 low, beating expectations that were at seven percent. Molson Coors currently pioneers about one quarter of the U.S. beer market.
Credit Suisse also recently raised estimates on Anheuser-Busch InBev (NYSE: BUD) and believed that the U.S. has more leverage margin-wise on price vs. volume in relation to other markets.
The campaign for beer sales never rests and companies are continually rolling out new products. For example, Molson Coors recently released (in select markets) its Coco Breve malt beverage, which contains coconut water and Redd's, (an apple flavored ale).
Pre-market, shares of Anheuser-Busch are down 1.42 percent but closed up 2.04 percent on Tuesday and are up 44.99 percent year-to-date. Molson Coors' shares are flat pre-market and year-to-date are down only 0.6 percent. Boston Beer Co. (NYSE: SAM) shares are flat premarket and are down 0.65 percent year-to-date.
With the exception of Anheuser-Busch, share values do not reflect the recent spike in beer sales as production and shipment costs have impacted shares as well as recent tax increases from the Brazilian government. Analysts believe that beer companies will need to raise the prices of products (three to four percent) in order to accommodate the increased tax.
Citigroup believes that when compared to the food and/or tobacco companies, beer industry profits tend to be more volatile with just below half of those profits coming from the U.S. Brazil's infrastructure revamp has increased shipments and profitability in South America, but has time before profits start to ramp up exponentially as expected.
In Molson Coors' most recent earnings release, the company reported earnings per share (EPS) of $1.38 versus analysts $1.14 estimate, largely thanks in part to the Starbev contribution, (despite losing market share in the U.S. and Canada). Though valuation remained enticing, analysts at Goldman Sachs remain Neutral on shares ahead of further rises in sales.
In other beer news, Heineken (OTC: HINKY) announced its cancellation of a 2.5 billion euro bridge loan to fund its acquisition of Asia Pacific Breweries, as the company won full control of the Tiger beer maker last week. Shares are flat pre-market after closing up 3.22 percent on Tuesday. Year-to-date, Heineken shares are up 33.56 percent.
Posted-In: Citigroup Credit SuisseNews Retail Sales Global Economics Pre-Market Outlook Analyst Ratings Best of Benzinga
View Comments and Join the Discussion!