Will Hungry Hungry Hippos Save Zynga?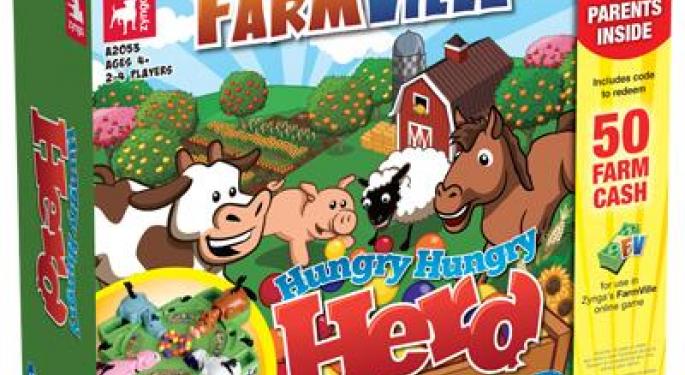 Zynga (NASDAQ: ZNGA) and Hasbro (NYSE: HAS) have teamed up to turn FarmVille, Draw Something and other popular online gaming franchises into physical toys. Is this a brilliant business plan or another desperate attempt at survival?
Historically, Zynga has not been brilliant. The company has squandered every opportunity it has had to succeed, leading many to question the company's future. Regardless, Zynga still leads the social gaming industry with more than 340 million monthly active users worldwide. ChefVille and Zynga Slingo top the charts with more than 48 million users each.
With so many consumers enthralled by Zynga's simplistic Facebook (NASDAQ: FB) games, Hasbro could not resist the temptation to rebrand several of its iconic toys. As a result, Hungry Hungry Hippos is being marketed as Hungry Hungry Herd. CityVille is being given a Monopoly makeover. Words With Friends may not be a complete rip-off of Scrabble, but it is eerily close.
While investors were initially intrigued by Monday's news, they have since abandoned the stock and diminished all gains this afternoon. Hasbro also experienced a minor decline in value.
Long-term, the Zynga/Hasbro alliance is unlikely to hurt either company. In fact, it might add a small amount of revenue to Zynga's bottom line. But it is unlikely to boost Hasbro's profits by a significant margin, as the toy maker is known for applying big licenses (such as Star Wars) to its existing line of products. Most of them end up collecting dust in the clearance sections of Wal-Mart (NYSE: WMT) and Target (NYSE: TGT).
By adding the FarmVille license, Hasbro might see an increase in Hungry Hungry Hippos sales simply because the product is old and dated and might attract a few new buyers.
The plan could also backfire. FarmVille may be a childish, family-friendly game, but the majority of its players are well over the age of 18, and Hungry Hungry Herd is unlikely to appeal to that demographic.
Follow me @LouisBedigianBZ
View Comments and Join the Discussion!