American Greetings Sharply Higher on Privatization Proposal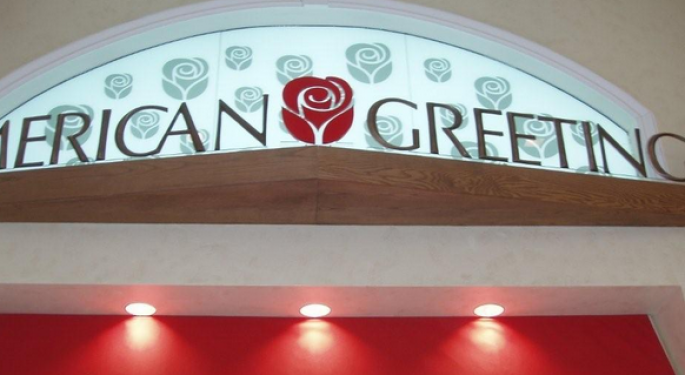 American Greetings Corporation (NYSE: AM), the largest and oldest publicly traded greeting card manufacturer in the United States, announced that it has received a "going private" proposal from its Chief Executive Officer Zev Weiss and President and Chief Operating Officer Jeffrey Weiss. The offer is for $17.18 net cash to all holders of American Greetings Class A common shares, a 19.8 percent premium to yesterday's closing price.
"Since its founding over a century ago, the descendants of Jacob Sapirstein, and now the Weiss family, have guided American Greetings, including after it became a publicly traded company in 1958," stated the offer letter signed by Zev and Jeffrey Weiss. "After careful consideration, we have concluded that the best course of action is for American Greetings to return to its roots. Accordingly, on behalf of certain of the family-owned Series B shareholders, we propose to acquire American Greetings at $17.18 per share, net to the seller in cash."
American Greetings was founded in 1906. The company manufactures and sells greeting cards under the American Greetings, Carlton Cards, Gibson, Recycled Paper and Papyrus brands, among others. The company also sells party goods, gift wrap and other paper products, licenses character products and offers a range of online services.
The company cautions that the "going private" offer is conditional upon the Weiss family group securing financing, which has not yet been confirmed. "At this time, we have not secured binding commitments for the required financing," the offer letter stated. "We are, however, confident that such financing can be arranged based on current market conditions. We are informing you of our thinking at this time so that all shareholders are aware of it as we seek to finalize these arrangements and you have ample time to consider it."
Since the offer is being made by two officers of the company, American Greetings' independent directors will evaluate the offer and make a recommendation to the board. The Series B common shareholders, members of the Weiss family or entities owned by them, have stated that they do not plan to sell any of the Class A shares if their offer is accepted.
Following the announcement of the "going private" offer, shares are sharply higher, up $2.38 or 16.6 percent as of this writing.
Posted-In: Jacob Sapirstein Jeffrey WeissNews Movers & Shakers Buybacks Management Insider Trades General Best of Benzinga
View Comments and Join the Discussion!