Russia Bans Monsanto's Modified Corn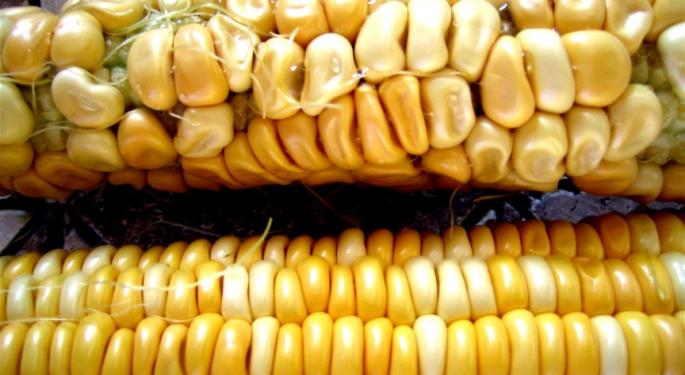 Russia has banned the import and sale of Monsanto's (NYSE: MON) genetically modified corn after a scientific report last week revealed that the company's Roundup Ready® genetically modified corn developed cancer in both male and female rats in lab tests. Russian consumer watchdog Rospotrebnadzor administered the alert.
The study conducted by the University of Caen in France has been met with copious amounts of criticism from both Monsanto and by many specialists in the science and nutrition fields. A Monsanto statement following the published results stated that the study did not meet acceptable standards regarding scientific research and the findings were not supported by the data presented.
London-based Science Media Centre, an independent group, posted comments saying the sample size was too small and the data was incomplete. Other criticisms state that the study was poorly designed and omits crucial details.
Monsanto believes that the impact on the ban will be miniscule due to Russia being such a large exporter of grain and that the act is just a "temporary suspension," that will not yield any disastrous results. The French government has also reportedly instituted a review of the study to decide near-term whether a ban should be instituted in France as well.
Whether or not the study's results are conclusive, the information is still alarming. Monsanto genetically modifies its corn (called NK603) to be resistant to glyphosate. The company then sells glyphosate as a weed killer (under the Roundup name) in order to yield greater crops. A spokesperson for Monsanto, Tom Helscher, stated that the safety of the crop is well documented and not a cause for concern.
Monsanto stock dipped to a low of $90.44 on the news Tuesday, recovering only slightly to close at $90.45. Shares hit their lowest point of $89.73 last week after the scientific report was published. Year-to-date, shares are up 29.09 percent and earnings are expected next week.
News surrounding Monsanto has been positive lately with analysts showing confidence in the company's strong harvest season throughout 2012. Goldman Sachs even added the company to its Conviction Buy List on September 19 based on "strong, macro-insensitive EPS growth" through 2013-2014 and also because of inspired farmers and Monsanto's seed technology, which us designed to "limit the use and spread of specific genetic material in agriculture."
Posted-In: News Wall Street Journal Restaurants Events Global Economics Analyst Ratings Media Best of Benzinga
View Comments and Join the Discussion!