Amazon Powers Nasdaq's New Cloud Computing Platform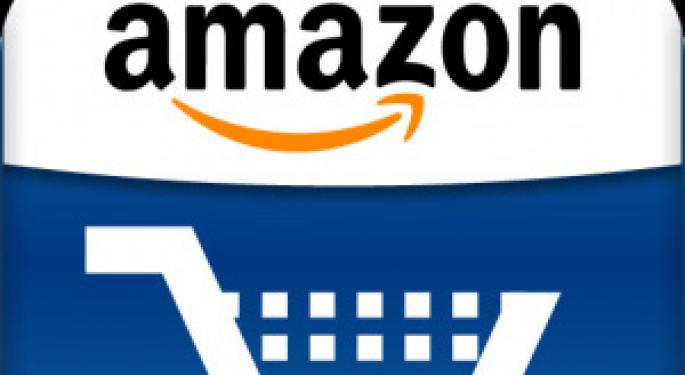 Nasdaq OMX (NASDAQ: NDAQ) has announced FinQloud, a new data management offering designed exclusively for the financial services industry. FinQloud will be powered by Amazon (NASDAQ: AMZN) Web Services, the firm's massive cloud computing division.
FinQloud has been described as a platform for financial services applications that "provides efficient management and storage of financial data that helps market participants streamline operations and meet regulatory compliance requirements without making costly capital expenditures for their underlying infrastructure." The platform will combine Amazon Web Services' cloud infrastructure with Nasdaq OMX's experience "in providing technology and advisory services to exchanges, regulators and broker-dealers that operate within a complex global regulatory framework."
Nasdaq OMX created FinQloud at a time when financial regulations are still being reformed. The company said that its new service may be used by a variety of financial firms that need to manage data -- not just from Nasdaq OMX but from any number of sources.
FinQloud promises to offer customers a secure, industry-only cloud platform that is designed to "immediately reduce technology burdens, aid in compliance and refocus resources on revenue driving operations." The company said that these benefits are made possible because of the scalability of a fully managed cloud solution, which includes hosting, virtualization, and infrastructure data management.
During the introductory phase of the service, FinQloud will provide customers with two solutions -- Regulatory Records Retention (R3) and Self Service Reporting (SSR). The former is geared toward broker-dealers, as it will provide them with a storage and retrieval tool designed to help meet U.S. Securities and Exchange Commission Rule 17a-4 record retention obligations "at substantially reduced cost and complexity." Likewise, SSR will enable broker-dealers to perform "fast, on-demand analysis and reporting on their stored trade data."
Considering the problems that the industry has faced with glitches and other errors, investors might wonder how Nasdaq OMX plans to protect itself going forward. The company said that in order to meet the "stringent operational and regulatory security requirements of the financial services industry and to protect data integrity," every connection to FinQloud will pass through a "rigorous encryption key management system" that is scheduled to be available in the near future. This encryption key management system will be housed in private Nasdaq OMX data centers before directly connecting to Amazon Web Services, the two companies announced.
Eric Noll, who serves as the executive VP of Transaction Services at Nasdaq OMX in the U.S. and U.K., said that by working with Amazon, the company is demonstrating its "commitment to provide innovative solutions to the financial services industry at large."
"FinQloud, as a protected warehouse for regulated data, fosters efficient and reliable markets for investors," Noll said in a company release. "We will continue to work with AWS on cloud technology offerings that foster transparency and improve the quality of our markets."
"Financial services customers have unique regulatory requirements for many of their IT projects, and high expectations for operational performance," added Andy Jassy, Senior Vice President of Amazon Web Services. "With the strong reliability, low cost, unmatched platform capabilities, and agility that AWS provides, NASDAQ OMX's FinQloud offerings, R3 and SSR, are tailor-made for AWS and cloud computing. Storing and retrieving data can be done quickly, easily, and inexpensively.
"And with the scalability, cost-effectiveness, and flexibility of the cloud, customers can quickly conduct analysis and reporting regardless of the amount of data. With FinQloud, we're pleased that NASDAQ OMX will be able to combine their expertise in financial markets and regulatory compliance with the enterprise-class capabilities of the AWS Cloud."
Follow me @LouisBedigianBZ
Posted-In: Amazon Amazon Web Services nasdaq OMXNews Tech Best of Benzinga
View Comments and Join the Discussion!