Staples Falls on Restructuring; Less Interest From Private Equity?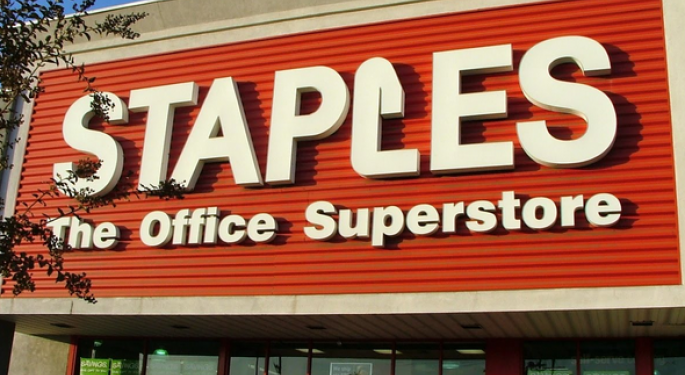 Staples, Inc. (Nasdaq: SPLS), the world's largest office products company, today announced a plan to reorganize its businesses to accelerate growth, save costs and to restructure the company's international operations, saving costs of $250 million annually by 2015.
The plan also calls for the return of excess cash to shareholders. Management plans to send more than $1 billion of cash to shareholders through the repurchase of up to $450 million of common stock through the market and repaying $325 million in Senior Notes due in October 2012 with cash on hand.
At the end of the second quarter, on July 28, 2012, Staples had $985 million in cash on its balance sheet even after a poor second quarter. Spending a large chunk of its available cash may make the company less attractive to private equity buyers, including Bain Capital, who are thought to have become interested in Staples following the sharp decline in its share price when second quarter results were announced on August 15.
"Our vision is to establish Staples as the single-source product authority for millions of businesses," said Ron Sargent, Staples' chairman and chief executive officer. "We are building on the strengths that are the foundation of our success by focusing on five key priorities: accelerate growth in our online businesses; fully integrate retail and online; improve retail store productivity; restructure our International Operations; and return cash to stakeholders."
The company plans to increase its investment in online and mobile sales. Staples is already the second largest online retailer, behind Amazon (Nasdaq: AMZN) and the new investment will provide "a differentiated multi-channel shopping experience" for the company's customers. The key initiative is the combination of its U.S. brick-and-mortar retail operations with its Staples.com Internet business under a single manager, Demos Parneros. "By realigning our organization around our customers, we are much better positioned to take advantage of our unique supply chain and retail store assets, while accelerating online growth and significantly improving productivity," Sargent said.
Staples will shutter up to 15% of its retail space in North America by the end of 2015 as it shifts its emphasis to the online Staples.com business. Fifteen U.S. stores will close by the end of the fourth quarter with a total of 30 net store closings and another 30 store downsizings in North America during all of fiscal 2012. This will result in a pre-tax cash charge of $35 million in the fourth quarter.
Another key part of the plan is the restructuring of the company's international operations, particularly in Europe. Management plans to close 45 stores and several "sub-scale delivery operations" in Europe by the end of fiscal 2012. Staples will take a pre-tax cash charge of $145 million to $190 million by the fourth quarter and will write down an additional $790 million to $850 million in pre-tax, non-cash asset impairment and goodwill impairment losses during the third quarter. In addition, the company will discontinue its European Printing Systems business as of the third quarter, resulting in another pre-tax cash charge of $15 million to $20 million.
In Australia, the company will rebrand its business and take a pre-tax, non-cash charge of $20 million through the accelerated amortization of its Australian trade name.
In total, Staples will take $40 million to $55 million is pre-tax cash charges and $805 million to $865 million in pre-tax-non-cash charges in the third quarter. Another $155 million to $195 million in pre-tax cash charges and $5 million in pre-tax, non-cash charges in the fourth quarter.
Even though all of these charges will have a detrimental impact on reported earnings for third quarter, management has already declared an 11 cent dividend payable to shareholders as of September 28, 2012.
Investors have reacted negatively to today's announcement. Staples shares are trading down about 4.4%, having hit a low of $11.41 during the morning, the lowest level since September 12. The share price is now well below the 50-day moving average.
Earlier this month, Staples shares rallied on widespread speculation that private equity investors, including Bain Capital, were interested in taking the company private following an article in Fortune magazine on September 12, 2012. According to the article, a buyout offer would come no earlier than the end of the year. Staples rallied from a close of $11.37 on September 11, the day before the Fortune article appeared, to a high of $12.70 on September 14, a gain of 11.7%.
With today's reorganization announcement and management's plans to spend much of the company's cash, Staples may be less attractive to private equity unless traders drive the share price back below $11.00.
Posted-In: News Guidance Retail Sales Management Best of Benzinga
View Comments and Join the Discussion!