Barnes & Noble's New Video Service is Far from a Netflix-Killer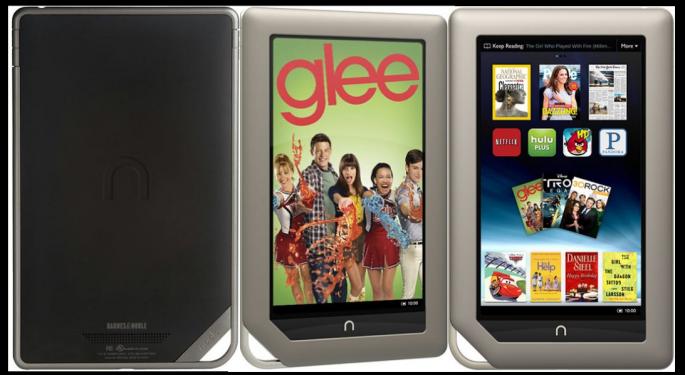 Contrary to initial reports (including Barnes & Noble's own marketing), Nook Video is not a service -- it is a marketplace. Instead of paying a flat monthly fee to stream an unlimited number of videos, consumers will be required to pay for each individual film and TV show. Thus, Nook Video has more in common with Apple's (NASDAQ: AAPL) marketplace, AKA iTunes, than it does with Netflix, Hulu, or Amazon (NASDAQ: AMZN) Prime.
Nook Video will launch this fall with content from Sony (NYSE: SNE), Disney (NYSE: DIS), HBO, Starz, Warner Bros. (NYSE: TWX), and Viacom (NYSE: VIA). The starting lineup of films and TV shows includes:
Brave
Toy Story 3
Marvel's The Avengers
21 Jump Street
Awkward
The Artist
Breaking Bad
Dora the Explorer
The Daily Show with Jon Stewart
Spartacus
Magic City
The Walking Dead
True Blood
Game of Thrones
Harry Potter movies
The Dark Knight
The Hangover
If these videos were available to stream for one monthly fee, Barnes & Noble would be sitting on a goldmine. The retailer would be able to enter the marketplace with one of the most impressive video collections in streaming history.
But while users will be able to stream some content through Nook Video, they will still have to pay for each film and TV show individually. This begs the question: who was this service built for?
"As one of the world's largest retailers of physical video discs and digital copyrighted content, our new NOOK Video service will give our customers another way to be entertained with a vast and growing digital video collection, as part of our expansive NOOK Store," William J. Lynch, CEO of Barnes & Noble, said in a company release.
Indeed, Nook Video does provide consumers with "another way" to be entertained, but at what cost will this entertainment come? Comcast (NASDAQ: CMCSA) currently charges $5 a month for its streaming video service. It may not have much content, but as the cheapest service of its kind, consumers may find it more appealing than the individual purchases and rentals offered by Nook Video.
Netflix and Hulu users can still stream both services for a monthly fee of $8 each. Amazon Prime, which is constantly adding new content, is even cheaper, retailing for $80 per year.
Most consumers rent movies more often than they purchase them. TV shows have an even lower adoption rate. Thus, Netflix and other services will continue to be more attractive than marketplaces like Nook Video.
If iTunes did not exist, and if there was nobody else selling digital content, Nook Video would still be forced to compete with one formidable force -- piracy. Sadly, there are millions of consumers who would rather download illegal copies of their favorite films and TV shows instead of going through the trouble of purchasing them. This problem does not plague Netflix, Hulu, or Amazon Prime because they do not have anything to sell consumers. All they ask is that you subscribe.
Barnes & Noble's demands are a bit more significant. In addition to asking consumers to purchase or individually rent videos (which can already be purchased and rented elsewhere), Barnes & Noble expects consumers to stick with its brand, buy Nook tablets and e-readers, and remain a loyal customer.
Apple and Google (NASDAQ: GOOG) have gotten away with this strategy. Barnes & Noble may not.
Follow me @LouisBedigianBZ
Posted-In: Amazon Prime Apple Barnes & Noble Google Hulu NetflixNews Tech Best of Benzinga
View Comments and Join the Discussion!