Goldman Refutes Earlier Reports, Says 100 Partners Leaving Due to Retirement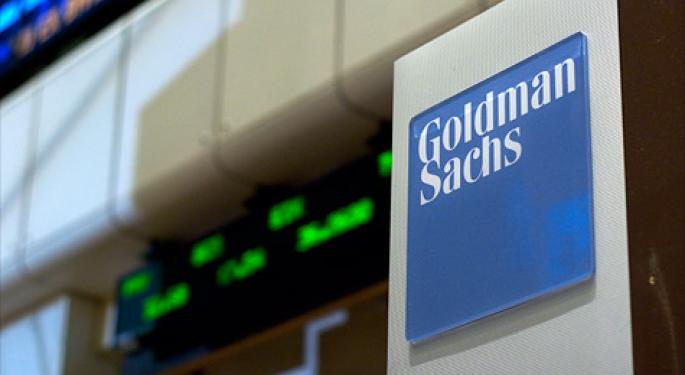 According to a story in the Sunday Times, Goldman Sachs (NYSE: GS) is planning to cut around 100 of its highest-paid partners in an effort to bring down costs at the investment firm. The layoffs could effect 20 percent of Goldman's partners and result in $2 billion in cost savings according to the article. The plans could be unveiled within the next few weeks.
Benzinga spoke with Goldman Sachs, and the firm is saying that the Sunday Times' reporting is essentially wrong. Goldman said that a large number of partners are leaving the firm, but that the departures have been planned in advance to coincide with a new partnership class which will be named within a couple of months.
A Goldman spokesman said that over the last two years, a "roll-off" of existing partners has been taking place in order to make room for the new partners. This is designed to keep the size of the partnership stable, as opposed to having it grow every time a new class makes partner. According to this version of the departures, the firm will likely not generate large cost savings as the former partners will be replaced by new ones.
The news comes on the heels of layoffs at a number of other large investment banks, including Barclays (NYSE: BCS), Deutsche Bank (NYSE: DB), UBS (NYSE: UBS), and Creidt Suisse (NYSE: CS). Bank of America (NYSE: BAC) also recently announced that it was cutting its workforce by 16,000. Last week, Goldman announced that its long-time CFO David Viniar was stepping down at the end of January.
At the time, analysts said that they did not see the move as being indicative of financial problems at the firm. "CFO changes often leave investors fearful of an underlying financial problem," Sandler O'Neill's Jeffery Harte conceded. "However, we do not see signs of trouble at GS and specifically note the prior CFO is gradually transitioning out and joining the Board."
Posted-In: David Viniar Jeffery Harte Sandler O'NeillNews Rumors Management Best of Benzinga
View Comments and Join the Discussion!