Apple Fan "Wouldn't Give a S*** if iPhone 5 Didn't Have Nothing"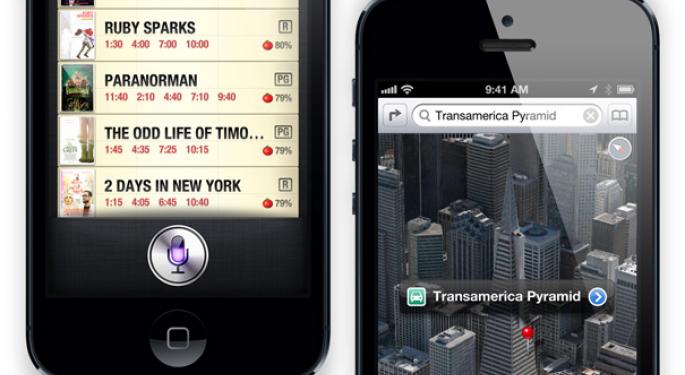 The wait is finally over. After months of anticipation and a week-long wait, Apple's (NASDAQ: AAPL) flagship phone is finally here.
Analysts have predicted that the iPhone 5 will be the biggest smartphone of all time, with an estimated 10 million units being sold in the first weekend alone. The demand has been so high that the initial Apple.com shipment sold out in just 24 hours. Additional pre-orders pushed the total number of new iPhones sold to more than two million units.
On Wednesday AT&T (NYSE: T) announced that the iPhone 5 pre-orders had set a new record for the firm, outpacing the pre-release sales of all other iPhone models.
This morning, fans lined up all over the world, filling stores across America and Asia.
In Michigan, hundreds of eager consumers lined up at the various Apple Stores throughout the Metro Detroit area. While there seemed to be enough units for everyone, the size of the crowd -- and the overall enthusiasm -- far surpassed that of the third-generation iPad.
At the Somerset Collection in Troy, MI, fans could not contain their excitement.
"I'm an iPhone groupie!" said Tonya Garrette, an Apple devotee who had been waiting in line since 3:30 a.m. She owns numerous "i" devices and said that she is most interested in the iPhone 5 for the upgraded camera.
"Because now it has panoramic [imaging]," she said. "Now I can just scan and take a picture of the whole scene of stuff. Right now my iPhone 4 is slow. iPhone 5 with LTE --awesome!"
Even without the upgrades, Garrette said that she would still be in line. "I wouldn't give a s*** if it didn't have nothing," she insisted. "I would be in line anyway. I just love iPhones. I would never have any other phone but an iPhone for the rest of my life. So when they have iPhone 83, I will be in line."
Garrette, who purchased the 32GB white model, said that she had previously waited nine hours to get an iPhone 4.
David Gaddy, another Apple devotee, did the same.
"I've always had iPhones since the first one," said Gaddy. "I've only missed one generation. My daughters had Android phones, and we compare 'em all the time, and I just never [liked] Android."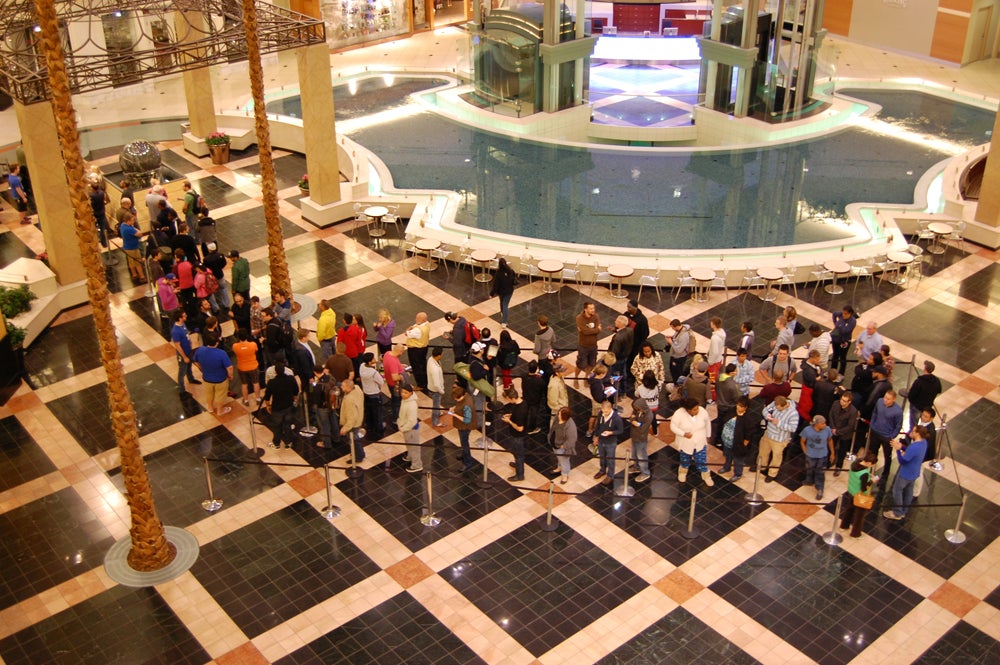 This is roughly half the size of the line.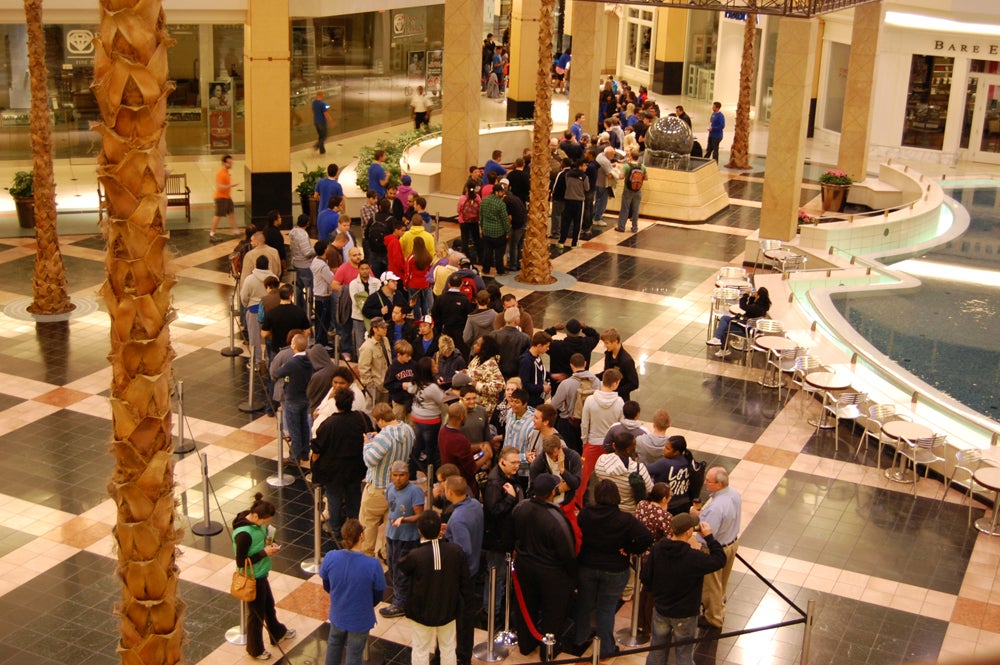 Image Credit: Louis Bedigian, © 2012 Benzinga
Gaddy, who was purchasing two 64GB black models, said that he does not mind any of Apple's restrictive features.
"I just like that you can push a button and it works," he said. "I don't want to guess if it's gonna work or not, or if it's malware or not, or the phone is gonna lockup. I like the security of it. It's just fine with me."
While most consumers had to skip work to get an iPhone 5 this morning, Takotah Chavis skipped school.
"I don't plan on telling her," he said, referring to his teacher. "I'll say I was at the doctor," he added with a laugh.
Chavis said that he is most excited about the upgrade to 4G LTE. He uses AT&T but does not understand why the carrier is attempting to limit those who use FaceTime over cellular.
"I usually jailbreak my phone, so when the jailbreak comes out, I'll probably do it," he said.
Chavis currently has a 3GB data plan with AT&T, but would be willing to switch carriers for a better offer. After learning that the 16GB black model was sold out, an Apple employee offered him a white one, saying that by the time he reached the front of the line, it was possible that they would have a black one in stock. "Someone may not have picked theirs up," the employee said. Chavis decided to take a 32GB black model instead.
Thomas Kemennu, who was the second person in line, arrived at the store at 11:00 p.m. Thursday night. "I need an upgrade," he said. "It's pretty sick. I like the camera [and] I need more memory."
Kemennu is upgrading from the 32GB iPhone 4 to a 64GB iPhone 5. Aside from having more memory, he is most excited about the upgraded display, but is a little concerned about the reduced weight.
"I'm gonna have to get used to it because it weighs less," said Kemennu, who previously waited in line for the iPhone 3G and the iPhone 4.
Unlike other consumers in line, however, Kemennu is not obsessed with every Apple product available.
"I had an iPad," he said. "I didn't like it. I have a MacBook so I never used it. I carry a MacBook. I just put the iPad on eBay (NASDAQ: EBAY) and got rid of it."
As far as selling his new iPhone 5 on eBay, he said that while it would be "quick money," he is going to keep the two he planned to purchase -- one for himself and one for his dad.
"I looked at it this morning, they were like $1,300 [on eBay]!" he said. "Even after your fee, you're still making a good $700. That'd pay for both my phones."
For Austin Gross, today's upgrade was all about the new design.
"I've been waiting for this for a year and a half," he said enthusiastically. "It's just new, it's refreshed. I kind of felt like the iPhone 4 design was getting old. Bigger screen and 4G, for sure. I'm really excited for 4G."
Despite his complaints for the iPhone 4's aging design, Gross owned an iPhone 4S. "I upgrade every year," he said, adding that he has "something worked out" so he can upgrade at the subsidized price without breaking his contract with Verizon (NYSE: VZ).
Gross said that while there is nothing about the iPhone 5 that disappoints him, he is a little annoyed with the new dock connector.
"And it's kind of weird that the headphone jack is on the bottom," he said. "It'll be a change but it's really not that big of a deal."
Next up, Gross said that he would love to see a 13-inch MacBook Pro or MacBook Air with Retina Display.
"TV is cool, but it's not for everyone," he said of Apple's rumored television.
Follow me @LouisBedigianBZ
Posted-In: Apple Apple TV iPhone 5 MacBook ProNews Tech Best of Benzinga
View Comments and Join the Discussion!