Google's Advertising to Steal Facebook's Spotlight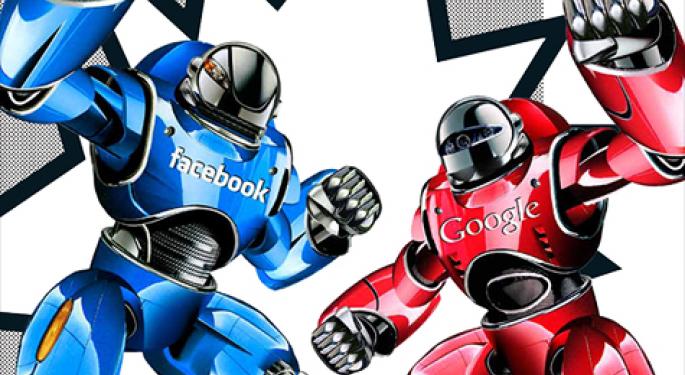 Following news that Twitter will begin ramping up advertising efforts, Facebook (NASDAQ: FB) now has another website fighting to surpass the largest social network in display advertisements. Google (NASDAQ: GOOG) is poised to rake in about 15.4 percent of display ad profits in 2012 alone, beating Facebook by just one percent.
According to The New York Times, ads that incorporate images or video have become quite popular in the last year alone with the market growing 21.5 percent throughout 2012. While eMarketer had previously determined that Facebook would remain in the lead with its many display ads, this is no longer likely to be the case as the research firm lowered its forecast on Mark Zuckerberg's unstable company this week.
As Piper Jaffray noted Thursday morning, Facebook's main product is simple display ads shown on the side of its platform. With Google closing in on a very important part of the company's profit, Facebook is beginning to come up with other innovative ways to attract businesses and consumers through advertising and the utilization of its infamous newsfeed.
"[Facebook] has recently introduced an ad exchange and Sponsored Stories, both of which appear to be performing well," Piper Jaffray stated. "We believe there are two additional opportunities for Facebook that appear to be relatively simple ways for them to further monetize existing page traffic and extend the graph: monetization of search and a more traditional ad network."
Facebook's advertising business will continue to rapidly evolve, and the declining stock can be thankful for that. On Wednesday, the social network saw its shares leap up almost 6.5 percent on news that Facebook is testing a service to place ads on other mobile applications beyond its own. Closing at $23.29 yesterday, shares were trading at their highest price in seven weeks.
As Facebook revels in its recent good fortune, the company still must sleep with one eye open.
"Google has been pouring resources into its display ad business and courting Madison Avenue," The New York Times reported. "Display ad spending growth will outpace search ad spending growth for the first time this year [according to eMarketer]."
Additionally, analysts at Morgan Stanley believe that Google Chrome and Android guard the core advertising businesses – a job that the company does not take lightly.
Although the advertising race will certainly be a close one to call, both Google and Facebook are set to champion the market with a combined estimated percentage of 29.8 percent. As other large companies like Yahoo (NASDAQ: YHOO) and Microsoft (NASDAQ: MSFT) trail behind with 9.3 percent and 4.5 percent respectively, the display ad accomplishments of Google and Facebook are something to be admired.
Facebook is down about 1.25 percent in Thursday's pre-market session at $23. Google sits around $724 on Thursday morning, down about .48 percent in pre-market trading.
Posted-In: eMarketer Morgan Stanley The New York Times Twitter Piper JaffrayNews Movers Tech General Best of Benzinga
View Comments and Join the Discussion!