Sony Announces New PlayStation Hardware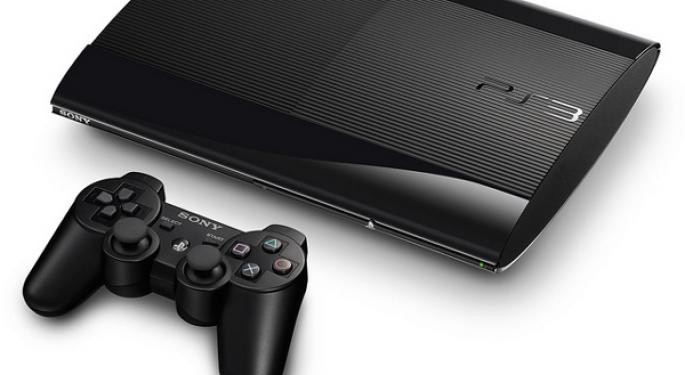 Sony (NYSE: SNE) has announced plans to release a slimmer and more expensive version of its six-year-old PlayStation 3 gaming console.
According to Ars Technica and a number of other publications, Sony unveiled the new hardware -- being referred to as a "Super Slim" edition -- during an event in Tokyo, Japan.
The revised console, set to arrive in North American stores on September 25 for the suggested retail price of $270, will come with a 250GB hard drive and a copy of Uncharted 3: Game of the Year Edition. Sony will release a 500GB edition on October 30 for $300. That console will include a copy of Ubisoft's upcoming spy/action game Assassin's Creed III.
By charging $270 for the base model, consumers will quickly notice that Sony has increased the price of the latest iteration by $20. The current PlayStation 3 slim -- which was first released in 2009, three years after the original PlayStation 3 console -- can be purchased on GameStop's (NYSE: GME) website for $249.99.
However, the current base model PlayStation 3 does not include any bonuses, such as a game or stand, both of which will come with the "Super Slim" edition. The current model also features a smaller 160GB hard drive.
Sony has offered a variety of other PlayStation 3 packages, including a 250GB model for $299, as well as a PlayStation Move bundle that includes one standard controller, one PS Move controller, the PlayStation Eye camera, a 320GB hard drive, and one game (Sports Champions) for $349.
In addition to the "Super Slim" consoles that are coming to America, Sony will release a special 12GB flash drive PlayStation 3 in Europe on October 12. Retailers will have the option to charge whatever they want for this edition, but the starting price appears to be €229.99 ($300.62 in U.S. dollars). European consumers will also be able to buy the 500GB model on September 28 for €299.99 ($392.17 in U.S. dollars). That bundle will come with one of several unnamed games.
Follow me @LouisBedigianBZ
Posted-In: Ars Technica gamestop PlayStation 3 PlayStation 3 Super SlimNews Global Tech Best of Benzinga
View Comments and Join the Discussion!