Microsoft CEO Ballmer Hints That Surface Tablet Price to be Between $300 to $800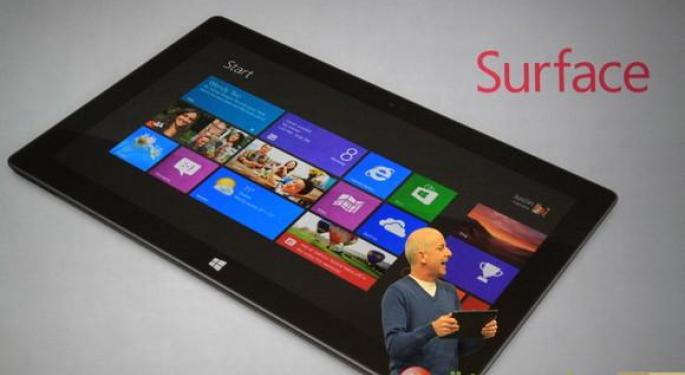 Previously, there has been speculation that Microsoft (NASDAQ: MSFT) would enter the tablet market with its Surface device at rock-bottom prices in order to gain a foothold in the fast growing market. Bloggers suggested that the company could sell the Surface for as low as $199, even subsidizing the price in order to be competitive with Apple (NASDAQ: AAPL) and other tablet-makers who sell more expensive devices. In an interview with the Seattle Times, however, CEO Steve Ballmer seemingly put that speculation to rest.
He said that the Surface would be priced at "probably $300 to about $700 to $800." This is obviously considerably higher than the previously mentioned $199, and in all likelihood would raise expectations for the Surface considerably with regard to its capabilities and functioning.
In speaking about the low-end/high-end dichotomy that has developed in the tablet market, Ballmer said, "People offer cheaper, they do less. They look less good, they're chintzier, they're cheaper." The insinuation is that Microsoft is going to attempt to compete at the higher end of the market and offer a device similar to the iPad, versus the Amazon Kindle, for example.
Although consumers and investors may be somewhat skeptical of Microsoft's ability to compete with iPad directly, the price range offered by Ballmer would still be cheaper than the Apple device. Betanews.com speculates that the company could sell the 32GB Microsoft Surface RT for $300 while a 128GB Microsoft Surface with Windows 8 Pro could cost up to $800.
At these price points, the tablets would still cost less than comparable iPads. In fact, the 32GB model, at $300, would be $300 less than the new 32GB iPad. Interestingly, according to a BetaNews poll, most consumers aren't very enthusiastic about the Surface. According to the website's poll, twenty percent of respondents said they would pay $299 for the 32GB Microsoft Surface RT, while only 10 percent said they would pay $399 for the device. Even more concerning is that just 2.37 percent of respondents said that they would buy a Surface for $599 or more.
Although Microsoft has a large base of business-oriented customers who may be interested in its new tablet, it is going to be difficult for the company to compete with iPad on "cool" and "buzz" factor. Unfortunately, the company is so far behind in the tablet wars that it will take something truly special for Microsoft to take away meaningful market share from competitors and to gain the attention of a wide swath of consumers.
Posted-In: Microsoft Surface Steve BallmerNews Management Tech Best of Benzinga
View Comments and Join the Discussion!