Fed Announces Open-Ended, MBS-Focused QE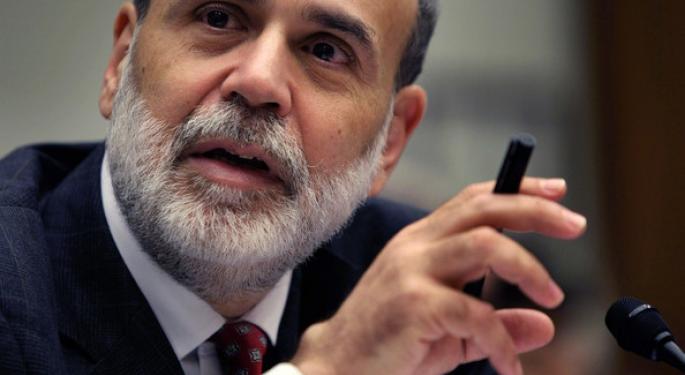 The Federal Reserve announced another round of bond buying on Thursday in an effort to stimulate economic growth and to combat persistently high unemployment. The central bank said that it will buy $40 billion per month in mortgage-backed securities on an open-ended basis. Together with other policy tools, the program will give banks access to an additional $85 billion in funds per month.
The open ended policy maneuvers are a new twist in the Fed's tool kit, giving it more flexibility to respond in a targeted fashion depending on how the economy progresses. The central bank's statement said, "If the outlook for the labor market does not improve substantially, the Committee will continue its purchases of agency mortgage-backed securities, undertake additional asset purchases, and employ its other policy tools as appropriate until such improvement is achieved."
Federal Reserve policy makers also extended the central bank's language on interest rates. Short-term interest rates are now expected to be held near zero until at least mid-2015, which amounts to an extension of the forecast by about half a year.
The statement noted that the economy continues to expand "at a moderate pace," but that "growth might not be strong enough to generate sustained improvement in labor market conditions." A weaker than expected jobs report last Friday may have bolstered the central bank's decision to go ahead with QE3.
Eleven members of the Fed committee voted for the new policy initiatives, with Jeffrey Lacker being the lone dissenter. The actions are designed to put downward pressure on longer-term interest rates, support mortgage markets, and help to make broader financial conditions more accommodative, according to the central bank.
In addition to mortgage-backed securities purchases, the Fed may continue to buy Treasury debt to drive interest rates even lower. "There's strong hints that they'll do Treasurys next," Joe LaVorgna, chief economist at Deutsche Bank Advisors, told CNBC.com. "They're pulling out all the stops to try to get this economy to gain some traction and, most important, to get unemployment down."
The central bank also said that it would continue with its "Operation Twist" measures, whereby the Fed sells shorter-dated Treasury debt and buys longer-term securities. It will also continue to reinvest principal payments from agency debt and mortgage-backed securities back into mortgages.
In addition to announcing the new monetary policy measures, the Fed also provided its economic forecasts. According to these projections, the economy will continue in a slow growth phase and the unemployment rate will remain above 7 percent into 2014.
The stock market, which has been rising in recent weeks on expectations of more monetary easing, has surged on the news from the Fed, which has seemingly more than met expectations. In afternoon trading, the Dow Jones Industrial Average had risen more than 230 points. The S&P 500 and Nasdaq had added 1.88 percent and 1.70 percent, respectively. The markets had been trading near the flatline before the announcement. Gold and oil are also higher in the wake of QE3, with gold futures climbing 2.24 percent to $1,774 and oil adding 1.20 percent to $98.40.
Posted-In: News Futures Commodities Politics Forex Psychology Events Global Best of Benzinga
View Comments and Join the Discussion!