How Badly Will Amazon's $299 Kindle Fire HD Hurt the New iPod Touch?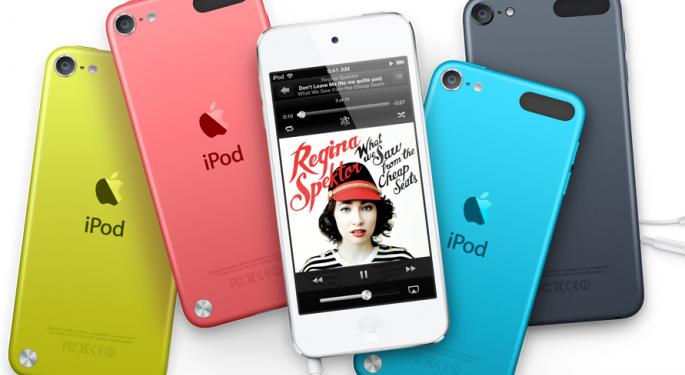 In addition to an upgraded iPhone, Apple (NASDAQ: AAPL) has unveiled the fifth-generation iPod Touch, a pocket-sized device that features many of the same features as the iPhone 5.
At first glance, it seemed like the perfect machine for apps, music, movies, and TV. Then Apple announced the price. To acquire the latest in iPod Touch technology, consumers are expected to pay $299 for the base model, which comes with 32GB of memory. For 64GB, consumers will pay $399.
This is an interesting (if not risky) pricing strategy considering the fact that Amazon (NASDAQ: AMZN) is charging $299 for the 8.9-inch Kindle Fire HD.
If questioned about its decision to charge $299, Apple would likely argue that its device comes with a superior camera, a prettier screen, and an App Store that features more games and applications than users will ever find on an Android device.
Anyone making that argument would have a valid point. However, screen size is a major factor in consumer purchases. Apple may be right that it is better to produce a four-inch iPhone than a 5.5-inch model that rivals the Galaxy Note. It would be wrong -- and dangerously naïve -- for Apple to assume that the same is true when producing a non-cellular device that competes with tablets.
Like it or not, the iPod Touch is now a competitor to the iPad. Whereas before it was a cheap, pocket-sized alternative, it is now an overly expensive device that could be viewed as a tablet alternative.
More importantly, it is now priced directly in line with Amazon's most promising device. While the Kindle Fire HD 4G LTE is Amazon's flagship tablet, the standard 8.9-inch model is sure to garner the most attention. At $299, it is the same price as the iPod Touch and $200 cheaper than the third-generation iPad.
Amazon is pushing the new Kindle Fires with an impressive marketing campaign that will reach millions of people -- likely more than Apple could ever hope to reach. While people only go to Apple.com to purchase Apple devices, they visit Amazon.com for millions of products made by thousands of manufacturers -- including iPads! Every time consumers visit Amazon's website, there is the chance that they will be exposed to the new Kindle Fires, which have already begun to appear in TV commercials.
How can Apple possibly compete? It could (and most certainly will) bombard the airwaves with its own TV ads. But when consumers sit down and investigate these devices, they will quickly discover that the heavily revamped iPod Nano is actually a better deal for cost-conscious shoppers. It is smaller, sleeker, and more attractive than Sony's (NYSE: SNE) low-end knockoff and retails for just $149. Those who want more (and are willing to pay more) for their next portable device, however, are likely to consider Amazon's offering instead of the new iPod Touch.
Follow me @LouisBedigianBZ
Posted-In: Apple iPad iPod Nano iPod TouchNews Rumors Tech Best of Benzinga
View Comments and Join the Discussion!