iPhone 5 Event Suggests No iPad Mini in Production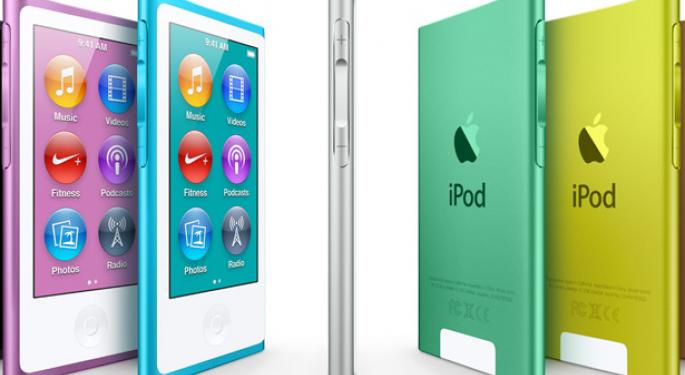 During its long-awaited iPhone 5 event, Apple (NASDAQ: AAPL) unveiled an upgraded iPod Touch that will retail for a starting price of $299. For the 64GB version, consumers will pay $399. The base model (16GB) iPad currently retails for $499, which begs the question: how much will Apple charge for the iPad Mini?
The answer is nothing, because the iPad Mini does not exist. Contrary to the rumors, there have been numerous reports that quashed the idea of a seven-inch iPad. The most famous came from Apple's co-founder, Steve Jobs, who famously bashed the concept of a small tablet. That did not stop the rumor mill from churning, of course. DigiTimes' supply chain sources ceased on every opportunity to tell us that an iPad Mini was in development.
Today, Apple announced that those rumors are false. The company did not actually come out and say this, as it was not necessary. Instead, Apple simply revealed the pricing structure for the fith-generation iPod Touch ($299 to $399), the previous model ($199 to $249), and the upgraded iPod Nano ($149).
At these prices, there is no room for an iPad Mini or a so-called iPod HD. Consumers can walk into a store right now -- not just an Apple Store, but also Best Buy (NYSE: BBY), Target (NYSE: TGT), or Wal-Mart (NYSE: WMT) -- and pick up an iPad for $100 more than the most expensive iPod Touch. They can, alternatively, order an iPad 2 for $399, or purchase a used model for even less.
Thus, there is no way that Apple will release an iPad Mini within the next 12 months. The company could feasibly kill off the fourth-gen iPod Touch, lower the price of the fifth-gen model, and sell the iPad Mini for $349. But that would be overkill. By that time, the fourth-generation iPad should be available. Assuming the current pricing structure stays in place, the next iPad will start at $499, knocking the third-generation model down to $399. There again, Apple has no room left for an iPad Mini.
This could be part of the company's strategy. Despite the so-called demand for a miniature tablet, Apple wanted to continue selling high-end devices. As of today, the company announced that it has sold 84 million iPads -- all of which retail for no less than $499 (at one time or other).
By implementing a pricing structure that prevents an iPad Mini from being made, the company has an excuse to continue selling bigger and more expensive tablets.
Follow me @LouisBedigianBZ
Posted-In: Apple iPad Mini iPhone 5 iPod TouchNews Rumors Tech Best of Benzinga
View Comments and Join the Discussion!