BP's Chance of Swift Settlement Slips Further Away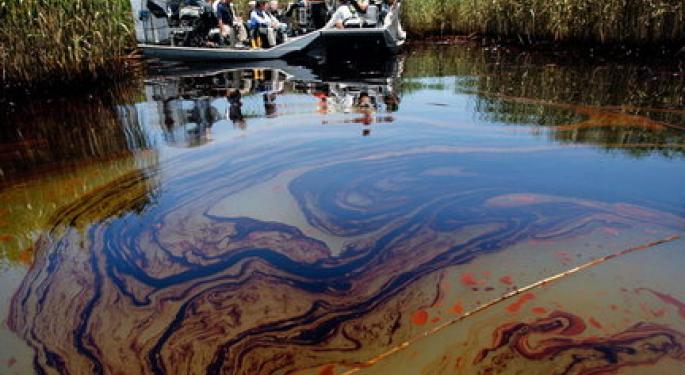 Integrated oil and gas company BP plc (NYSE: BP) has come up against a fair amount of criticism in recent years following the 2010 Gulf of Mexico oil spill, with the U.S. Justice Department now calling the company's conduct during that period willful and grossly negligent. Due to the fresh allegations, it is unlikely that BP will be satisfied when the company eventually has its day in court.
According to a Reuters report, the United States government has yet to take such a strong position against BP as this. However, it has now become apparent that the Department of Justice is looking to blame the majority of the 4.9 million barrel spill on the company, potentially forcing BP to pay billions more than previously anticipated.
While the recent statements made by the Department of Justice are nowhere near shocking for this ongoing case, the terminology being slung around could affect the lawsuit in such a way that BP would choose to continue to fight in order to push the settlement date further away.
Analysts at Credit Suisse recently said the U.S. government's new comments, "[Suggest] to us that a settlement acceptable to BP is not imminent, and lowers BP's chances of settling in the low end of the $15-25bn range. Hence, if it cannot get to a satisfactory agreement we think it might be best for BP to continue to litigate, which would maintain the Macondo overhang for longer than we'd hoped."
If BP is in fact found guilty of gross negligence, the British oil company would be forced to pay approximately $21 billion in Clean Water Act fines on top of other potential damages owed.
While BP's oil spill was arguably among the worst in history, ConocoPhillips (NYSE: COP) is currently dealing with a similar situation that has left the company facing an already wounded public.
In the wake of Hurricane Isaac, ConocoPhillips' Plaquemines Parish refinery (located in Belle Chasse, Louisiana) spilled oil that is now leaking not only into the Gulf of Mexico, but the surrounding wetlands as well. As Southern-based Americans attempt to pick up the pieces from yet another natural disaster, ConocoPhillips is left to clean-up the same body of water that took the brunt of BP's spill just two years prior.
To be fair, Kinder Morgan (NYSE: KMI) will also take partial blame for the filthy energy resources now flooding Southern bodies of water. Hurricane Isaac triggered a coal spill on the west bank of the Mississippi River in Plaquemines Parish.
While ConocoPhillips and Kinder Morgan deal with the recent damage done, the question remains – will BP's ongoing litigation with the U.S. Department of Justice set precedence for current and future oil spills? How the results will affect natural disasters in the future remains to be seen, but there is no doubt that BP has certainly found itself in hot water once again.
BP closed at $41.63 on Tuesday, and is currently down approximately 3.3 percent in pre-market trading on Wednesday morning.
Posted-In: Clean Water Act Credit SuisseNews Legal Global Markets Analyst Ratings General Best of Benzinga
View Comments and Join the Discussion!