TiVo & Small Cable Companies Receive Praise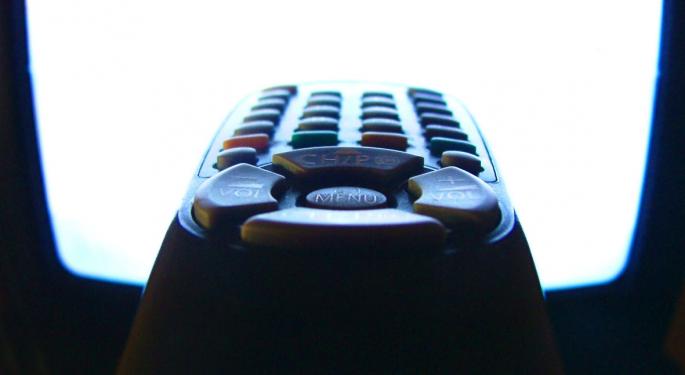 While cable companies such as Time Warner (NYSE: TWC) and DISH (NASDAQ: DISH) found it difficult to impress investors with recent quarterly performances, TiVo (NASDAQ: TIVO), along with smaller television stations, has been able to grab hold of the analyst and investor confidence that was left up for grabs.
Following a month of poor reviews regarding many cable companies, analysts at J.P. Morgan upgraded TiVo on Tuesday morning as the on-demand provider is reaching a positive inflection point with catalysts ahead.
"TIVO is steadily adding MSO customers (recent additions are Com Hem, Scandinavia, GCI in Alaska) and is poised for accelerating adoption at ONO (Spain), Charter and ComCast," J.P. Morgan stated. "We expect the company to go EBITDA profitable in 2013 owing to lower R&D expense (new product cadence should slow from 2012 peak) and a significant drop in litigation cost (post Verizon trial)."
TiVo is not the only company that stands to gain from other cable providers' recent losses. According to The Wall Street Journal, small television stations are beginning to attract big names such as Fortress Investment Group LLC (NYSE: FIG) and Michael Dell's privately held MSD Capital LP.
The Federal Communications Commission (FCC) is looking to stir up some competition, and it appears that an upcoming spectrum auction may be just the ticket.
"The auction is a part of a broader rearrangement of U.S. airwaves by the FCC aimed at addressing consumers' seemingly voracious appetite for wireless broadband services," The Wall Street Journal noted on Tuesday.
Investors like Dell see an opportunity for airwave prices to surge leading up to the auction, but what might this mean for big name companies such as Verizon Wireless (NYSE: VZ) which has been attempting to purchase spectrum from the likes of Comcast (NASDAQ: CMCSA) and Time Warner?
Although the answer is uncertain, Verizon may be able to obtain said spectrum far before the auction even takes place, which could be years away. However, that won't stop investors from snatching up television stations that air local programs on a tight budget, as they see opportunity for a considerable payday in the future.
Well-known cable providers will just have to hold on tight to whatever precious spectrum they currently own, as it appears wealthy investors and the FCC are on a mission to help out the underdog.
Posted-In: Federal Communications Commission J.P. MorganNews Upgrades Topics Analyst Ratings Tech General Best of Benzinga
View Comments and Join the Discussion!