Amazon: No Thank You, Google Maps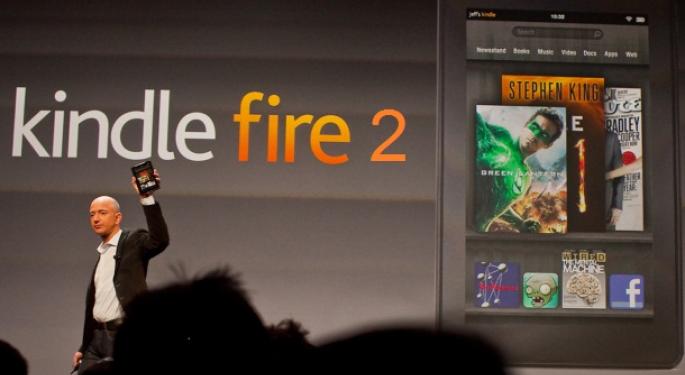 Reuters announced that Amazon (NASDAQ: AMZN) has partnered with Nokia (NYSE: NOK) instead of Google (NASDAQ: GOOG) for its mapping function on the new Kindle Fire.
Details include integrated mapping on the device, aversion to Google Maps and new location capabilities. The partnership rose from a gap created between Amazon's Kindle Fire device and it's mapping capabilities as the company seeks to avoid using competitor Google maps as the primary source.
Nokia is one of the world's largest mapping providers since its acquisition of Navteq in 2007, and Amazon acquired mapping started UpNext in July 2012 to gain specialization in 3D maps in metropolitan areas.
A seven-inch model is expected to debut, along with the possibility of a 10-inch model, both with streamlined user interfaces in order to compete more directly with Apple's (NASDAQ: AAPL) iPad.
Amazon claims its current Kindle Fire accounts for 20 percent of all new tablet purchases (one in five) and reported on Thursday that it has sold out of its current Kindle Fire device. The new release is scheduled for Thursday, September 6 and the company hopes to increase its tablet share while remaining competitive with Google's Nexus 7 tablet and the highly anticipated Microsoft (NASDAQ: MSFT) Surface.
The current Kindle Fire runs on an early version of Google's Android operation system, but it does not currently have Google Maps integrated. This means that while users have access to Google Maps through the browser, they also have the option to download their own mapping application from a third party.
Although the sale price of the new Kindle Fire has yet to be announced, analysts at Bank of America anticipate a sale price of $179, compared to the current price of $199. The Kindle Fire has been Amazon's best selling product since its release and analysts believe the market share will continue to grow to the likes of 22-25 percent of the tablet space.
Amazon's deal with Nokia mirrors Apple's partnership with TomTom for its mapping content.
Impact on shares: Selling out of its best-selling product ahead of a new release is always a positive catalyst for shares, and Amazon currently sits up 1.01 percent premarket while Nokia is up 2.55 percent. Ahead of next Thursday's release, expect a ramp up in shares for both companies as the continued success of the new Kindle Fire (or Kindle Fire 2) takes the tablet market by storm.
Posted-In: AndroidNews Topics Events Analyst Ratings Tech Trading Ideas General Best of Benzinga
View Comments and Join the Discussion!