Twitter Focuses on the Tweeter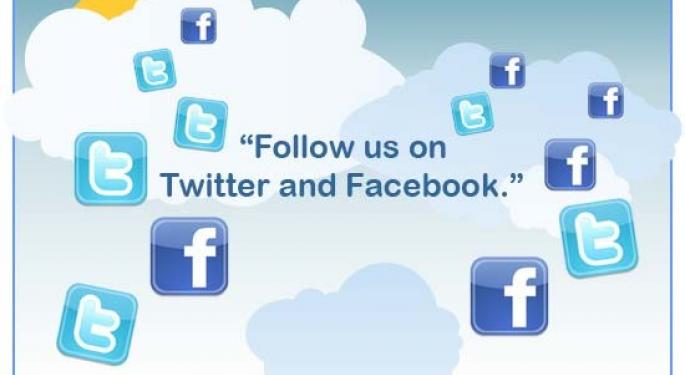 Twitter is following in Facebook's (NASDAQ: FB) virtual footsteps by offering advertisements that fit specific consumer wants and needs. Dependent upon what a user tweets, ads will appear that target the user based on their interests.
This new internet-based feature will seek to make the platform more productive for advertisers, despite already instilled Promoted Tweets, Promoted Accounts and Promoted Trends. The trend will not alienate users, but appeal to what they enjoy across at least 350 categories.
Similarly, Facebook is publicizing an advertisement addition as well. The company plans to offer a new tool that will allow businesses to target their ads specifically to existing customers. This form of advertising gets a bit more personal, as the social network will gain this information through user's phone numbers and e-mail addresses.
Facebook and Twitter's competition just increased ten-fold; both companies announced new means of advertising on the very same day. However, Facebook has an opportunity to promote new ad formats in coming years that according to Bank of America could mean big revenues for the company.
Bank of America is currently "[looking] at the opportunities for Sponsored Story ads, Sponsored Search Results, and Facebook Ad Exchange, which we estimate as a $1bn opportunity in 2013 (enough to be material) and $2bn in 2014."
As the advertising overhaul begins, Twitter has a clean slate in terms of keeping advertisers and consumers happy, unlike Facebook. The famed social network recently came under fire for not only the cost of their advertisements, but for the amount of robot clicks the ads were receiving. In fact, the case between Facebook and privately-held company Limited Run became so nasty that Limited Run decided to only promote itself through Twitter going forward.
And now, the musician and label-based company will ultimately be even more satisfied with its decision to switch social media platforms.
"If you're promoting your indie band's next tour, you can create a custom audience by adding @usernames of related bands, thus targeting users with the same taste in music," Twitter's Director of Project Management Kevin Weil wrote on Thursday.
"This new feature will help you reach beyond your followers and users with similar interests and target the most relevant audience for your campaign."
Targeted advertising certainly seems to be gaining traction, as sites like Google (NASDAQ: GOOG) and LinkedIn (NASDAQ: LNKD) offer ads based on the places web surfers visited last, or the type of job they currently hold.
As Twitter seeks to join some of the most popular advertising platforms in the world with its new venture, Weil assured tweeters and advertisers that they are in considerate hands.
"We've always taken a thoughtful approach to monetization, and early results show interest targeting creates a better experience for marketers and users. Today's announcements are a big step forward for our advertising platform, and we can't wait to see how you use them."
Posted-In: Bank of America CNET Kevin WeilNews Topics Hot Tech General Best of Benzinga
View Comments and Join the Discussion!