McDonald's, Chipotle Ramp Up the Pace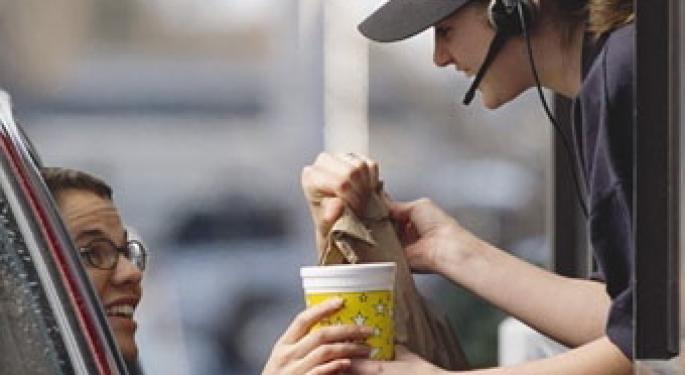 Standing in a long line at a fast food restaurant seems a bit daunting and ironic, but according to The Wall Street Journal, restaurant chains are about to kick their speediness into high gear in a number of different ways.
From burgers to lattes, chains like McDonald's (NYSE: MCD) and Starbucks (NASDAQ: SBUX) are set to make use of new technology in a fashion that will speed up lines during the busiest times. Along with shaving minutes off of the consumer's wait during breakfast, lunch and dinner, employee scheduling will beef up as well in an effort to provide more hands in the kitchen.
"How many people we have on the floor during those peak hours and where are they positioned is very important to driving more transactions," McDonald's Chief Financial Officer Peter Bensen said on a recent conference call.
But that's not all. McDonald's is going to flip its underperforming sales trends and regain investor confidence by going the extra mile in upcoming quarters.
"MCD could attack underperforming sales trends with a redirected marketing strategy to highlight value leadership and reintroduction of "core" product innovation," Oppenheimer noted following a meeting with McDonald's management.
The golden arches may be looking to take a page out of Chipotle Mexican Grill's (NYSE: CMG) book, as the restaurant chain's second quarter traffic reached 3.4 percent – a very strong number in analysts' opinion. Although the company's speed is undoubtedly improving, (Chipotle beat its 2007 record last quarter by serving six additional lunches per day), diners have still found it difficult to move through the buffet-style line at the speed they crave.
Chipotle currently trades around $293.20, a number that has not improved over the last year. Down approximately 13 percent year-to-date, the Mexican restaurant's management knows that the company is capable of much more, as Co-Chief Executive Monty Moran told The Wall Street Journal that there is still a long line every day and people often leave because of it.
McDonald's, Starbucks and Chipotle are undoubtedly on a mission to increase profits in similar ways, but YUM Brands (NYSE: YUM) has chosen to take a different route. Pizza Hut, one of the company's three popular concepts, is set to open smaller delivery locations as a part of YUM's effort to accelerate unit openings from 500 per year to 1,000 annually over the next five years.
Regardless of the tactics being used, the quick-paced restaurant race is definitely on. Which one will you visit today?
McDonald's closed on Wednesday at $89.65, up about 0.57 percent for the day. Comparatively, YUM closed at $63.90, up 0.19 percent.
Posted-In: Monty MoranNews Wall Street Journal Retail Sales Restaurants Management Media General Best of Benzinga
View Comments and Join the Discussion!