Eli Lilly Alzheimer's Drug Misses Goals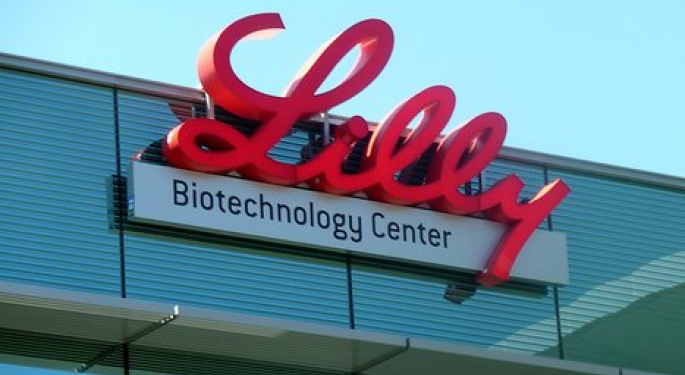 Pharmaceutical developer and manufacturer Eli Lilly (NYSE: LLY) saw its Alzheimer's treatment drug miss its two main goals in late-stage studies Friday, though the drug did show potential for slowing down memory decline.
In addition, the company announced Friday that the U.S. Court of Appeals for the Federal Circuit has affirmed a prior ruling by the U.S. District Court for the District of Delaware that the company's compound patent for Alimta (pemetrexed) is valid. The compound patent provides protection for Alimta in the U.S. through January of 2017.
It hasn't been the most successful month for Eli Lilly. Earlier in August, the company announced data from a Phase III trial comparing the effects of FORTEO (teriparatide [rDNA origin] injection) and risedronate on back pain in postmenopausal women with osteoporotic vertebral fractures.
That study showed no difference between FORTEO and risedronate on the primary endpoint of at least a 30 percent reduction in worst back pain from baseline to six months of therapy, as assessed by a numeric rating scale in each treatment group. However, there were statistically significant differences in favor of FORTEO in some exploratory measures, including greater increases in bone mineral density (BMD) and fewer patients with new vertebral fractures.
Still, the fact that the Alzhimer's drug, solanezumab, results show some positive results, no matter how small, caused shares of Eli Lilly to climb Friday, with some calling the results a breakthrough.
According to the Washington Post, William H Thies, chief medical and scientific officer for the Alzheimer's Association said that the drug "isn't going to the (Food and Drug Administration) tomorrow to be approved for sale. If [the combined results] can be replicated, that is a major finding. It's the first time we've been able to change the course of Alzheimer's disease or any part of Alzheimer's disease in people."
Alzheimer's Disease is so debilitating, so excruciating for the afflicted as well as for the family members, that any breakthrough is better than no breakthrough, and should be celebrated. Judging by the numbers, the market knows that.
On Friday, Eli Lilly traded at about $43.50, up roughly 2.6 percent.
Posted-In: News Topics FDA Trading Ideas General Best of Benzinga
View Comments and Join the Discussion!