Nokia Commands Windows Phone Market with 59% Dominance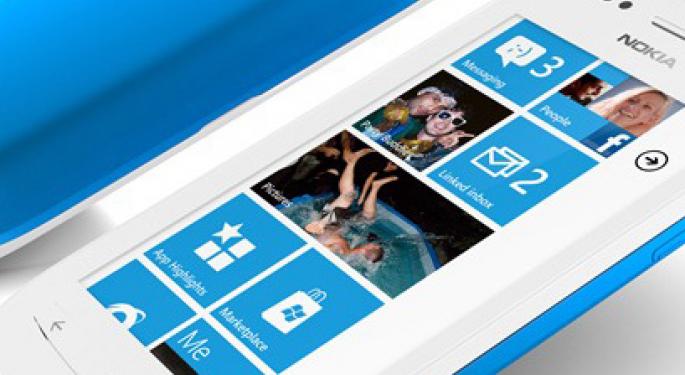 New data shows that Nokia (NYSE: NOK) dominates the worldwide Windows Phone segment with a 59 percent share of the market.
According to The Next Web, HTC leads the United States market with a 36 percent share.
This achievement is no small feat. Nokia's nearest competitor is Samsung, the same company that utilized the Android brand to sell more than 50 million smartphones in the second quarter, beating Apple (NASDAQ: AAPL) by more than 20 million units. Samsung is expected to support Windows Phone 8 with at least two significant devices, though nothing official has been announced.
Samsung currently holds 13 percent of the global Windows Phone market, trailing both Nokia and HTC (which holds 21 percent of the market). In the United States, Samsung's 26 percent market share fell behind Nokia and HTC, but by a much smaller margin. Nokia currently rests in second place with 32 percent of the domestic market.
Unlike Samsung, which manufactures Android phones that are heavily promoted by Sprint (NYSE: S), Verizon (NYSE: VZ), and AT&T (NYSE: T), Nokia has had a difficult time earning the support of domestic carriers. This is especially true of AT&T, which recently stopped promoting Nokia devices at many of its retail outlets.
The promotional struggle comes at a time when Nokia is expected to announce several new devices for Microsoft's (NASDAQ: MSFT) upcoming mobile operating system, Windows Phone 8. If Nokia fails to earn the support of domestic carriers, it may have a difficult time holding on to its share of the market.
This is less-than-worrisome for Nokia's competitors, most of which rely on Android to compete against the iPhone. Android is viewed as the leading alternative to Apple's mobile operating system, iOS. Samsung recently used its onslaught of Android devices to cut into Apple's profits.
Nokia, on the other hand, has thrown its support behind Windows Phone -- a platform that has yet to make waves in the smartphone market. Last week, Nokia Chief Executive Officer Stephen Elop announced that the company will continue to back the platform.
Earlier this month, Nokia sold off a number of assets that it no longer needed, including the cross-platform application framework "Qt" that the company acquired in 2008. The company also announced a new deal with Zynga (NASDAQ: ZNGA) to bring the company's games to the Asha Touch.
On August 2, Groupon (NASDAQ: GRPN) announced that it will add Groupon Now! deals to Nokia's Maps application.
Follow me @LouisBedigianBZ
Posted-In: Android Asha Touch Groupon Now!News Topics Success Stories Tech General Best of Benzinga
View Comments and Join the Discussion!