Will Apple Abandon its TV Plans to Build a Cable Box?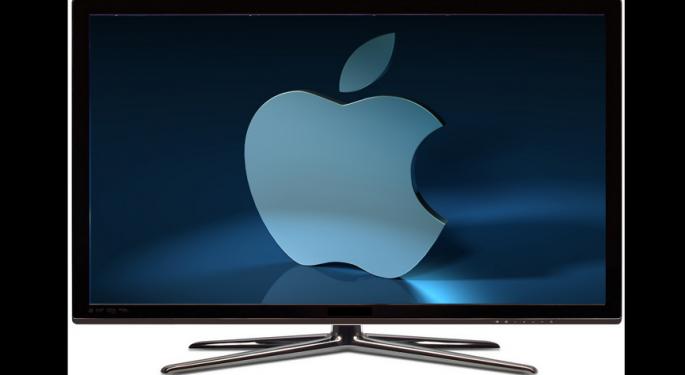 Apple (NASDAQ: AAPL) is reportedly working with domestic cable operators to transform its existing set-top box, Apple TV, into a full-fledged device for cable television.
According to The Wall Street Journal, Apple TV is not the only product being looked at as a possible replacement for traditional cable boxes. The Mac maker has reportedly examined a wide variety of ways that it can bring cable to its users. This includes the long-rumored Apple television set, which could have a cable box built into the unit.
However, if Apple can pull this off with a smaller and cheaper device, would it still need to produce its own TV?
Right now, consumers can purchase an Apple TV box for $99. While there is no mention of the device in Apple's third quarter earnings results, The Wall Street Journal reported that Apple sold 1.3 million units during the last quarter. That is a far cry from the 26 million iPhones and 17 million iPads sold during the same period.
This could be a sign that consumers prefer Apple's high-end products, which are typically more expensive. With an estimated price of $25,000 for a 50-inch Retina Display, an Apple-made TV would definitely be "high-end."
It would also be cost-prohibitive to most consumers. Apple knows this, which is why the company would never release a TV at that price unless it had several cheaper models available. That said, Apple currently sells its 27-inch Cinema Display for $1,000. At that price, there is no way that Apple would ever sell a 50-inch Retina Display for anything less than $2,000.
Apple has made billions selling premium (but affordable) products that differ from the norm. Tablets and smartphones may be ubiquitous now, but Apple will always be remembered as the company that made people care about these devices.
The problem with TVs is that they are already ubiquitous. Consumers already care about them, and they are already premium products. Samsung is one of many manufacturers that offer large, overpriced displays for wealthy shoppers. The South Korean company remains the worldwide leader of the TV market, which is beginning to decline.
This decline recently inspired Sony (NYSE: SNE) and Panasonic (NYSE: PC) to join forces in the production of TVs using OLED (organic light-emitting diode) technology.
It is widely assumed that Apple will change the TV industry by developing a set that packs every feature into one box. Even if that proves to be the case, it is unlikely that innovation will work in Apple's favor. Unlike smartphones (and, to some extent, laptop computers), TVs are not throwaway devices. Consumers do not need to replace their TVs every few years.
Apple is likely aware of this challenge. The company may have a long-term plan in mind, one that revolves around capturing the next generation of TV purchases, which could occur in 10 years once the existing (non-Apple) models need to be replaced.
Even then, Apple will have many challenges to overcome. While at least one hedge fund manager believes that Apple's television will sell faster than the iPad, it is unlikely to sell more units.
Apple could change this by designing cheaper TVs that need to be replaced with a cooler, sleeker, and more efficient model every three to five years. However, in applying this business strategy to the TV industry, Apple would run the risk of ruining its reputation. Right now, consumers expect their smartphones to die in a year or two. They expect their laptops and PCs to be fried in 36 months. Apple excels in these areas because its products tend to last longer than those expectations.
If Apple builds a TV, consumers will assume that it will last longer than the average LCD set, which can run for 10,000 hours before the bulb needs to be replaced.
Now let's assume that none of that matters to Apple because the company does not care about the challenges or the consumer expectations that it may face. In that case, Apple might as well proceed as planned and produce a TV. Right?
Not necessarily. In the best-case scenario, Apple will not be able to reach every consumer with its own TVs. It could, however, accomplish this with a new-and-improved Apple TV set-top box.
Thus far, Apple has slowly upgraded the box to offer additional streaming and downloadable video options. If Apple strikes a deal with Comcast (NASDAQ: CMCSA), Time Warner Cable (NYSE: TWC), Dish Network (NASDAQ: DISH), or some other cable or satellite provider, Apple TV could end up being used by millions of additional consumers. These consumers may own TVs made by Samsung, Sony, Panasonic, or any other manufacturer, but with the help of a small, square box, Apple could still take control of their living rooms.
Follow me @LouisBedigianBZ
Posted-In: AppleNews Wall Street Journal Rumors Topics Tech Media General Best of Benzinga
View Comments and Join the Discussion!