HP Offers Praise for Microsoft's Surface Tablet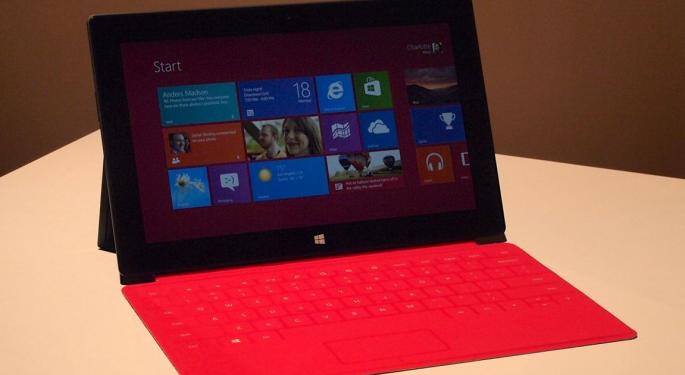 Microsoft's (NASDAQ: MSFT) impending Surface tablet is receiving praise from Hewlett-Packard's (NYSE: HPQ) top American sales executive – and it's not about the alleged price tag. John Solomon is applauding the tech company for showing what is possible in the tablet space, despite the fact that Hewlett-Packard will inevitably experience increased competition once the Surface tablet hits store shelves.
Business Insider reports that Solomon's support mirrors that of Microsoft genius Bill Gates, who believes that the Surface tablet will offer consumers the, "best of both worlds. You can have a rich eco-system of manufacturers and you can have a few signature devices that show off, wow, what's the difference between a tablet and a PC?"
Solomon's comments, while not incredibly shocking, are certainly worthy of note as Hewlett-Packard has remained silent following Microsoft's tablet announcement back in June. Dell (NASDAQ: DELL) commented on the Surface reveal right away, giving support to the company and promising to develop a slew of Windows 8 products.
Along with giving people the opportunity to explore the tablet realm through a Windows-powered device, Microsoft may have bestowed another kindness upon anxious consumers. On Tuesday, rumors began to float around the web stating that the Surface tablet would launch on October 26 for just $199.
To put this price point in perspective, Apple (NASDAQ: AAPL) currently gets $399 for the iPad 2, while Google (NASDAQ: GOOG) sells the 8GB Nexus 7 tablet for $199. Comparatively, Amazon (NASDAQ: AMZN) promotes the Kindle Fire for $199 as well.
While the $199 price tag appears less-than-compelling against some of the competition, consider this: Microsoft is launching a tablet that will introduce an entirely new operating system: Windows 8. The device's relatively inexpensive price tag may allow Apple and Google users to acquire the product to compare it to their stalemates, or (gasp!) even make the switch.
As the competition continues to back Microsoft's Surface endeavor alongside rumors of a low price point, one thing is for sure: the tablet is positioned to experience a successful launch – whenever that may be.
Microsoft closed Tuesday at $30.13, down about .20 percent for the day.
Posted-In: News Rumors Topics Management Tech General Best of Benzinga
View Comments and Join the Discussion!