Standard Chartered May Face $700 Million in Fines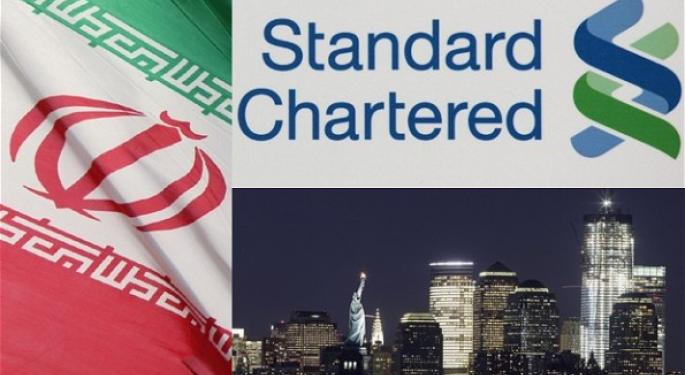 Reports Wednesday showed that Standard Chartered Bank may face up to $700 million in fines from a New York banking regulator. The news comes just days after it was revealed that the New York banking regulator was investigating the British Bank for funneling transactions into Iran, breaking new U.S. sanctions.
Reports Tuesday indicated that although the amount of transfers may be a relatively small amount, the bank may face lots of fines and lost business. The bank admitted to funneling $14 million of transactions into Iran, a country which recently became the subject of economic sanctions. The $700 million in fines may seem small compared to total estimated losses near $5.5 billion.
Bloomberg reported Tuesday that Standard Chartered may face $5.5 billion in losses, including fines, penalties, lost revenue and other opportunity costs. Benjamin Lawsky, head of the New York Department of Financial Services, is leading the investigation, which reportedly dates back to transactions that occurred two years ago.
The allegations of illegal transactions make Standard Chartered the fourth bank to recently face charges of illegal transfers. Other alleged offenders include Credit Suisse (NYSE: CS), HSBC (NYSE: HBC), and Barclays (NYSE: BCS).
One possible punishment for Standard Chartered could be a loss of the firm's New York banking license. Although the bank derives approximately 90 percent of its revenue from Africa, Asia and the Middle East, a loss of a banking license could still spell trouble. Without a banking license in New York, the bank may lose access to New York markets and more importantly, the ability to access dollars for clients in a cost-efficient manner. This loss of business could be detrimental.
The possibility of losing a banking license has increased takeover speculation in the bank. Due to its presence in emerging economic regions of the world, large developed market focused banks could consider a takeover to gain exposure to these new markets.
The charges have sparked renewed rhetoric in the U.K. about protectionism by the U.S. government. Following charges against three large British banks, London Mayor Boris Johnson said the "desire to root out wrongdoing" shouldn't "become an excuse for protectionism." Bank of England Governor Mervyn King said he would like regulators on both sides of the pond to work together toward a solution.
Posted-In: News Forex Legal Events Global Hot Intraday Update Markets Best of Benzinga
View Comments and Join the Discussion!