Soccer Week in Financial Markets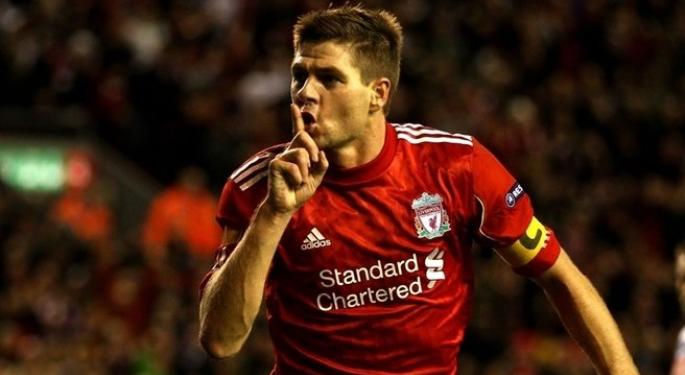 The global sport of soccer is being thrust to the forefront of markets this week as Manchester United, the world's most valuable sports franchise, seeks a re-IPO. Also, Standard Chartered, the sponsor of Liverpool F.C., is reported to have funneled billions of dollars of transactions into Iran.
Manchester United is expected to price its much anticipated IPO Thursday after the close and begin trading Friday morning. Bloomberg reports that demand has already matched the proposed 19,166,667 shares. The company is targeting a maximum share price of $20, bringing the total value of the IPO to nearly $400 million. The IPO comes just one week after Manchester United announced that General Motors (NYSE: GM) is set to become the soccer club's official shirt sponsor in a deal that trumps its current deal with Aon (NYSE: AON).
Another major shirt sponsor has been thrust to the forefront of financial headlines. Standard Chartered is being accused of funneling transactions into Iran. The New York State Department of Financial Services is investigating whether the company did not adhere to new restrictions on financial transactions with Iran. The company has already admitted that $14 million of transactions did not comply with new restrictions put on Iranian transactions.
Standard Chartered is the official shirt sponsor of Liverpool F.C., the club recently purchased by the Fenway Sports Group. Last night, rumors circulated that Standard Chartered would be forced to give up its sponsorship deal with Liverpool to cover the costs of breaking these rules, estimated to be north of $5 billion. However, no comment was made by either Liverpool or Standard Chartered on the matter.
Moreover, news emanating out of Italy seems to indicate that the state-controlled Russian company Gazprom is set to make an investment in the world-famous soccer club A.C. Milan, which is owned by former Italian Prime Minister Silvio Berlusconi. La Gazetta Dello Sport is reporting that Gazprom, controlled by Russian Prime Minister Vladimir Putin, is expected to purchase a 25 percent stake in return for a nearly $225 million cash injection. Recently, the club has sold two of its star players, Zlatan Ibrahimovic and Thiago SIlva, to pay off debt.
Berlusconi was forced to resign from his position as Prime Minister last year following the escalation of his nation's debt crisis. Public debts were run up under Berlusconi's government, sending debt-to-GDP levels north of 100 percent. The debt crisis forced the appointment of the technocratic government of Mario Monti. Recently, Monti has called out Berlusconi, citing that Italy's current woes are attributed to debts accumulated by the former administration. These reports arose following rumors that Berlusconi may run for office once again in the next round of elections.
Posted-In: Gazprom Liverpool FC Manchester United F.C. Mario MontiNews IPOs Global Media Best of Benzinga
View Comments and Join the Discussion!