GM, Honda See Strong Growth in China in July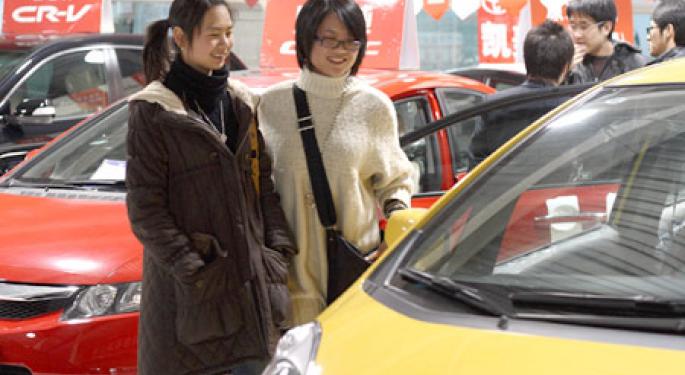 General Motors (NYSE: GM) and Honda Motor Corp. (NYSE: HMC) both saw Chinese sales surge in July. This rise in car sales can be attributed largely to consumer-targeted interest rate cuts, which made large consumer expenditures less costly.
GM said Monday it and its joint ventures sold 199,503 vehicles in China during the month, up 15 percent from a year earlier and a monthly record for the company. Strong demand for minivans was responsible for a large part of the jump in GM's sales. Sales of minivans made by SAIC-GM-Wuling Automobile, a joint venture between GM, SAIC Motor, and Liuzhou Wuling Motors, got a boost from government policies aimed at supporting car purchases in rural areas.
Honda also saw favorable China sales in July. The firm sold 52,045 vehicles in China through its two joint ventures, more than double the tally in the same month last year. Honda's jump in sales may be related to a reversion back to normal sales volume following the Japanese earthquake and tsunami last year, which sent sales volumes and production lower.
The China Association of Automotive Manufacturers is expected to announce total domestic vehicle sales sometime this week. However, data in China does not always come out as scheduled. Total sales in China rose 2.9 percent in the first six months of 2012 as compared to the same period the year prior. That compared with ano 3.4 percent year-on-year gain in the first half of 2011 and double-digit growth in previous years. The slowing growth in auto sales has mirrored the slowdown in GDP seen since the large fiscal stimulus of 2008-2009 wore off.
Strong auto sales in China could bode well for Chinese domestic consumption and the broader global economy. Chinese officials have accepted that an export-driven boom cannot last forever. These officials have likely also accepted that, in order to continue China's rapid economic expansion, they may have to promote a more domestic, consumer focused economy. By cutting rates on consumer lending, China has hoped to spur an increase in consumer credit and consumption. The data from GM and Honda imply that this hoped-for outcome may be coming to fruition.
Posted-In: News Global Econ #s Economics Markets Best of Benzinga
View Comments and Join the Discussion!