July ETF Statistics: Vanguard Not Catching iShares Anytime Soon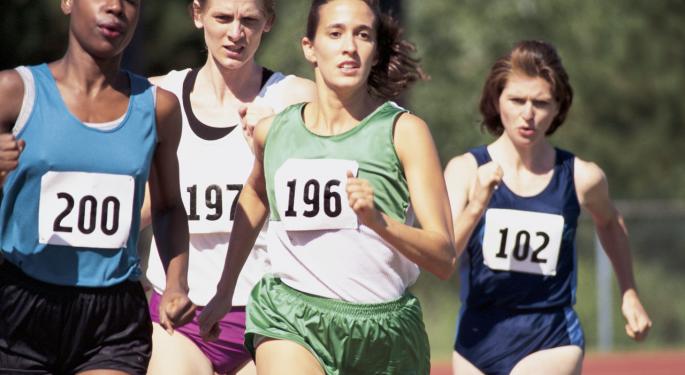 Combined assets under management for the 1,486 U.S.-listed exchange-traded products rose nine percent to $1.21 trillion in July from $1.11 trillion in July 2011, according to ETF Industry Association data. Investors continued to pour cash into ETFs and ETNs. July inflows totaled $17.1 billion, bringing the year-to-date total to $93 billion.
At the end of July, there were 1,486 U.S. listed products, an increase of 15 percent compared to 1,295 U.S.-listed products at the same time last year, the data show.
The top three ETF issuers, BlackRock's (NYSE: BLK) iShares, State Street's (NYSE: STT) State Street Global Advisors and Vanguard, still held an enormous percentage of ETF assets under management. At the end of July, iShares had $492.1 billion in AUM while SSgA had $299.1 billion. Vanguard had almost $215 billion ETF AUM.
Some experts believe that Vanguard will eventually pass iShares as the largest ETF issuer because the former frequently undercuts the latter on price. The rivalry between the Vanguard MSCI Emerging Markets ETF (NYSE: VWO) and the iShares MSCI Emerging Markets Index Fund (NYSE: EEM) is often cited as one example. VWO, the newer of the two funds, has a lower expense ratio and had almost $18 billion more in AUM than EEM at the end of July.
The prediction that Vanguard is on its way to the top may one day prove accurate, but it also overlooks two critical facts. First, Vanguard attracted about $6.6 billion in new assets to its ETFs last month, by far the smallest total among the top three issues. Second, if Vanguard is to chase down iShares, the former likely first needs to narrow an AUM gap of more than $84 billion on SSgA.
In other words, the AUM chasm between SSgA and Vanguard is roughly the equivalent of Alcoa's (NYSE: AA) market capitalization added to two Facebooks (NASDAQ: FB).
Among the 10 largest ETF issuers, only ProShares, the largest sponsor of inverse and leveraged products, saw a decline in AUM. Buoyed by the immense popularity of the Total Return Bond ETF (NYSE: BOND), PIMCO's ETF assets jumped 12 percent on a month-over-month basis and 108 percent on a year-over-year basis. PIMCO is the thirteenth-largest U.S. ETF sponsor.
Led by the staggering performance of the Teucrium Corn Fund (NYSE: CORN) and to a lesser extent, the Teucrium Soybean Fund (NYSE: SOYB), Teucrium saw its AUM total surge 83 percent in July from June.
As of July 31, only one ETF, the SPDR S&P 500 (NYSE: SPY), had more than $100 billion in AUM. Only two others, the SPDR Gold Shares (NYSE: GLD) and VWO, had more than $50 billion.
The rest of the top-10 U.S. ETFs, ranked by AUM, were the iShares MSCI EAFE Index Fund (NYSE: EFA), EEM, PowerShares QQQ (NASDAQ: QQQ) iShares S&P 500 (NYSE: IVV), iShares iBoxx $ Investment Grade Corporate Bond Index Fun (NYSE: LQD), iShares Barclays TIPS Bond Fund (NYSE: TIP) and the Vanguard Total Stock Market ETF (NYSE: VTI).
For more on ETFs, click here.
Posted-In: News Sector ETFs Broad U.S. Equity ETFs Specialty ETFs New ETFs Emerging Market ETFs Currency ETFs After-Hours Center Best of Benzinga
View Comments and Join the Discussion!