Covestor Manager Arold Remains Cautiously Pessimistic
Investment manager 
Mike Arold 
is cautiously pessimistic on U.S stocks.
"The start of earnings season has been very weak and markets need to digest that in the coming one or two weeks, which is why I am bearish in the short term," said Arold, manager of the 
Technical Swing
 model at Covestor.
Downside may be limited though, he says. Should the U.S economy weaken further, stocks could rally on rising expectations for another round of quantitative easing, just as they did in past rounds of QE.
Arold is willing to play the market both ways. He says he has a short list of high-quality stocks he is ready to buy if a relief rally begins to develop. 
Those including real estate holding company Brookfield Asset Management (NYSE: BAM), insurance agency Brown & Brown (NYSE: BRO), Disney (NYSE: DIS), restaurant chain Dunkin' Brands (NASDAQ: DNKN), oil services company Oceaneering (NYSE: OII), Starbucks (NASDAQ: SBUX), and railroad operator Union Pacific (NYSE: UNP).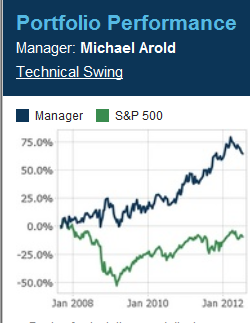 For now, though here's an update on what he recently shorted in the Technical Swing model and why:
Editor's note: Below is an analysis provided by Mike Arold
Estee Lauder (NYSE: EL):
This cosmetics company has been in a market leader since the beginning of the rally in 2009 and showed positive relative strength vs. the S&P 500. This long term pattern changed in April, though. Estee Lauder shares have underperformed the S&P since then and also have broken a long-term uptrend. It's now out of favor.
The decline actually began on May 3, when the company reported earnings. The company beat estimates, although it disappointed investors with its guidance for the next quarter. 
After some consolidation in June, EL broke an important support level at $53, which is where I shorted the stock. 
The price and volume action have been bearish recently, declining on increased volume, which often is a sign of institutional selling.
Deutsche Bank (NYSE: DB):
This is my play on the European crisis. 
It's a stock that's even underperforming the IShares MSCI EMU Index (NYSE: EZU), the European stock ETF.
Deutsche Bank consolidated in June between $33 and $37 and it just broke down from that range. 
I am shorting the breakdown and look forward to a move below $30, which would be all the way down to the 2009 lows.
iShares Silver Trust (NYSE: SLV):
I was shorting the silver ETF previously, but my trade was stopped out. 
Now I have re-entered. 
I am still anticipating a breakdown of the important $26 level, which should trigger a lot of stops in the futures market. The price of silver -- and the silver ETF -- is highly correlated to the euro, which is already trading at new lows. 
A move down to the $1.20 range for the euro appears possible, especially in the light of recent interest rate cuts by the ECB.
It is very likely that more cuts will follow, thus further pressuring the Euro and therefore silver.
The technical setup for the silver ETF s very bearish. I think a technical break of $26 could quickly bring prices down to $20.
Start Covesting with as little as $30,000. We mirror the actions of our managers in your account. 
Talk to us.
We can help you find a great investment model that matches your goals. 
Covestor Ltd. is a registered investment advisor. Covestor licenses investment strategies from its Model Managers to establish investment models. The commentary here is provided as general and impersonal information and should not be construed as recommendations or advice. Information from Model Managers and third-party sources deemed to be reliable but not guaranteed. Past performance is no guarantee of future results. Transaction histories for Covestor models available upon request. Additional important disclosures available at
http://site.covestor.com/help/
<wbr />
disclosures
. For information about Covestor and its services, go to
http://covestor.com
 or contact Covestor Client Services at (866) 825-3005, x703.
Posted-In: Covestor Mike AroldNews Retail Sales Topics Trading Ideas ETFs General
View Comments and Join the Discussion!