New iPad's Worst Feature is Amazon's Dream Come True
The Retina Display, long battery life and 4G LTE capability are among the iPad's most beloved features. But the thing that people dislike the most could boost the Kindle Fire 2.
Due for release sometime this year, the not-yet-announced Kindle Fire 2 – or Kindle Fire HD, depending on who you talk to – will reportedly feature a high-resolution display and may come in two sizes (the standard seven-inch model will return, plus a new 8.9-inch model). This is positive news for buyers of the original Kindle Fire who felt that the device was too small and that the screen wasn't (to use Apple's terminology) "resolutionary" enough.
Not surprisingly, the tablet with the most satisfied customers continues to be the iPad. And in a new survey from ChangeWave Research (conducted March 22 through March 28), the survey firm found that 82% of new iPad buyers are "very satisfied" with their device.
Of the 200 survey participants, 16% said that they were "somewhat satisfied." Only 2% were "somewhat unsatisfied."
But can you guess how many people said that were "very unsatisfied"? That's right, 0%.
ChangeWave compared these results with a survey it conducted in February 2012 regarding the last-generation iPad (the iPad 2). In that survey, 74% of consumers were "very satisfied" with the iPad 2, while 23% were "somewhat satisfied."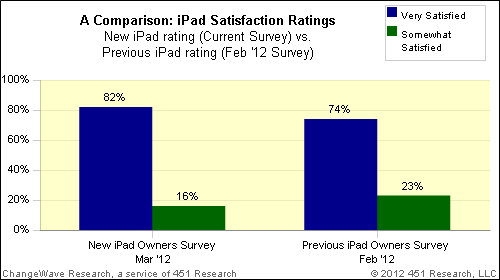 Source: ChangeWave Research
Is this indicative of the new iPad's quality? Was the leap significant enough to win over an additional 8% of consumers? Perhaps. But while the latest survey gathered an immediate, gut-reaction response from consumers who just bought the new iPad, the February 2012 survey focused on an iPad that had been available for 11 months. Thus, survey participants had more time to properly critique the device.
There still seems to be an upward trend in consumer satisfaction, however. In a February 2011 survey, ChangeWave found that 70% of the iPad 1 buyers were "very satisfied." Once again, these participants had roughly one year to play around with their tablet before the survey was conducted. Regardless, the number of satisfied customers was still relatively high.
Going back to the current (March 2012) survey, ChangeWave also asked consumers what they liked and disliked about the new iPad. Survey participants were asked to choose no more than three of the following options: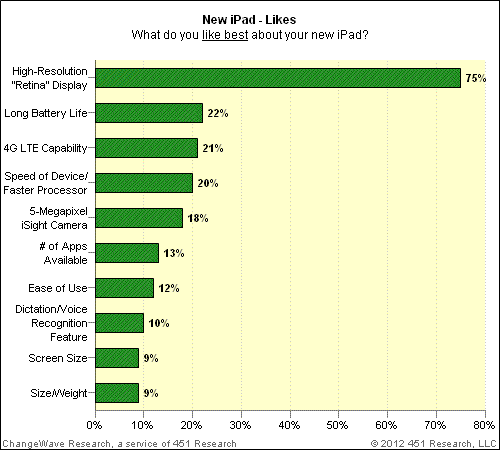 Source: ChangeWave Research
Not surprisingly, the Retina Display came in at number-one with 75% of the vote. Twenty-two percent of consumers appreciated the device's battery life, while 21% liked the 4G LTE capability. Twenty percent took note of the new iPad's speed/faster processor, 18% were fans of the 5MP iSight camera, and 13% liked the app selection.
Screen size and the device's overall size/weight each received 9% of the votes, which is a bit puzzling. Does this mean that these survey participants wanted the screen to be larger or smaller? And what about the size and the weight of the new iPad – what adjustments would they prefer there?
The simple answer is that consumers didn't have a complaint for either of these elements, but rather chose them less frequently because they liked other features better. That could certainly be true.
But when we examine the list of dislikes that consumers have for the third-generation iPad, one thing becomes clear: the expense may not be enough to deter buyers, but it is still something that is very much on their minds.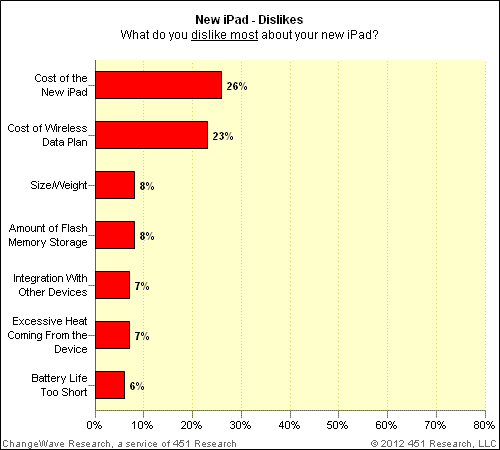 Source: ChangeWave Research
Twenty-six percent of new iPad owners say that the thing they disliked the most about the device is the price, while 23% were unhappy with the cost of their data plan from Verizon (NYSE: VZ) or AT&T (NYSE: T). Regardless, they bought the device anyway! That's exactly the outcome Apple (NASDAQ: AAPL) wanted. If consumers were actually satisfied with the price, it would mean that the company could probably charge more.
But if some iPad buyers disliked the price, one can imagine that there are at least a few people who didn't buy the new iPad because it's a $500 device. Granted, these consumers likely skipped the iPad 1 and 2 for the same reason. But if Apple can't persuade those shoppers, there is someone who can: Amazon (NASDAQ: AMZN). In a ChangeWave survey conducted last January, the survey firm found that a whopping 59% of Kindle Fire buyers liked the device's price more than any other feature. While that doesn't say much about the quality of the tablet (shouldn't an actual function have ranked higher?), it does say a lot about consumers: that price is enough to persuade them.
This is nothing new, of course. Last year, we learned a lot about price and consumer perception the moment the $500 HP TouchPad dropped to $99. Amazon banked on this concept -- selling a high-quality tablet at a lower price -- and sold more than three million units last fall.
But the fact that consumers still think about price -- even after seeing the Kindle Fire in action and realizing that it just can't compare to the iPad -- is a sign that Amazon's next tablet could have a very healthy life after all.
Finally, ChangeWave wanted to know what the 200 survey participants thought of the new iPad's overheating problems. Eighty-nine percent said that it wasn't an issue or that they had not experienced any overheating problems at all. Seven percent said that it wasn't much of a problem, while 4% said it was "somewhat" of a problem.
Coincidentally, Reuters reported this morning that Consumer Reports -- one of the primary sources behind the overheating complaint -- has announced that the new iPad has topped its list of tablets.
Follow me @LouisBedigian
Posted-In: Amazon Apple iPad Kindle Fire new iPadNews Success Stories Tech Best of Benzinga
View Comments and Join the Discussion!