Did Apple Just Reinvent the Textbook Industry?
Apple's big event has come and gone. Did the company revolutionize education or simply take it in a new direction?
Some might say that it was a little bit of both. Apple's (NASDAQ: AAPL) announcement corresponded with the multitude of rumors that hit the Web this week, paving the way for unprecedented market dominance. To the average user of Apple products, the company's learning tools may not seem as exciting as the unveiling of the iPad 3. But this could still go down in history as one of Apple's most important events.
In a nutshell, consumers can now download iBooks 2, a snazzier version of the original iBooks, for the iPhone and iPad. iBooks Author, an easy creation tool aimed at educators, has also been released today. Both apps are free, which isn't terribly surprising considering Apple's business model of making money off hardware, not software.
What is surprising, however, is the cost of new textbooks. High school students will pay $14.99 or less for a new book – that price shouldn't be too hard for the average family to swallow. But it is unclear how much Apple or its book publishing partners may charge for other books.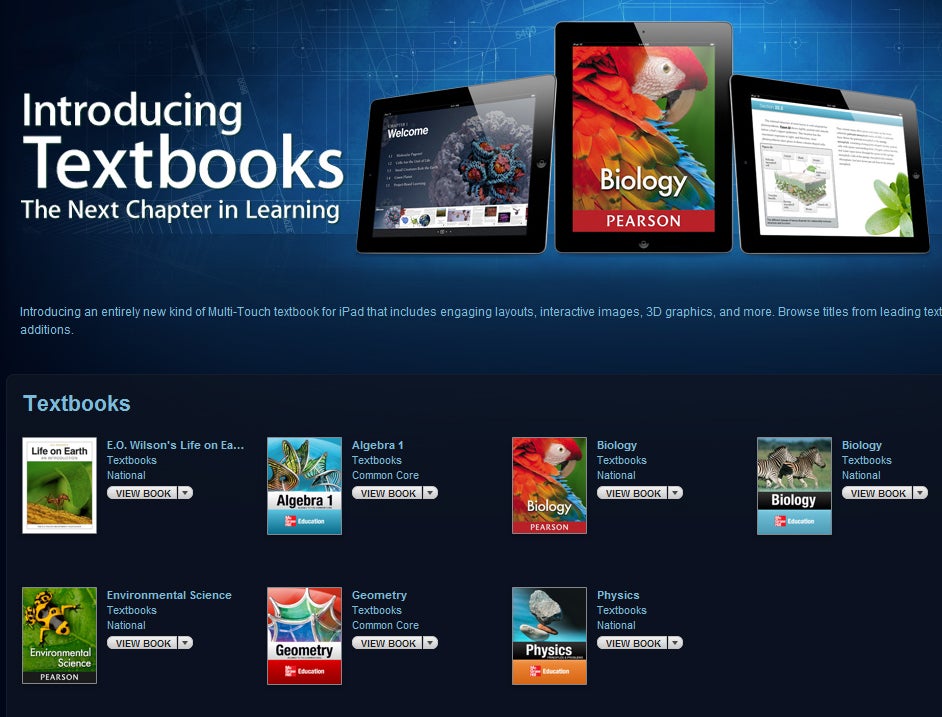 Earlier this week I wrote about the dangers of the Mac maker would overcharging for textbooks. For the time being, none of my fears have come true. There is, however, one reason to be concerned. During the event, it was revealed that the iBookstore will receive an exclusive book from E.O. Wilson called Life on Earth. The first two chapters are being offered right now for free. The rest will become available later this year for what is being hyped as a very reasonable price.
To be perfectly honest, I can't wait to see how "reasonable" is defined at Apple. "Reasonable" means a lot of different things to a lot of different people. For example, when I hear the word "reasonable," I think of a price that is equal to as cheap as possible. Apple's own pricing model for the App Store – which is aimed at selling apps for no more than a few bucks – is partially to blame for my way of thinking.
Textbooks, of course, are a much different beast. But I wonder: what's with the secrecy on how much each chapter will cost? And why would Apple even consider selling the chapters individually? Wouldn't it be better to package up all of the digital chapters and sell them together? Apple is likely to do that anyway.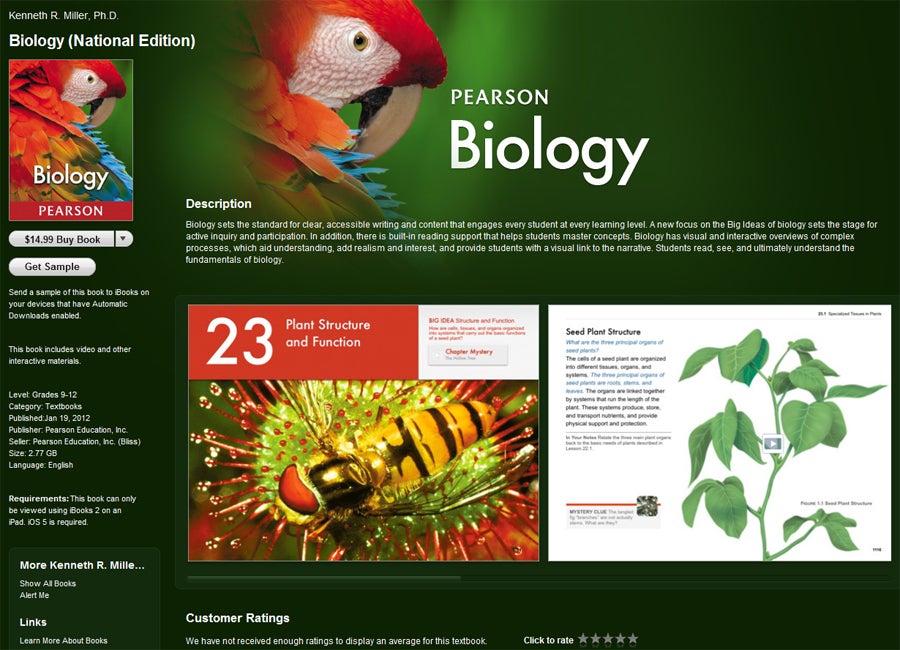 But if Apple decides to start selling individual chapters (at a price that is truly reasonable), the iPad maker could discover a whole new market. College professors routinely require students to buy full textbooks when they know that only a few of the chapters or pages are relevant. With iBooks, Apple could make it easier (and faster) for students to acquire the specific materials that they need for the course – nothing more, nothing less.
While book publishers might initially view this as a negative move (why sell part of a book to students if they could be forced to buy the whole thing?), publishers would be wise to support this venture. Just as I had professors who forced me and my classmates to buy books with only a few valuable chapters, I also had professors who chose to forgo certain books because they did not provide enough valuable content. But if those latter professors had been able to give students a fast, convenient, and low-cost option for acquiring the necessary pages, they might have been more likely to assign them. In the long run, that could actually mean more money for the publishers.
This, however, does not address the overall price of each book, which might still be an issue. After all, there are times when it is actually cheaper to buy a physical novel from Amazon (NASDAQ: AMZN) than it is to download the digital version from Amazon or iBooks. But the pricing scheme for novels and other voluntary readings is considerably different from that of required readings. If a book publisher knows that students will be required to buy its book, it knows that it can increase the MSRP.
But why would Apple choose to save the Life on Earth pricing model for a later date? Is it because the company wants to wait and see how consumers react to iBooks 2? If consumers don't respond very favorably, prices are likely to be low. But if consumers eat it up, we might be in trouble.
One thing that could keep Apple's prices in check is the growing number of digital competitors. The Apple brand name (along with the iPad 2 and the forthcoming iPad 3) will go a long way in helping Apple become the dominant player in digital textbook distribution. But that doesn't mean the company will have an easy time acquiring 95% of the market, as predicted by Global Equities Research analyst Trip Chowdhry. (To be clear, Chowdhry does not think it will be easy for Apple. But he does think Apple will ultimately own 95% of the digital textbook market.)
Aside from the potential expense of digital textbooks (near- or long-term), there is one issue that Apple has yet to address: backups. Will the company provide students with any alternative options if their iPad is lost, stolen, or broken right before a test? Right now, it appears that a lot of the cool new books that were unveiled today were developed exclusively for use on the iPad, which means you won't be able to run them on any other device – not even the iPhone.
This could be a problem for some students. If you drop a typical book on the floor (or worse, down a flight of stairs), very little damage will be incurred. The book might fall apart over time, but it will survive the semester. The same cannot be said for an iPad. Knowing how many people have dropped their iPhones in water (among other destructive mistakes), I can imagine that some will do the same with their iPads.
Then we have the issue of battery life. With the current battery life at a max of around 10 hours, a fully charged iPad should get most students through a long night of studying. But if you lose your charger, you're screwed. That's not an issue with a book that's made of paper.
Overall, I think Apple's initiative will (eventually) lead to a superior learning experience. When placed into the right hands, iBooks Author could allow educators to produce the most immersive books available.
But we aren't quite there yet. What Apple is doing today is a positive step forward. But I would not encourage any school to abandon its old textbooks just yet. If Apple can double the iPad's battery life with the iPad 3, that will be a good start. But unless the company is prepared to bring these books to all of its devices (why can't you read the iPad textbooks on a MacBook?), the digital revolution might not come as quickly as people expect.
Follow me @LouisBedigian
Posted-In: Apple Global Equities Research iBooks iBooks Author iPadNews Success Stories Tech Best of Benzinga
View Comments and Join the Discussion!