Amazon Takes on Apple with New Tablet, New Browser, New Kindles, and Lower Prices
The new Kindle e-readers will be surefire hits. But what about the Kindle Fire?
At a press event unlike any in the history of the company, Amazon (NASDAQ: AMZN) took the wraps off its long-awaited tablet, confirmed the low price of $199, announced a November 15 ship date, and promoted a host of features that are sure to excite consumers while simultaneously sending shivers up Apple's (NASDAQ: AAPL) spine.
It wasn't a revolutionary event – far from it. Amazon didn't come to the show with a groundbreaking tablet that will change everything. Rather, it came with a tablet that does just about everything we want – nothing more, nothing less. In fact, by the time the company's presentation was over, it didn't seem to matter that the Kindle Fire would not feature a camera, a microphone, or 3G support. This effectively kills any chance the device may have had to compete with Apple's FaceTime feature. It also means that Kindle Fire users will have to be tethered to a Wi-Fi connection to get online (and in the cloud, which is a big part of the Kindle Fire). But at $199, will users care?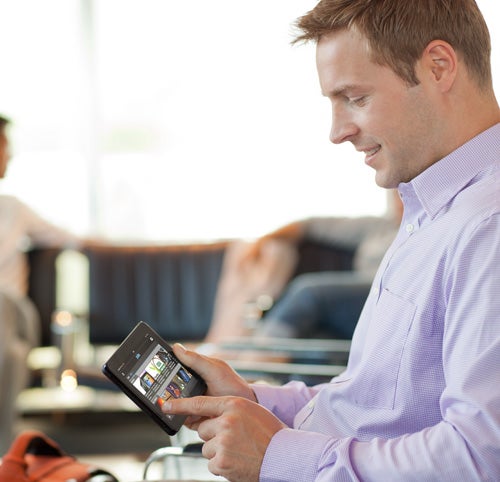 Probably not. As it stands now, millions have willingly spent $300 more on the iPad and iPad 2. Most users purchased Apple's devices for their impressive web-surfing capabilities, their spectacular video displays, and their massive app collection. Thus far, no one has been able to compete with Apple in the latter category. But if web and video are the primary reasons you want a tablet, Kindle Fire has a significant edge.
Kindle Fire also has an edge with Whispersync, which will apparently allow you to swap Amazon videos from your TV to your tablet and vice versa. The iPad can do a bit of this as well, but only with an Apple TV attached to your television set. (It is not yet clear how the Kindle Fire will pull this off, but it's safe to assume that if you already have a device that plays Amazon videos on your television, it will work with the Kindle Fire.)
While I am not sold on the device, the price is very intriguing. My gut (and personal experience) tells me that the Kindle Fire will be a better quality tablet than the HP TouchPad, which, as a $499 device, looked very appetizing at $99. That price moved mountains. I personally cannot stand the products Hewlett-Packard (NYSE: HPQ) produces. But when the price was right, I nearly threw my preferences out the window to own what appeared to be a decent tablet at an awesome price.
It's that kind of mentality that Amazon is attempting to use to sell the Kindle Fire. And contrary to what some analysts might think, it's going to work.
Take a look at these bullet points from one of the slides at the event:
18 million songs, movies, TV shows, books, magazines, apps, games (this includes 100,000 on-demand movies and TV shows; 11,000 of those videos are free with Amazon Prime)
14.6 ounces, hold with one hand
Dual-core processor
Multi-touch 7" IPS display
Free Amazon Cloud storage
Whispersync
Amazon Silk – Cloud-accelerated mobile browser
"I hope you see what we're doing here," Jeff Bezos, Amazon's CEO, told the crowd. "Premium products at non-premium prices. This is the way Amazon has operated for its entire history." (Quote courtesy of This is my next.)
And he's exactly right – this does appear to be a premium product at a non-premium price, which is essential to Amazon's success. Going into this event, I expected to be disappointed. The rumored $249 price point seemed too high. The price I personally hoped for ($99 to $149) was just too low. But after settling at $200 with a tablet that does almost everything I want, it's hard to complain.
Would I prefer a 10" screen instead? Yes. But I'm not willing to spend another $300 for three inches.
Amazon Silk
Since no Amazon tablet would be complete without a fresh service, the company unveiled Amazon Silk, a new "split browser" architecture designed to accelerate "the power of the mobile device hardware by using the computing speed and power of the Amazon Web Services cloud (AWS)." Amazon says that the Silk browser resides on both the Kindle Fire and on its "massive" server fleet that comprises the Amazon Elastic Compute Cloud (Amazon EC2).
Using aggregate traffic patterns, Silk will attempt to predict the page that users are most likely to click next. For example, Amazon says that Silk might observe that 85% of visitors to a leading news site are clicking on the site's top headline. EC2 and Silk will then take that knowledge and make "intelligent decisions" about "pre-pushing" content to the Kindle Fire. "As a result, the next page a Kindle Fire customer is likely to visit will already be available locally in the device cache, enabling instant rendering to the screen," Amazon wrote in its press release.
"We refactored and rebuilt the browser software stack and now push pieces of the computation into the AWS cloud," said Bezos. "When you use Silk – without thinking about it or doing anything explicit – you're calling on the raw computational horsepower of Amazon EC2 to accelerate your web browsing."
All told, Silk aims to deliver a faster and more seamless web-surfing experience.
More Kindles, Lower Prices
Banking on the success of its e-readers, Amazon used today's event to unveil three new versions of the Kindle: a standard, pocket-sized Kindle ($79 with special offers; $109 without), the all-new Kindle Touch ($99 with special offers; $139 without), and the Kindle Touch 3G ($149 with special offers; $189 without).
Remember that "special offers" is code for "advertisements." While most readers don't seem to care about the ads (mostly because they don't interfere with the book while you're reading), it's still difficult for me to support ads in a medium that was ad-free for thousands of years.
That aside, the new Kindles do look sharp, especially the Touch models, which include a new feature called X-Ray. This allows you to, as Amazon puts it, "explore the bones of the book." By applying a single tap, readers can "see all the passages across a book that mention ideas, fictional characters, historical figures, places or topics that interest them, as well as more detailed descriptions from Wikipedia and Shelfari, Amazon's community-powered encyclopedia for book lovers."
Readers can buy the regular Kindle today, but they'll have to wait until November 21 to buy the Touch. However, now that Amazon has updated its website, buyers can pre-order the Touch and the Kindle Fire right now.
Follow me @LouisBedigian
View Comments and Join the Discussion!
Posted-In: Amazon Amazon EC2 Amazon Kindle Apple Apple TV iPadNews Tech Best of Benzinga