Wal-Mart Really Wants New York City To Save Money (WMT)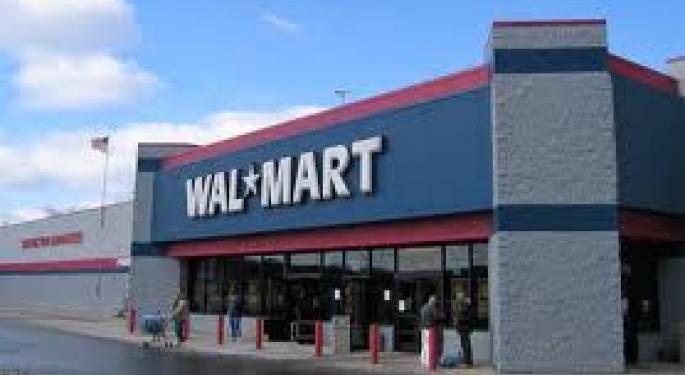 Wal-Mart (NYSE: WMT) really wants to enter New York City, despite strong opposition from small businesses. Wal-Mart isn't backing down though, and plans to put up a strong fight.
73% of 300 small business surveyed by Gotham Government Relations said they do not want the super store to enter New York City, which puts it in contrast with what the Bentonville, Arkansas-based company has said in a survey.
According to Wal-Mart, 62% of small business owners want Wal-Mart in New York.
"We (Gotham) decided to do this poll because the results of the Walmart one struck us as absolutely impossible," said Brad Gerstman, a lawyer for Gotham who represents Gristedes supermarkets.
Gotham said less than a third, 32%, of business owners that were surveyed don't have a problem with Wal-Mart entering the city. 11% did not know enough or care about the issue.
"The results likely would have revealed far more against, if the respondents were aware that many local retailers would have been put out of business with the emergence of Walmart, as has been demonstrated in other cities," said David Schwartz, another lawyer with Gotham.
Gristedes owner John Catsimatidis published an op-ed in the New York Daily News last week to protest Wal-Mart. "Wherever the retail giant has located, smaller competitors - the ones that have always helped shape the character of our cities - struggle to stay in business," he said.
Despite the opposition, Wal-Mart is mounting an opposition to move into the city, and this time, it's leaving politicians out and going directly to consumers.
Going around handing out mailers has been one approach. The flyer said, 'You don't ask the special interests or the political insiders for permission to use the bathroom, so why should they decide where you're allowed to shop?'
"The key message here is that New Yorkers should decide where they shop and work," said Walmart spokesman Steven Restivo. "Some of the louder voices in the debate don't represent the interests of New Yorkers."
What do you think? Do you think Wal-Mart should be allowed to enter New York? Do you have a Wal-Mart by you? If so, how has it affected the surrounding community?
View Comments and Join the Discussion!