Desperate For A Twilight Replacement (LGF)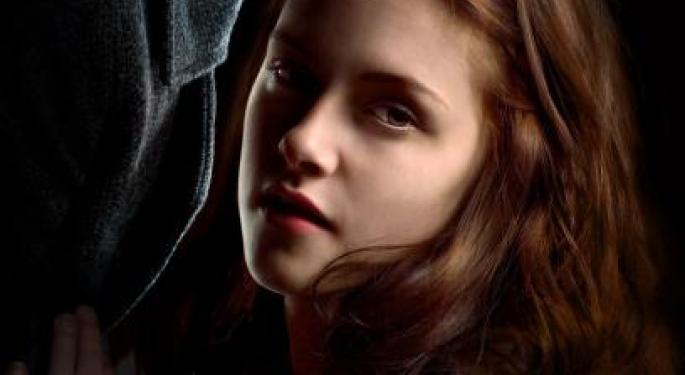 Twilight – the final frontier. At least, that's what Hollywood thinks of this book-turned-movie franchise. Whereas most studios have apparently given up on finding the next Harry Pottery – failure after failure in the department of magical films (Percy Jackson, etc.) will do that to you – Hollywood is determined to find a franchise to succeed Twilight.
There's no denying the popularity of vampire entertainment. Between True Blood and The Vampire Diaries – and numerous Twilight clones lining the shelves of bookstores – vampires are no longer known as the leading class of blood-suckers. In Hollywood, they're known as cash cows that suck our wallets dry.
But while the vampire TV shows (both from Time Warner Inc. (NYSE: TWX) subsidiaries) are more of a niche market, Twilight is a pure, unfettered, mainstream success. With hundreds of millions in ticket sales, and millions more in DVDs and merchandise, Hollywood is hoping it can find another vampire love story – and fast.
One studio, Lionsgate Entertainment (NYSE: LGF), thinks it might have found a Twilight successor: The Hunger Games. Written by Suzanne Collins, The Hunger Games tells the story of a post-apocalyptic North America that is controlled by an evil government that punishes its citizens (who once tried to rebel against it) by making the nation's children fight each other in an annual bloodbath. It's gladiators with a twist, and in case you haven't read the books yet, allow me to reveal one tiny tidbit: The Hunger Games novels are nothing like Twilight.
But with Collins' expert storytelling, brilliant pacing, and remarkable characters at hand, her trilogy commands a strong fan base. Thus, Hollywood couldn't resist.
While nothing is set in stone just yet, rumors suggest that Lionsgate is trying to "Twilight" the film into the hearts of Team Jacob-loving schoolgirls by casting CW stars like Penn Badgley and Lyndsy Fonseca. Again, nothing has been confirmed. But even if the rumors are only partially true (remember the nightmare that preceded the concrete details surrounding Paramount/Viacom's (NYSE: VIA) The Last Airbender?), The Hunger Games is in deep trouble.
Which, contrary to what Hollywood studios might be thinking, is not a good way to service the existing fan base, nor is it the best way to expand the audience.
Unlike the various Harry Potter clones that snored us to sleep, however, The Hunger Games has the potential to be wildly successful all on its own. If placed in the hands of a talented and highly passionate director – and if the studio allowed that director to do his/her job – The Hunger Games could become the smash hit that Lionsgate desires.
But will it? Will Lionsgate follow in the footsteps of Peter Jackson, the brilliant director behind The Lord of the Rings? Or will The Hunger Games leave us hungry for better book-to-film adaptations?
View Comments and Join the Discussion!
Posted-In: entertainment films Lionsgate movies ParamountNews Rumors Media