Digital Ally, Vicon, Image Sensing Systems Move On Ferguson Unrest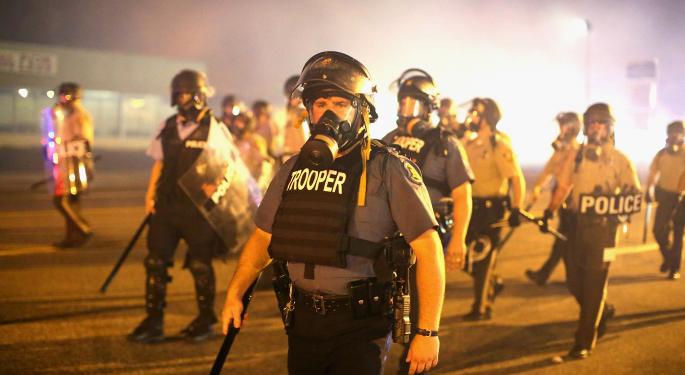 In the ultimate example of news-driven volatility, shares of Digital Ally (NASDAQ: DGLY), Vicon Industries (NYSE: VII) and Image Sensing Systems (NASDAQ: ISNS) all have traded in huge ranges recently after the three police-security stocks received tremendous media attention following the events in Ferguson, Missouri.
Now that things are calming down, what are investors to do?
Fundamental Movers
Stocks that basically double over the course of a day or a few days are typically either reacting to new Food & Drug Administration approvals (in the pharmaceutical and biotechnology space), new product launches (in the technology space) or to buyout rumors (anywhere else).
Related Link: Could Lennar Be Building The Foundation For A Rally?
Those are all fundamental reasons for stocks to move that much that quickly. However, to think that these three stocks' values automatically doubled because of the events in Ferguson could be, in the opinions of some objective observers, a bit of a stretch.
When the headlines push around stocks in this manner and the real fundamentals of the companies involved become detached from the trading action, many turn to the technicals.
Digital Ally
Shares of Digital Ally gapped up huge Thursday morning and finished the day up more than 35 percent after successfully (for the time being) testing the 38.2 percent Fibonacci retracement of the August 14 to 26 rally that took the stock from $3.16 to $16.24.
To sum up, the stock moved from $3.16 to $16.24, down to $11.24 and then back up to Thursday's close of $15.68. This seems like a day-trader's dream and a lay-person's nightmare.

Click to enlarge
The professionals would tell you to be careful here and possibly suggest to try this on the long side only at $11.24, $9.70 or $8.16 (all three of which are Fibonacci retracement support levels).
Upside resistance for the stock comes in at Tuesday's high of $16.24 and the September 11, 2013, high of $17.47.
Vicon Industries
Vicon shares made a nice upside comeback Thursday after testing the 50 percent Fibonacci retracement of the rally that took place from August 19 to the 26 close that saw prices move from $2.10 to $4.52 on an intraday basis. Support for Vicon comes in at the $3.31 level (the 50 percent retracement) and then the $3.02 level (the 61.8 percent retracement and gap-fill level for the August 26 upside gap).

Click to enlarge
Those trying a long-side trade in Vicon should probably do so only at those specific levels, using stop losses on closes below those levels. The upside target is tough to pinpoint, but an educated guess would be the closing high from August 26 at $4.52, with long-term horizontal line resistance coming in above that at $5.10.
Image Sensing Systems
Image Sensing finished Thursday down more than 7 percent to $3.78 after running from $2.10 to $4.69 in all of this Ferguson hype. Thursday's close came in just above the 38.2 percent Fibonacci retracement (of the hype rally) level at $3.77.

Click to enlarge
If that level fails to hold as support, as many technicians suspect it might, the next support level would come in at the 50 percent retracement line at $3.40. That level also would represent a complete filling of the upside gap that occurred on August 27. Those inclined to go long might want to do so at around $3.40, where most technicians are saying it would at least make a little sense according to the charts, assuming stops are honored on any close below $3.40. In theory, the upside trading target, they note, would be a move back up to around $4.40.
Key Takeaways
In this environment, with the fervor surrounding these stocks likely to wane as time goes by, betting on the long side would appear to be the definition of a hope-based trade. Trading in these stocks right now is very treacherous for both longs and shorts. The best anyone can do is use mathematics (Fibonacci calculations) to try to put the odds in his or her favor and minimize the pain on a losing trade.
Stock chart:


Posted-In: Movers Tech Best of Benzinga
View Comments and Join the Discussion!