Best Buy: Problems And Potential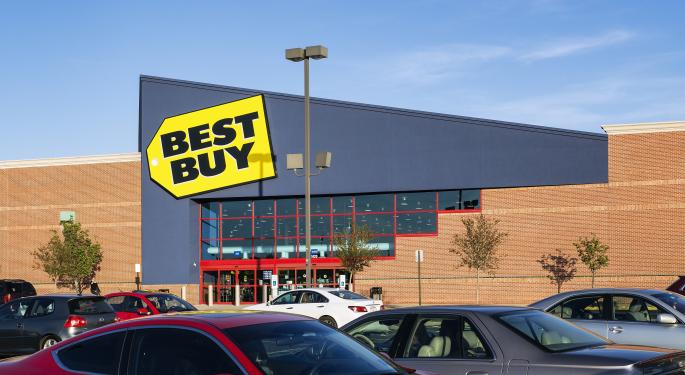 Best Buy (NYSE: BBY) continues to confuse investors.
At least once a month, an article is published arguing that Best Buy is a bargain for investors. Oftentimes a conflicting opinion is released a day later.
Here's a closer look at the electronics retailer, based on the company's recently released second-quarter results.
A Look At Results
Revenue declined 4 percent to $8.89 billion year over year, missing analyst expectations of $8.99 billion. Net income plummeted 45 percent to $146 million. These are important numbers to consider, but what many investors fail to realize is that when it comes to retail, nothing is more important than comps.
Comps, otherwise known as same-store sales, is critically important because it's the best way to measure customer demand and loyalty for a retailer's merchandise. Unlike revenue, comps doesn't include sales at new stores. It only includes sales at stores that have been opened for at least one year.
Related Link: 5 Things You Need To Know About Twitch's Sale To Amazon
More Locations
If a retailer really wants to show revenue improvements, it can simply open more locations. Excluding new store openings with comps gives a better read on the strength of a retailer in the current consumer environment. So how did Best Buy perform in the second quarter on a comps basis?
The short answer? Not well. Overall comps declined 2.7 percent year over year, with U.S. comps sliding 2 percent. These aren't terrible numbers, but certainly not exciting to investors. Best Buy provided some simple reasons as to why comps sales declined.
Best Buy was quick to point out that it's not all the company's fault. It mentioned that, according to NPD Group's Weekly Tracking Service, industry-wide consumer electronics sales slumped 2.5 percent for the quarter. This should come as little surprise given the lack of wage growth opportunities seen in the job market. When incomes decline, electronics are seen as a luxury, not a need.
That's not the only problem for Best Buy.
Business In eCommerce
According to Internet Retailer, Best Buy generated $3 billion in eCommerce sales in 2013, which made it the 15th-largest online retailer. Best Buy lost its 14th-place ranking to Costco (NASDAQ: COST) in 2013.
Costco increased its Internet sales 48 percent to $3.1 billion last year. Costco is well aware of shifting shopping trends and its need to attract more millennials for the future.
Then there's Amazon (NASDAQ: AMZN), far and away the largest online retailer. Amazon sold $67.8 billion in merchandise last year. Amazon has also seen its revenue increase 276 percent over the past five years, a big difference from Best Buy's 12 percent decline.
With so many consumers moving online for their shopping wants and needs, it's going to be difficult for Best Buy to compete with the likes of Amazon, which has such an established online presence.
Many believe there needs to be at least one physical electronics retailer in existence. If that's the case, Best Buy is the most logical answer.
Shares of Best Buy are down more than 20 percent year to date.
View Comments and Join the Discussion!
Posted-In: best buy ecommerce retailMovers Best of Benzinga