Want to claim 6 FREE stocks? Head over to Webull to get started.
When you begin to evaluate which brokerage best fits your needs, two are household names: Vanguard and Fidelity. Both are well-known financial institutions which provide comprehensive financial services. You'd be in good hands with either titan, but there are some subtle and some not-so-subtle differences between the two.
A brief overview of each brokerage
Best For

Retirement savers
Buy-and-hold investors
Investors looking for a simple stock trading platform

Best For

Easy-to-navigate yet functional platform strikes the perfect balance between expert tools and comfort for beginners
Mobile trading app is fully-optimized and mirrors full functionality of the desktop platform
Wide range of education and research options make learning more about securities and the market easier and less time-consuming

get started

securely through Fidelity Investments's website
Vanguard
Vanguard rose to prominence as the low-cost index fund institution. CEO John Bogle, who noticed that most actively managed funds failed to beat the market, piloted the company toward offers of mutual funds that tracked the major indexes at extremely low costs.
Read Benzinga's full Vanguard Review
Fidelity
The fourth-largest asset manager with over $2.4 trillion under management, Fidelity operates out of Boston, Massachusetts as a brokerage firm that also manages large funds of active and passive strategies. Founded in 1967, the company offers a full suite of options for clients from brokerage services to wealth management.
Read Benzinga's full Fidelity Review
Account types
Both Vanguard and Fidelity offer a fair amount of options with a few notable differences.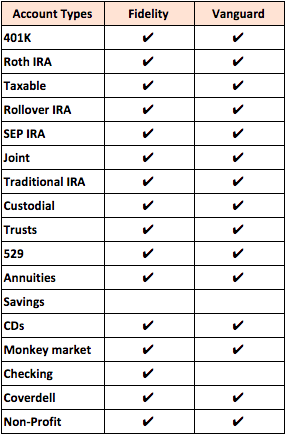 Additionally, Fidelity makes it easy to transfer between trading accounts and banking accounts, allowing active traders an opportunity to manage their money better.
Fees
Vanguard
Although Vanguard is known for its low fee funds, transaction costs are high. Vanguard charges $25 for stock trades over the phone, but are drastically cheaper online. Options contracts cost $7 per trade with $1 per contract.  However, fees decline dramatically with higher amounts of capital.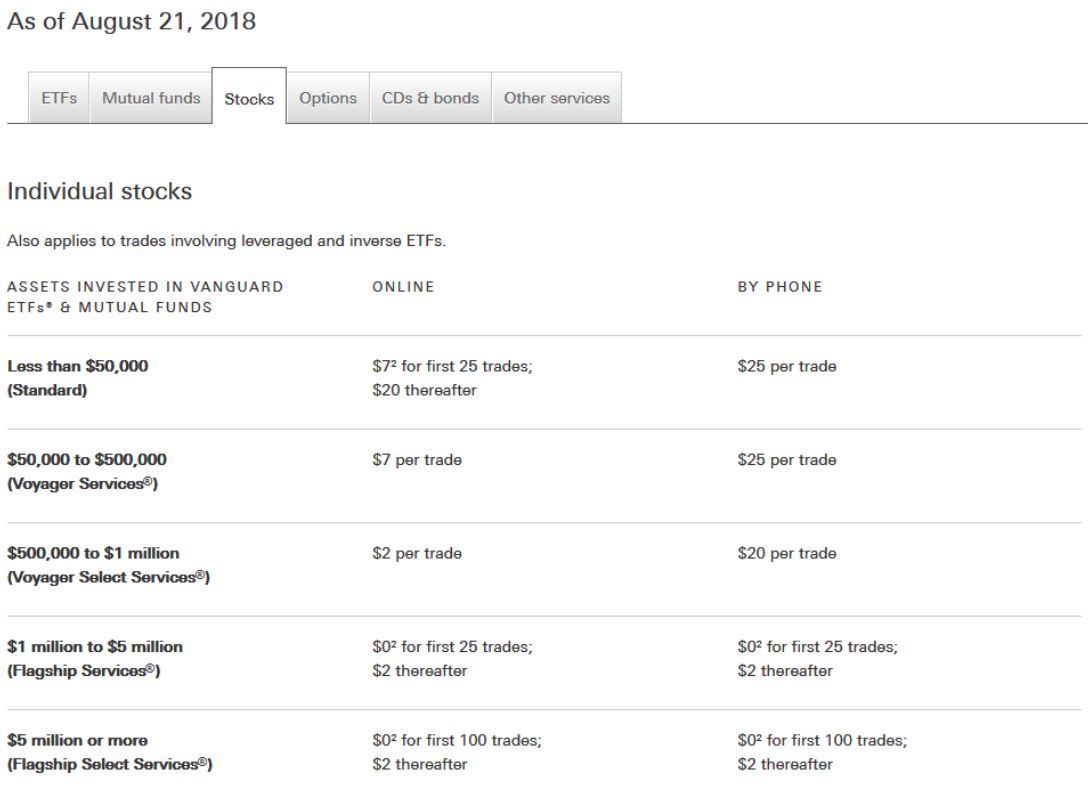 Fidelity
In an effort to win over more of the value crowd, Fidelity began lowering fees for traders.  Stock and options trades now are $4.95 per trade, which are some of the lowest flat rates available. Fidelity also offers $0.65 for each option contract traded.
Both offer a wide array of mutual funds transaction fee-free, as well as some that are commissioned. Vanguard's fees are $20 per trade, but decline as you hold more money in your account. While Fidelity has many no-transaction fee funds, redemption costs are high if held less than 60 days at $50. All other transaction fee funds are $50 per purchase with no redemption fees.
Fidelity offers a nice comparison: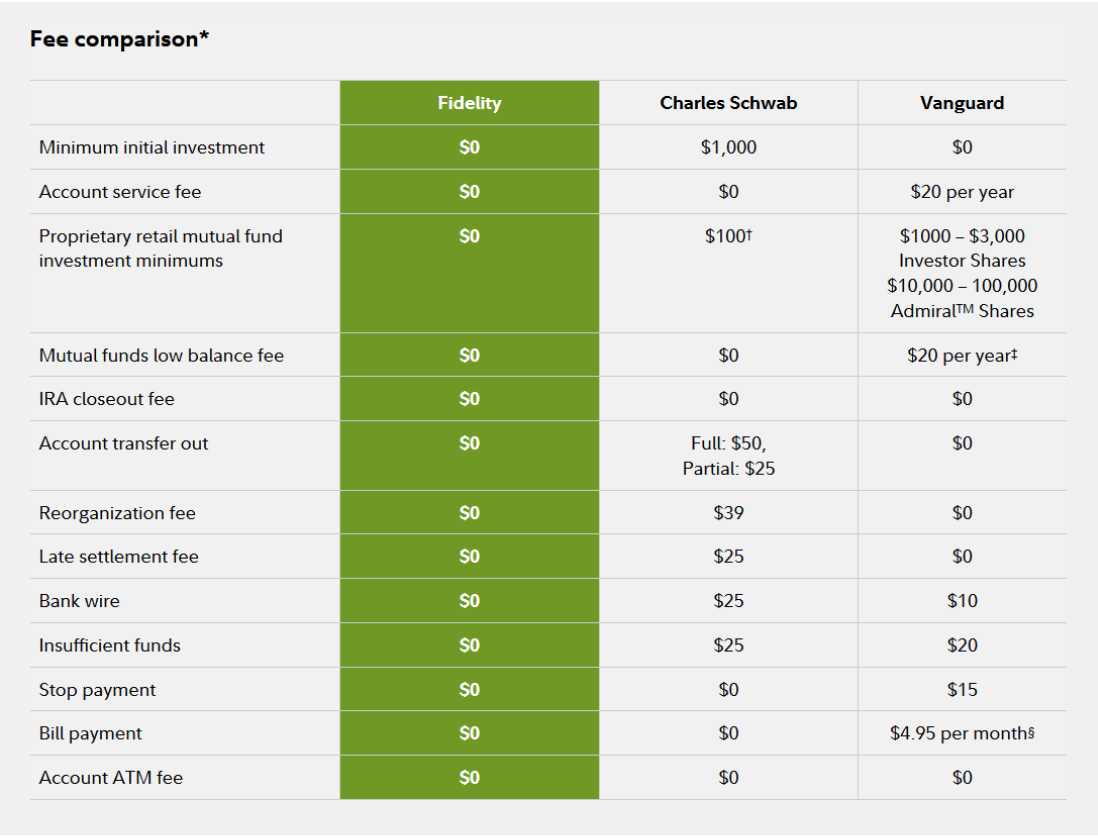 Platform and tools
Vanguard
Vanguard hasn't really been known to offer flashy software and focuses more on functionality.  
Most investors use Vanguard's website trading platform, which is reasonably easy to use and basic in its functionality.

Vanguard offers a mobile application for account balances and research, but not for trading.
Fidelity
On the other hand, Fidelity has spent considerable capital creating enhanced platforms for various investor types.
Fidelity's Active Trader Pro platform offers traders an easy, clean interface with very few bugs and flaws.  

Any active traders are given access to the active trader desk to discuss additional trading ideas.

Fidelity offers a mobile application that allows for research, analysis, trading and account management.  

A recent redesign allows a quick view of account balances without logging in as well as fingerprint logging. What's unique to Fidelity's app is the blend of news and trading functionality that sets the company apart from other mobile apps.

The tools available on the Fidelity website offer a whole host of screeners and analytics. Investors can research options strategies by bias (bullish, bearish, or neutral), along with active screens that allow them to both explore and discover options strategies in real time.

Their options analytics allows clients to calculate the value of an option at different times, given various inputs, from purchase until expiration.
Fidelity's stock screen and research tools offer Recognia pattern recognition software that allows traders to search and scan for chart patterns within a list of stocks. The scanning tools also incorporate basic stock information on fundamentals as well as technical analysis into their scans.
Vanguard offers a similar capability in screening stocks without the technical analysis portions.  It does offer a unique analysis of an investor's portfolio to understand potential risk and return.  While Fidelity does have similar analysis, it isn't as prevalent and well-put together.
Lately, Fidelity has dove into expanding its client base into active traders and quantitative analysis. Though not well-supported, Fidelity offers a comprehensive backtesting software known as Wealth-Lab. Unfortunately, the service for the product is entirely the third party, and the Fidelity customer service seems unable to answer even the most basic questions.
Research and education
Both Fidelity and Vanguard bill themselves as institutions for the retail investor.
Vanguard
Vanguard's focus relies primarily on the basic ideas and concepts around index investing, as well as mutual funds and ETFs. Vanguard isn't as focused on active portfolio management and aims to develop a solid risk-based portfolio for you.
Fidelity
Fidelity focuses on being everything to everyone and offers online videos and training material, webinars and in-person classes. If you invest with Fidelity, you can learn everything from options strategies to overall portfolio management.
Investment selection
Both institutions offer investing in stocks, bonds, ETFs and mutual funds, but there are a few key differences. Each company offers its funds and products at low or zero-cost fees.
Both provide clients with basic index funds, but Fidelity offers a wider array of sector options as well as actively managed funds.
Customer service and support
Vanguard
Vanguard also only offers online and phone support.
Fidelity
Unlike Vanguard, Fidelity maintains local branches where you can discuss your needs in person. Fidelity offers live chat for customers. 
Final thoughts
It will be interesting to see the direction each company takes in the coming years. Vanguard focuses on low-cost funds but hasn't done much to expand on the user experience. Fidelity may risk losing its focus because of its attempts to "be everything to everyone".
Regardless of your trading experience, ultimately, Fidelity may offer more to get you started than Vanguard.