Want to jump straight to the best? Most of our users prefer Interactive Brokers for stock trading.
If you want to see other top performing stocks broken down by price, see below:
Start trading stocks today.
Best Stock of the Day: Applied UV, Inc. (NASDAQ: AUVI)
Applied UV, Inc. is a corporation focused on preventing medical infections. The firm is headquartered in Mount Vernon, New York.
1.22 – 1.53
0.8664 – 12.15
1.24
12.89M
74.34M/14.57K
16.75M
12.89M
/0%
0.000
7.34M
Applied UV Inc. (NASDAQ: AUVI) +0.23 (+22.1%)
AUVI has been falling over the past year, and it seems to be settling at its current level around $1 per share.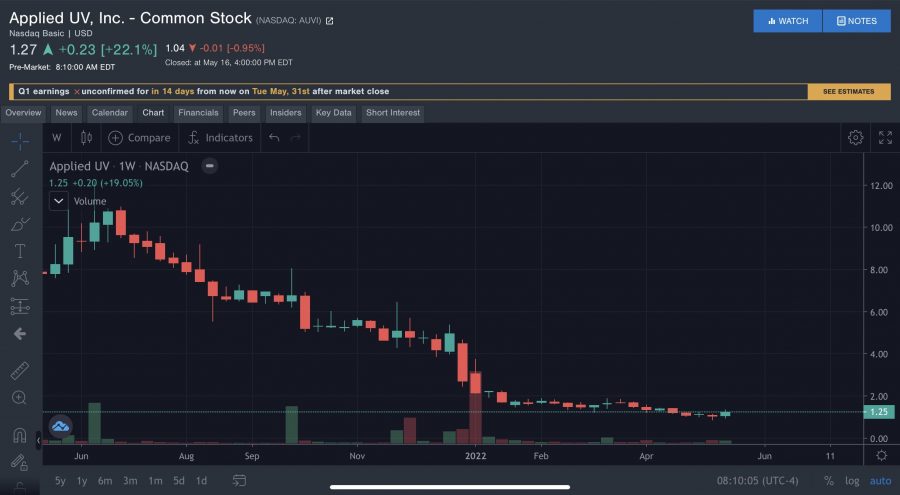 Why is AUVI Moving?
AUVI is moving after scheduling its conference call and earnings release for May 31st.
Where to Buy AUVI Stock
You can buy AUVI stock from Benzinga's list of the best online brokers. Using these brokers, you can invest in more stocks like IDRA in the pharmaceutical sector and PPSI in the energy sector.
Stay Ahead of the Game on AUVI
Benzinga Pro can help you get ahead of the game on any stock like AUVI. Plus, you can use stock charts, indicators, news, earnings data and more to invest in related stocks like ALGS in the biotech sector or AWH in the healthcare sector and XSPA in the salon/beauty sector. With these insights and tips, you can increase your net worth and build wealth.
Data for AUVI as of May 17, 2022
Summary of AUVI as of May 17, 2022:
Price Change: $1.040 to $1.27
52 Week Low: $0.8664
52 Week High: $12.15
Market Cap: $13.404M
Dividend Yield: –
Significant Dates for AUVI:
Upcoming Earnings Date: May 31, 2022
Current Earnings Date: April 6, 2022 with an EPS of -0.380
Ex-Dividend Date: –
Dividend Payment Date: –
Technical Data of AUVI as of May 17, 2022:
RSI: 29.9916 ⮕ Very Underbought
MACD: Signal Line (-1.0786) Under MACD ⮕ (1.7085) Bearish
Bollinger Bands: Price ($1.27), 20-Day SMA ($1.3388), Lower Band (0.8287), Upper Band (2.3902) ⮕ Bearish
Premarket Stocks
Gainers
Session: May 16, 2022 4:00 pm – May 17, 2022 9:29 am
Losers
Session: May 16, 2022 4:00 pm – May 17, 2022 9:29 am
Regular Market Hours
Gainers
Session: May 16, 2022 4:00 pm – May 17, 2022 3:59 pm
Losers
Session: May 16, 2022 4:00 pm – May 17, 2022 3:59 pm
Aftermarket Stocks
Gainers
Session: May 17, 2022 4:00 pm – May 17, 2022 7:59 pm
Losers
Session: May 17, 2022 4:00 pm – May 17, 2022 7:59 pm