Tesla is among the 1st companies to add Bitcoin to its balance sheet. The company holds more Bitcoin than almost any other institution –– Tesla invested $1.5 billion into the cryptocurrency in January 2021. Since Tesla made this investment, it's estimated that the company has made around 100% returns in the span of just a few months.
Tesla announced that it has started accepting Bitcoin as a form of payment. Elon Musk noted on his Twitter that Bitcoin payments won't be converted into fiat currency. Instead, Tesla will accept bitcoin payments to gain more exposure to the cryptocurrency.
Tesla announced that it will start accepting Bitcoin as a form of payment soon. Tesla plans to accept Bitcoin as a strategy to continue adding it to its portfolio. Using Bitcoin as a form of payments can be risky –– you don't want to be the person who spent $1 million worth on a Tesla because you spent your investment too early. On the other hand, if Bitcoin depreciates, then you could potentially save yourself from those losses by purchasing a Tesla with your Bitcoin.
Tesla to Start Accepting Crypto Payments
Tesla recently announced that it purchased $1.5 billion worth of bitcoin to hold as an investment on its balance sheet. This exposes Tesla to the volatility of Bitcoin, which has gained controversy from Tesla's shareholders. As of writing, it's predicted that Tesla's investment has roughly doubled in value, making the company enormous amounts of profit. With more money being pumped into the economy with every stimulus bill, more companies are looking to alternate stores of value to hedge against inflation.
Tesla CEO Elon Musk announced on his Twitter that Tesla will accept Bitcoin as payment for its electric vehicles. Although the price of Bitcoin is volatile, accepting Bitcoin as payment is a good way for companies to gain exposure to cryptocurrency assets.
Bitcoin vs USD
Since its inception, Bitcoin has appreciated against USD more than almost any other asset. In July 2010, Bitcoin was trading at less than 1 cent per coin. Although Bitcoin has been through several bear markets where its value diminished over 80%, it's recovered to new all-time high prices in each subsequent bull market.
As you can see, the price of bitcoin is highly volatile. If you aren't risk-tolerant, then cryptocurrency may not be for you. With the high volatility associated with Bitcoin, many investors see Bitcoin's price movements as irregular. Since Bitcoin has risen so dramatically over the last decade, if you adjust the scale of Bitcoin's prices to be logarithmic, you can see a clear trendline.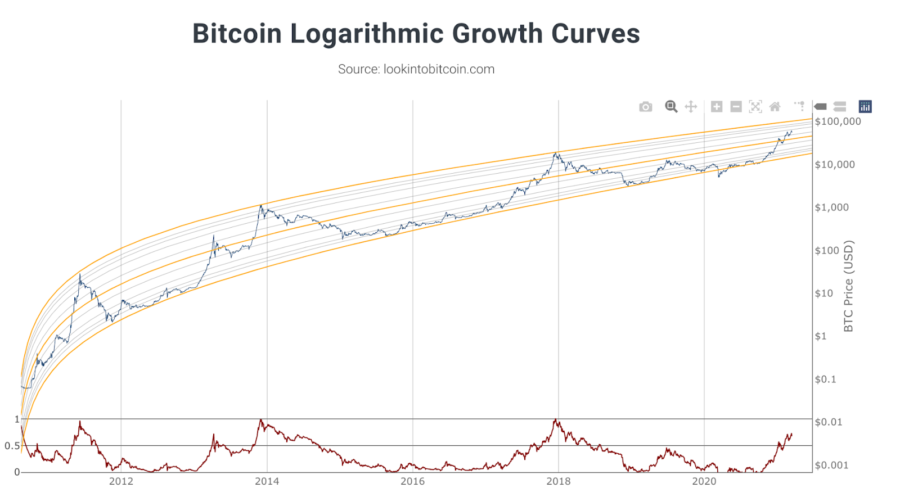 If you want to spend your Bitcoin on a Tesla but don't want to lose your exposure to your investment, you can use BlockFi to take out a loan with cryptocurrency. BlockFi offers loans to anyone, regardless of credit. The company can do this by requiring bitcoin to be held as collateral for your loan; once you pay back your loan, you're given back the bitcoin you used as collateral.
Pros and Cons of Buying a Tesla with Bitcoin
According to the IRS, you're still responsible for paying taxes on Bitcoin used as payment. So, if you plan on saving on taxes by using Bitcoin, you're out of luck. Bitcoin isn't any easier to use than other forms of payment, so it may just be better to buy a Tesla with cash.
The biggest pro or con of using bitcoin as a payment is the opportunity cost of spending your bitcoin. An opportunity cost is the foregone gains from an alternative decision (like holding your bitcoin and using cash instead). If you think that Bitcoin will depreciate in the future, then using it to buy a Tesla may be a good idea. On the other hand, if you believe Bitcoin's price will continue to rise, then you should probably hold onto your crypto and use cash.
Bitcoin Taxes
Bitcoin and all other cryptocurrency assets are taxable under IRS regulations. Unlike currencies, Bitcoin is taxed as property, similar to stocks. This means that when you dispose of your Bitcoin in any way, you are responsible for claiming capital gains tax on your tax returns. Taxing cryptocurrency as property instead of currency is actually beneficial for investors, as capital gains taxes are less than income taxes, which is how currencies are taxed.
Best Bitcoin Wallets
The primary types of bitcoin wallets are hardware wallets and software wallets. Software wallets are usually free to use, and they're computer programs that store your crypto on your phone or computer. Some notable software wallets include Coinbase wallet, Binance wallet and BlockFi. BlockFi is unique because it lets you earn interest on your cryptocurrency holdings.
Hardware wallets are the safest way to store bitcoin, as they store your assets offline on a physical device. These devices are typically the size of a USB stick and connect to your computer via Bluetooth or USB. One of the best hardware wallet companies on the market is Ledger –– it supports over 1,000 cryptocurrencies and has industry-leading security features.
Best Exchanges to Buy and Make Bitcoin Payments
Most exchanges that let you invest in cryptocurrency also allow you to send Bitcoin from your exchange account to other wallets. This is how you can make payments with Bitcoin or send Bitcoin to a hardware or software wallet.
Some exchanges that you can easily purchase Bitcoin on are Coinbase, eToro and Gemini. These exchanges, depending on your account verification level, let you instantly send Bitcoin to other wallets to make payments.
How Does a Bitcoin Exchange Work?
Most Bitcoin exchanges are centralized exchanges, meaning that the exchange holds all investors' funds and allocates them accordingly. On these exchanges, investors can trade or convert their cryptocurrency for a small fee, avoiding the cost of blockchain transaction fees.
Centralized exchanges use order books to calculate the market price of Bitcoin. Bitcoin order books are an aggregation of all the buy and sell orders for the asset; the price is determined by the highest bid and lowest ask for the cryptocurrency. For example, if the order book's lowest ask is $55,000 per bitcoin and the highest bid is $54,999, then you can either purchase Bitcoin for $55,000 or sell for $54,999.
Decentralized finance (DeFi) is a fairly new cryptocurrency industry within cryptocurrency. DeFi exchanges work differently than traditional exchanges, as there is no 3rd party that controls your assets, and you don't need to make an exchange account. Instead, these exchanges use smart contracts to delegate investors' funds.
Using Bitcoin for Payments
In its early days, Bitcoin was seen as a new form of payment to be used through the internet. Now, bitcoin is seen more as a store of value; an investment similar to gold or silver. This is due to the low transaction throughput on Bitcoin's network –– Bitcoin is only capable of handling about 7 transactions per second, making it hard to use as a form of payment. Most investors would rather use USD as a form of payment, as they predict Bitcoin's value will appreciate faster than the dollar.
Frequently Asked Questions
Q. What can you actually buy with Bitcoin?
Most companies don't accept Bitcoin as a form of payment. You can technically buy anything with Bitcoin, but you need to find someone willing to accept Bitcoin as payment. Some large companies like Microsoft, AT&T and Twitch all accept Bitcoin payments for certain transactions.
Answer Link
Q. What risks has Tesla taken with Bitcoin?
By adding Bitcoin to its balance sheet, Tesla has taken on the risk of Bitcoin's price volatility. So far, this risk has paid off for Tesla. Since the company invested, Tesla has made more profit from Bitcoin than it has from selling its electric vehicles.
Answer Link
Related Link: ELECTRIC CAR INSURANCE