Shiba Inu is available for immediate purchase on Voyager!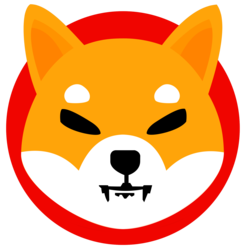 Shiba Inu
JOIN THE MOON OR BUST EMAIL LIST
Our team is diligently working to keep up with trends in the crypto markets. Keep up to date on the latest news and up-and-coming coins.
In the age of doggy-themed meme coins beating out innovative cryptocurrencies vital to the ecosystem with ludicrous gains, Shiba leads the charge behind only its inspiration, Dogecoin (DOGE). However, the developers of Shiba don't want to follow Doge forever and instead aspire to be the "Doge Killer." Its main goal is to build a completely decentralized ecosystem based around the Shiba Inu token and a decentralized exchange (DEX) that it says will launch soon.
Shiba has already proved more useful to the world than Doge because 10% of its max supply was donated to a COVID-19 relief charity, and Doge hasn't done much other than exist as an internet currency and meme. The Shiba team also has more options in terms of functionality than Doge because it can take advantage of Ethereum smart contracts, allowing it to provide much more nuanced and useful financial services while remaining decentralized. 
Is Shiba Inu the Dogecoin killer? Keep reading to learn more about Shiba Inu and how it came to be.
What is Shiba Inu?
Shiba is a meme coin which is a cryptocurrency asset that is popularized and spread as a joke, theoretically increasing its fundamental value by expanding adoption of users and developers.  Shiba shares a Shiba Inu mascot with Dogecoin, and both currently have little functionality beyond making payments. However, the developers of Shiba plan to build an entire ecosystem around the token. They can accomplish this because Shiba was built on the Ethereum blockchain. Dogecoin could be left in Shiba's shadow because it runs on its own network based on the Bitcoin blockchain that isn't compatible with smart contracts. 
Shiba developers plan on releasing their own DEX called ShibaSwap as a foundation for their ecosystem. They have already released 2 of the 3 tokens they are building ShibaSwap staking pools for: Shiba Inu and Leash. The last of the 3 tokens will be Bone, which also will act as a governance token for the ecosystem allowing holders to vote on proposals to make changes to the platform and add new staking pools. 
History of Shiba Inu
Shiba Inu was founded in August 2020 by an anonymous person who goes by Ryoshi. Shiba was first listed on exchanges, including Uniswap and OKEx, selling for basically nothing. In late April, the Shiba Inu team released its play on a whitepaper, calling it their woofpaper. The document outlines the project's goal of building a "decentralized spontaneous community," details of the upcoming ShibaSwap DEX and the initial tokenomics of the ecosystem.
Half of the total supply of Shiba was locked into Uniswap to award liquidity providers in Shiba pools on the DEX and the remainder was sent to Ethereum founder and community leader Vitalik Buterin. Ryoshi sent half the supply to Buterin to burn the tokens, hoping he wouldn't sell his enormous position, which would certainly tank its price.
Instead of selling his tokens, Buterin decided to send 50.693 trillion Shiba (then worth more than $1 billion) and 500 Ethereum (worth $1.4 million at the time) on May 12 to the India COVID-Crypto Relief Fund when India was experiencing a harrowing COVID-19 outbreak with a shortage of medical supplies. The charity launched by Polygon cofounder Sandeep Nailwal said that they plan on donating 100% of its cryptocurrency holdings, although it will be difficult to sell its 50 trillion Shiba without making the coin valueless in the process.
Shiba Inu Price Movements
Since its launch, Shiba's price stayed mostly flat until Dogecoin's biggest fan and advocate Elon Musk made an appearance hosting Saturday Night Live (SNL) on May 8. Its price exploded 260% from about $0.000005246 to $0.00001883 before the show even started, likely in anticipation of a Doge shout-out. Even though Shiba wasn't even mentioned on the show, investors catapulted Shiba to its all-time high of $0.0000388 over the next 2 days, another 100% move.
Its price returned to its pre-SNL levels just as quickly as it reached its all-time high, dropping to $0.00002422 on May 12, even before Buterin sent his Shiba donation to the India COVID-Crypto Relief Fund. After he sent it, the price continued to fall, dropping to $0.000007261 on May 21 where it has stayed mostly flat since. Note that its price has always been much lower than Dogecoin and similar altcoins because it has an especially high total supply of 1 quadrillion Shiba tokens (Doge has a total supply of about 130 billion).
At the time of writing, Shiba is hovering around $0.00000897 after reaching $0.00001 on May 31. The recent cryptocurrency market crash has caused many investors to trade their meme coins for safer assets like Bitcoin and Ethereum. This is a common trend that reduces the probability of seeing altcoins like Shiba and Doge reach all-time highs, but when the market recovers there likely will be more available liquidity to propel meme coin moonshots.
Best Exchanges For Shiba Inu
The easiest way to buy Shiba is on Crypto.com. The next best way is to purchase Ethereum with fiat currency (or another crypto) on a trading platform and swap it for Shiba on a DEX like Uniswap. First, you will need to sign up for a crypto exchange (Coinbase, eToro, Crypto.com and Gemini are all great options) if you don't already have an account. You also will need to verify your identity with an address, Social Security number and a picture of your driver's license. Once you purchase the Ethereum needed for the swap (and transaction fees) just send it to a browser wallet like MetaMask, go to Uniswap and swap your ETH for SHIB.
Is Shiba Inu a Good Investment in 2021?
Shiba did make an astounding 2,500% run in less than 1 week this May, but it has mostly traded flat for the past 2 weeks after Buterin's donation made the coin crash. The COVID-19 relief charity likely also hasn't finished selling off the gift and will be forced to continue selling it slowly over time, creating lots of selling pressure for a while.
Once the rest of the donation is sold to provide relief to COVID-19 victims and the cryptocurrency market recovers from its recent crash, Shiba could make another run-up to new all-time highs. The launch of ShibaSwap could attract many users and investors, driving the price up. For now, however, it's a far cry from a safe investment and should be traded with an abundance of caution.
Frequently Asked Questions
Will Shiba Inu overtake Dogecoin in 2021?
Shiba is in a difficult position right now, and it will probably struggle under selling pressure from Buterin's donation and a decrease in interest in new altcoins. Doge already has a much larger market capitalization at about $44 billion versus Shiba's $8.5 billion, and it would take about a 420% increase in Shiba's price to overtake it. While the ShibaSwap launch may make it the preferred Shiba Inu-related meme coin, it has a long way to go to defeat its rival.
Will Shiba Inu go up more?
While prices are always uncertain, the platform's capabilities are concrete. Shiba currently only wields a small amount of its developer's planned functionality. When ShibaSwap launches, Shiba holders will be able to stake their tokens to earn interest and governance tokens (Bone). The team plans on making the entire ecosystem decentralized and controlled by those holding Bone governance tokens. Make sure to pick up some Bone after its launch if you want to help decide Shiba Inu's future.
See More: