1 Minute Review
Qtrade Investor is a Canada-based investment broker offering access to Canadian stocks, exchange-traded funds (ETFs) and options alongside U.S.-based markets. Qtrade focuses on usability and functionality, especially for beginner traders looking for a more streamlined and simplified platform. Qtrade's platform is very basic, offering none of the bells and whistles that come standard with many competitors. Newer traders, passive investors and investors who've never used charting software may actually prefer Qtrade's focus on simple order placements, quick signups and easy-to-navigate layouts.
Qtrade offers investors a wide selection of equity choices, including hundreds of commission-free ETFs and mutual funds. Options trading and stock investing are also available, though prices aren't as competitive as other offerings. Currently, Qtrade is only available to residents of Canada.
Best For
Canadian investors looking to access U.S. markets
Investors who value platform simplicity
Investors looking to practice their trades using a demo account before committing their capital
Pros
Simple, easy-to-navigate layout ideal for new investors who don't need advanced charting software
Access to 100 commission-free ETFs and many additional commission-free mutual funds
Demo account availability; beginner-friendly educational materials available
Cons
Not currently available to residents of the United States
Cannot fund your account using an electronic wallet or credit card
Why Qtrade Over Others?
Qtrade offers a few unique benefits over competing investment brokers, including:
Simple signups and a novice-friendly platform: Qtrade's platform doesn't include overwhelming charting software or analysis tools; instead it sticks with the basics and favors a cleaner layout. While this might not be the best choice for professional or institutional investors, new traders might appreciate the inviting platform.
Access to U.S. equities markets: In addition to domestic Canadian markets (like the Toronto Stock Exchange, TSX Venture Exchange and the Canadian Securities Exchange) you can also access the New York Stock Exchange and the NASDAQ. This can be a major benefit for Canadian investors looking to expand their portfolio to include foreign companies.
Options trading availability: In addition to stocks, ETFs and mutual funds, Qtrade also offers easy options trading. Interested in learning more about options before you begin? Qtrade's education section is also beginner-friendly and a great place to start learning. 
Brokerage Quick Summary
| | |
| --- | --- |
| Tradable assets | Stocks, options, ETFs, mutual funds, bonds, new issues, guaranteed investment certificate (GIC) |
| Platform | Beginner-oriented; simple and straightforward, may be ideal for beginners looking for a simple solution to begin trading |
| Mobile app | Fully operational; mirrors desktop web-trading platform |
| Account minimum | $0 |
| Available base currencies | USD, CAD |
Qtrade is an equity and options investment firm that provides Canadian investors with easy access to Canadian and U.S. markets. Like many brokers, Qtrade charges a per-transaction commission whenever you buy or sell a security. This commission may vary depending on the size of your trade and the type of security you're buying or selling. Below, you can view a summary of what you might expect to pay in commissions. All prices are listed in CAD.
| | |
| --- | --- |
| Stocks | $6.95 to $8.75 depending on trading volume |
| ETFs | 100 commission-free ETFs available; $6.95 to $8.75 depending on trading volume |
| Mutual funds | $0 commission |
| Bonds | $1 per $1,000 face value, with a minimum charge of $24.99 and a maximum charge of $250 per transaction |
| Options | $6.95 to $8.75 depending on trading volume plus $1.25 per contract |
Qtrade also offers margin trading. The rate you'll pay will vary between 2.45% and 3.45% plus an additional fee based on the amount of margin you use. The best rates are afforded to traders borrowing more than $100,000 CAD in margin, and margin rates may change throughout the year depending on current market rates.
Qtrade is aimed at beginning traders and investors getting ready to make their first purchase or begin their journey toward investment retirement. Though Qtrade doesn't offer comprehensive charting and the same type of analysis tools as brokers aimed at professional and institutional investors (like TD Ameritrade or Lightspeed) it does offer a simple and intuitive set of tools that even the newest investor can quickly master. Some features you'll find on the Qtrade platform include:
Planning tools and calculators: Many beginner traders start investing with a specific financial goal in mind. For example, you might want to invest to retire early, buy a house or send a child to college. Qtrade's investing platform offers a range of free financial planning tools and calculators to track your net worth, estimate when you'll be able to reach a specific financial goal and track how much you'll need to invest over time to meet your needs for retirement or education.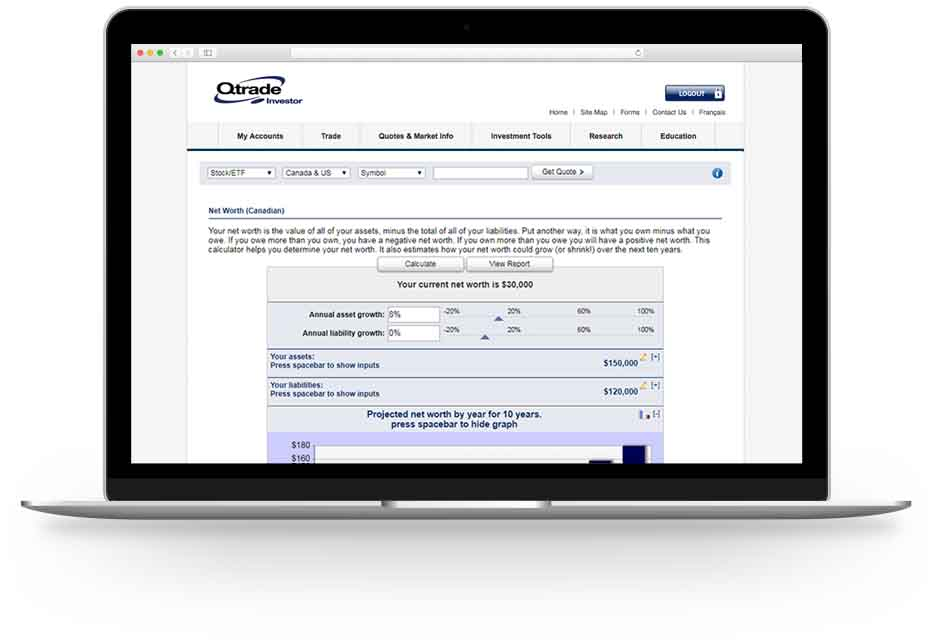 Qtrade's trading platform includes a number of free calculators and tools that you can use to more effectively plan for your financial future.
Easy and simple signups: Getting started with Qtrade is exceptionally easy — most new investors will be able to open their account in as little as a few minutes. All you need to begin is your Social Insurance Number, Government ID and some information about your net worth and current assets and income. Open your account, link your bank account and begin investing for the future.
Screening tools: A stock screener is a tool that makes it easier to find investments that match the unique criteria you're searching for. Qtrade's platform includes a comprehensive stock and ETF screener that allows you to sort through thousands of equities to find the ones that are best suited for your goals. Sort stocks and funds by price, dividend yield, expert valuation or your own set of predefined criteria.
If you're a new investor, you might want to learn more about the stock and bond markets before you place your first buy or sell order. Qtrade offers a range of educational tools that you can use to master both the Qtrade platform and learn more about trading strategies and how to use them. Some examples of the educational tools you'll have access to through Qtrade include:
Quality investment information articles: Like its platform, Qtrade's education section is largely aimed at beginner traders who are still familiarizing themselves with common trading terms and who might not be sure where they should invest their money yet. You can access a full library of beginner-friendly articles on Qtrade's website for free — even if you haven't yet opened an account. Education articles are inviting and easy for even complete novices. Previous topics include "How to Sell Stocks Online" as well as general introductions to market volatility and its causes.
Analyst recommendations: Qtrade's platform includes a proprietary newsfeed with expert recommendations for both U.S. and Canadian securities. In addition to recommendations, fundamental market data and daily Morning News Calls are offered each day before the markets open to help you prepare for the day ahead.
Downloadable trading guides: Do you prefer to do your learning on-the-go? Qtrade also offers a series of downloadable trading guides that you can transfer to your tablet or mobile device to learn while you travel. Previous instruction guides include Qtrade's "Guide to Margin Trading," "Guide to Stock Trading" and "Guide to TFSA Trading." Like all other educational offerings, trading guides have been written with beginners in mind.
Although Qtrade's physical locations are currently closed, the broker offers a few ways to contact customer support.
By email: To get in contact with Qtrade's customer support team by email, send a message to info@Qtrade.ca. Be sure to include your name and phone number for the promptest response possible.
By phone: To contact Qtrade by phone, call 877-787-2330. Customer service is available by phone Monday through Friday from 2:30 a.m. to 2 p.m. EST.
Currently, no specific phone line exists for investors living with hearing limitations.
Qtrade offers investors access to a wide range of equities and markets, including stocks, ETFs, mutual funds and more. Let's take a closer look at the major asset classes opportunities investors can access through Qtrade.
Qtrade Stocks, ETFs and Mutual Funds
Qtrade allows users to buy and sell any stock listed on major Canadian exchanges, including the Toronto Stock Exchange (TSX), TSX Venture Exchange (TSXV), Canadian Securities Exchange (CSE) and the Aequitas NEO Exchange. You can also buy and sell any asset listed on the NYSE or the NASDAQ. Most investors will pay between $6.95 and $8.75 CAD in commissions per trade. You can also access select stocks on over-the-counter (OTC) markets.
Qtrade also offers access to ETFs and a wide selection of mutual funds. Currently, the broker offers 100 commission-free ETFs — additional ETFs are available but have commission rates similar to stock purchases and sales. Qtrade also offers access to thousands of commission-free mutual funds from major investment firms like Vanguard.
Qtrade Options
Qtrade also offers full access to the options markets of both the United States and Canada. Qtrade's platform allows you to place multiple types of calls and put orders, including spreads, covered and uncovered orders. Qtrade's stock screener (included with its proprietary trading platform) is also effective at filter options through a predefined set of criteria.
Like stock and ETF trading, Qtrade users pay between $6.95 and $8.75 CAD per options purchase or sale, plus $1.25 per contract. More favorable rates are reserved for high-volume traders.
Qtrade's mobile app offers full market capabilities, allowing you to buy and sell stocks, ETFs, mutual funds and more directly from your phone. Some unique features we love include:
Easy portfolio tracking and monitoring: Qtrade's app makes it easy to track your portfolio value and how it's changing over time using both dollar amounts and graphs. This can help you ensure that you're on track toward your financial goals through visualization.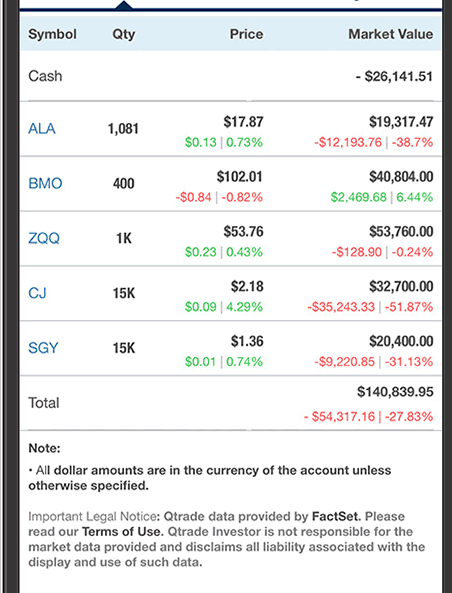 Qtrade's simple layout makes it easy to track your portfolio and monitor your progress.
Apple Watch compatibility: Love your Apple Watch? Qtrade's mobile app offers a streamlined app for the Apple Watch that allows you to monitor your investments from anywhere.
Easy watchlist creation: Qtrade's app allows you to quickly organize the stocks and ETFs you're most interested in into convenient watchlists. This feature may be particularly useful for day traders and scalers who need quick access to their most frequently traded assets.
Qtrade's app is available as a free download for iPhone, Android platforms and Apple Watches. For Windows phone users, a comprehensive web mobile platform is also available.
At its core, Qtrade values simplicity and user-friendliness on its platforms. You won't find any complicated charting options or analysis tools on any of Qtrade's platform offerings. You will find, however, a straightforward, easy-to-operate ordering system that anyone can master. You can even practice using Qtrade's platform with a free demo account before you risk any of your own money.
Qtrade's education section is also aimed at beginners, with only very basic lessons available. While this could be a welcome sight for new investors, more experienced traders are unlikely to learn much from its offerings.